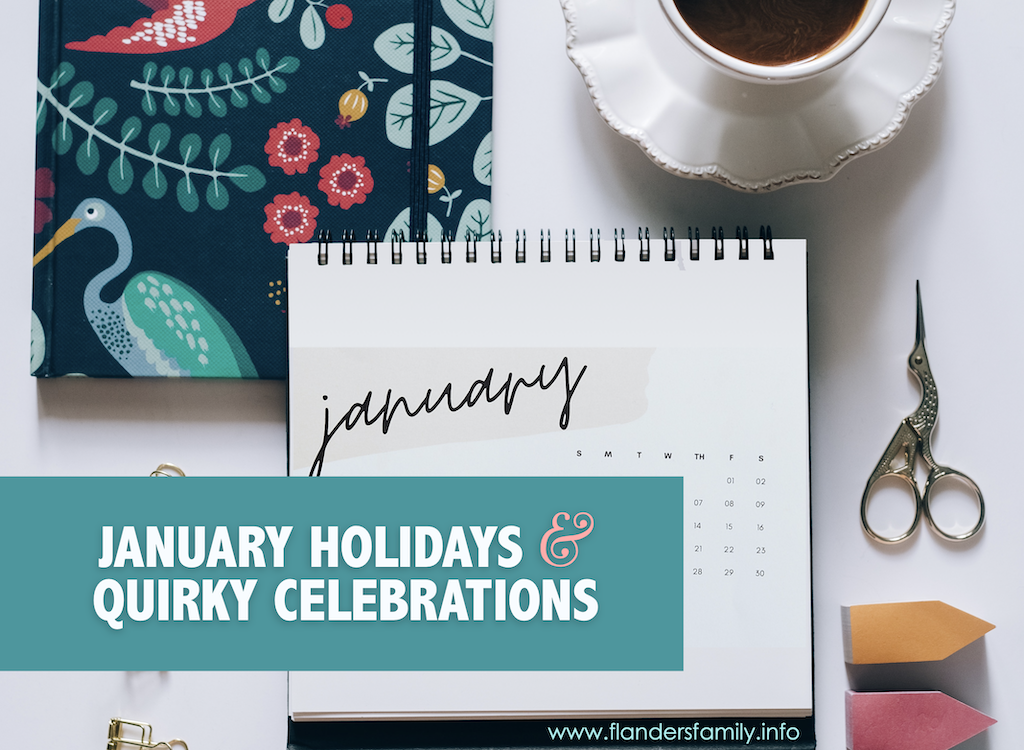 If 2020 taught us anything, it's the value of celebrating the small things in life. Toilet paper. Grocery Pickup. Sunny days. Face time. Birds singing outside your window.
That's not a bad way to live, if you ask me. Sure, I'm ready to ditch the masks, plan a trip, and get back to "life as normal" ASAP. But I want to carry the gratitude, the joy for living, and the small-win celebrations with me.
To that end, I plan to publish a list of national holidays and quirky celebration every month this year, with links to related resources and ideas for making every month more memorable. Here's the list for January.
Special observances that last the entire month of January
January is the month we observe…
Bath Safety Month – Rub-a-Dub-Dub… don't slip in the tub!
Blood Donor Month – Give the gift of life!
Brain Teaser Month – I love brain teasers and work a sudoku puzzle almost daily. My favorite are the Brain Game Sudoku books, because the spiral-bound pages lay flat and the large print is easy to read, with plenty of space in each square for making notes.
Braille Literacy Month
Mentoring Month – Having trouble finding a good mentor? Here are a few good places to find one.
National Hobby Month – Maybe pick up a brand new hobby this year?
National Slow Cooking Month – Want something fast and easy but nutritious to pop into your crockpot? Check out Kelly McNelis's No-Cook Freezer Meal Cookbook.
National Oatmeal Month
National Soup Month – Enjoy a big, hot bowl of our Creamy Potato, Hearty Minestrone, or Garlicky Lentils.
January holidays and quirky celebrations
January 1
January 2
International Stop Spam Day – If I could ever find a way to stop it completely, you better believe I'd be celebrating!
National Science Fiction Day – Why not mark this day by beginning a Sci-Fi read aloud or watching a Sci-Fi movie?
National Cream Puff Day
January 3
Chocolate Covered Cherry Day
National Drinking Straw Day- Our family's favorite? Reusable, clear glass smoothie straws.
Run it up the Flagpole and See if Anyone Salutes Day – This day isn't about saluting an actual flag, but about sharing new ideas and seeing if anyone latches on.
Festival of Sleep Day – This would be a great time to read Don & Audrey Wood's picture book classic, The Napping House.
Feast of the Epiphany (3 Kings Day) – How about marking the official end of the Christmas season with a trivia test like our What Child is This quiz?


January 4
World Braille Day
Thank God It's Monday Day (1st Monday in January) – Our Rejoice & Be Glad coloring page will remind you to thank God for Mondays — and every other day of the week.
Trivia Day
National Spaghetti Day – Spaghetti is my husband's favorite, so he's always onboard to celebrate this January holiday.

January 5
National Bird Day – Our National bird is, of course, the American Bald Eagle. I don't have a printable for that (yet), but do have a full collection of State Birds you may download for free.


January 6
Cuddle Up Day – There's a lot of leeway on this one: You can snuggle up with a spouse, a child, a pet, a good book, or a cup of hot soup. Which will you choose?
National Bean Day – How about a piping bowl of Taco Soup to celebrate Bean Day? Made with five different kinds of canned beans, it's super quick and easy to mix up.
January 7
Old Rock Day – Rock painting would be a fun activity for this wacky holiday. When you're finished, you can hide them at a local park or playground for somebody else to find.
Static Electricity Day – This simple science experiment will impress your kids by demonstrating static electricity with common household objects you're sure to have on hand.
January 8
National Bubble Bath Day – What better excuse do you need to take a long soak in a hot tub?
World Typing Day
National English Toffee Day – I love toffee, especially when it's buried under a thick coat of chocolate. (Sounds like just the thing to enjoy while soaking in that bubble bath.)
World NERD Day
National Law Enforcement Appreciation Day – If ever police officers deserve some extra appreciation, it's now. Show them some love by sending them a thank you note or dropping a big batch of cookies off at your local law enforcement station.
January 10
Houseplant Appreciation Day – Talk to your plants. Voice to them yourself how much you appreciate them. The carbon-dioxide in your breath will do them good.
Bittersweet Chocolate Day
Peculiar People Day – This is a label we should wear gladly, in light of 1 Peter 2:9, "But ye are a chosen generation, a royal priesthood, an holy nation, a peculiar people; that ye should shew forth the praises of him who hath called you out of darkness into his marvelous light."
January 11
Learn Your Name in Morse Code Day
National Arkansas Day
Step in a Puddle and Splash Your Friends Day – Stomping through puddles and getting people wet doesn't seem like a very friendly thing to do, unless you're about three years old. But there's a special day set aside for just such an activity, nevertheless.
January 12
National Pharmacist Day – If you have to visit your pharmacist very often, you might benefit from our "Keeping Track of Medications" chart.
National Hot Tea Day – Here's a fun Tea Time Trivia Test to enjoy while you let your tea cool down a bit. Wouldn't want to scorch your tongue on this, one of our favorite January holidays!


January 13
International Skeptics Day – I seriously doubt anybody celebrates this one.
Make Your Dream Come True Day – Your best hope for realizing your dreams? Set small, specific goals and work steadily toward making what you hope for a reality.
National Take the Stairs Day (second Wednesday of January)
January 14
World Logic Day
Dress Up Your Pet Day – Sadly, this doesn't work very well for goldfish.
January 15
National Hat Day
National Bagel Day – Our family celebrates this one almost weekly, by meeting friends at Einstein's every Sunday after church. If you're a frequent bagel customer, too, be sure to sign up for Einstein's free Schmear Society. Rewards add up fast.
January 16
International Hot & Spicy Food Day
Appreciate a Dragon Day — This would be a perfect time to watch (or re-watch) How to Train Your Dragon (or read the book)..
National Nothing Day – I can think of absolutely nothing to do on this bizarre January holiday!
January 17
Ditch New Years Resolutions Day – Forget celebrating this one. You're not going to give up less than three weeks in to the new year, are you? Instead of ditching your resolutions, double down on them with these 7 Tips for Reaching Your Goals.
National Sanctity of Human Life Day (third Sunday in January) – President Ronald Reagan set aside this day as a way "to bring awareness to the attacks that are daily waged against human life through the abortion industry."
January 18
Thesaurus Day – As a writer, I find a good thesaurus indispensable, so I'm happy to hear this reference book has its very own holiday.
Winnie the Pooh Day – This is the birthday of Winnie's author A.A. Milne. Why not celebrate by reading a couple of his children's stories about Pooh and his friends?
Martin Luther King Jr. Birthday (observed third Monday of January) – We offer lots of free printable resources for MLK Day. Check them out!


January 19
National Popcorn Day – This would be a great time to enjoy a big bowl of hot popcorn (go easy on the butter). Did you know popcorn counts as a whole grain food?
National Tin Can Day – Celebrate this holiday by up-cycling a tin can or two. Here are 7 of the Savviest Repurposing Projects I've ever seen.


January 20
National Buttercrunch Day
National Cheese Lover Day- Chips and queso, anyone?
Penguin Awareness Day – Take a few minutes to watch a video of some super cute penguins, like this one:


January 21
National Hugging Day – I once read people need at least seven hugs a day to stay healthy. And, in case you didn't get enough cuddling in on the sixth, today's hugs will help keep you healthy — and warm!.
Squirrel Appreciation Day – Our family has always loved squirrels, but we learned to appreciate them even more after raising a couple ourselves. Here's how we did it:


January 22
National Blonde Brownie Day – I much prefer chocolate brownies, but everyone is entitled to her own opinion, I guess. If you like to leave the cocoa out of your baking, this holiday is for you!
January 23
Measure Your Feet Day – Whenever my kids had a growth spurt, their feet were the first things to get big. That has always been the tell-tale sign. We offer several styles of free printable growth charts. This holiday makes me wish I'd included a shoe-size column, as well.
National Pie Day – If you, like I, have sworn to cut down on sugar in the new year, you may want to celebrate this day with a savory pie instead of a sweet one. Chicken Pot Pie is one of our family's favorite — and is quick and easy to make.
National Handwriting Day
January 24
January 25
Bubble Wrap Appreciation Day (last Monday in January) – My kids love to pop the bubbles. How about yours?
Opposite Day
January 26
Australia Day
National Spouse Day – The Bible's instruction to married couples? "Husband, Love Your Wife" and "Wife, Respect Your Husband." Today would be a good time to check in and ask how well you're doing in this endeavor. And maybe even go on a date night.
January 27
Punch the Clock Day
Chocolate Cake Day – Bake one to celebrate. You'll find our favorite recipe for celebrating this holiday here: Texas Sheet Cake.


January 28
Data Privacy Day
National Kazoo Day
Fun at Work Day
January 29
National Puzzle Day
National Corn Chip Day
January 30
National Inane Answering Message Day
January 31
Backward Day
Inspire Your Heart with Art Day
That ends my list of January Holidays and Quirky Celebrations. If you like this post, please share it on social media — then come back next month when I publish a similar list for February.