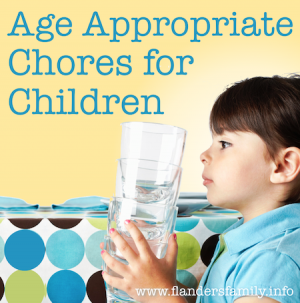 Parents often ask us about our
philosophy on children's chores
, but we've found that what many of them are really looking for is some idea of
what sorts of chores their child might be expected to do at what ages
. So to that end, I've created this little free printable chart, available in
English
, as well as
Spanish
,
French
, and
Italian
. Of course, every child is different, but
most kids are capable of doing far more than parents require of them.
"If you want children to keep their feet on the ground, put some responsibility on their shoulders."
– Abigail Van Buren
Teaching your child to do any chore may initially take more time than just doing the chore yourself. Some kids will need more supervision than others, over a longer period of time, before they can complete the chore up to standard. But try to be an encourager rather than a drill sergeant while you are training your children to do their work and to do it well.
Also remember that working side-by-side — or at least in the same corner of the house or yard — is good for camaraderie and morale, as is putting on some lively music to work by. (One of our favorite working songs is Yakity-Yak. The kids do their chores in double-time whenever I plug that song in!)
Of course, "all work and no play" is no way to raise a child, so be sure to balance the chores with plenty of opportunities for enrichment. You'll find a long list of ideas (plus another free printable) here: Encouraging Creativity in Young Children