In matters of housekeeping, as in so many other things, children are more prone to do what we inspect than what we expect. We have certainly found this principle to be true when it comes to keeping kids' rooms tidy.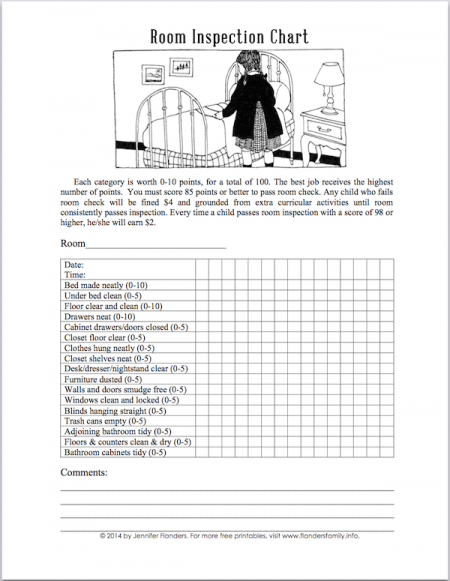 When I tell my children to clean their rooms, it helps when I clearly define what I mean by "clean." But want to know what really motivates them to get the job done? When they know that I'll be checking up on their progress with more than a cursory glance.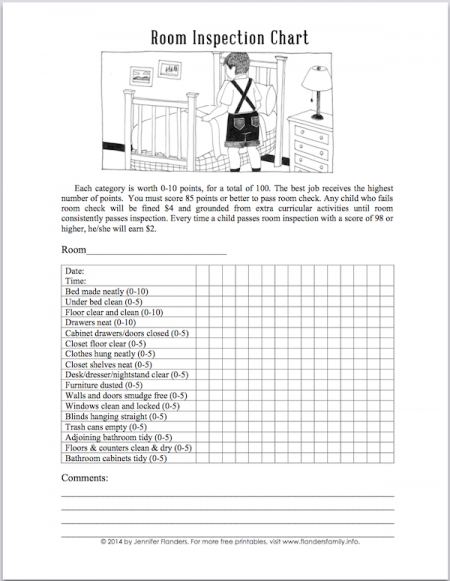 To do that, I fill out a handy little chart. For years, I've used this plain-jane version, but recently I decided to give it a facelift and offer the girls' and boys' versions you see above (click on either image to download its free printable PDF).
The chart really serves two purposes. It helps my kids, because they know exactly what I want from them. But it helps me, too, by allowing me to recognize and reward a job that is done "well enough," instead of zeroing in on the pair of dirty socks stuffed under the bed or a nightstand drawer that is overfull.
If a child scores at least 85% on inspection, his room passes. If not, he must pay a nominal fine (just a dollar or two) and keep working until it does pass. Kids whose rooms pass with flying colors get a small reward. Best of all, when I'm consistent about inspecting at least once a week, including surprise "pop inspections," the rooms seldom get into such a state of disarray that they can't be tidied in a matter of minutes.
Looking for more charts and ideas for organizing your home and life? Check out all our other free printables. Enjoy!