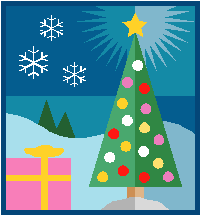 Our family has been sending out Christmas letters for over thirty years now.
Every December, Doug reads all our letters from previous years aloud to the family, one year per night. We love to reminisce in this way, as the funny anecdotes trigger all sorts of fond memories which are in turn relived and discussed at length.
This has been a great way for our younger children to learn the family history and to see their older siblings in a whole new light.
Interested in beginning this tradition yourself? Check out this post for how-to instructions. It contains a collection of free printable seasonal stationery, as well as samples and templates for different kinds of Christmas letters or annual updates, including:
The pattern you use doesn't matter — the important thing is just to write something every year. Do this consistently, and before you know it, you'll have a detailed family history, just like we do.
To read our family's past updates, simply click on the year you wish to view. They'll tell you way more about our crew than you'll ever need to know:
The Flanders Family Updates
Christmas 1987 (Our honeymoon Christmas)
Christmas 1988 (Proud new parents of Baby #1)
Christmas 1989 (Baby #2 – a little girl with colic and curls)
Christmas 1990 (Diapers and diabetes)
Christmas 1991 (Doug's clinical year at Southwestern)
Christmas 1992 (Baby #3 is born hand-first – ouch!)
Christmas 1993 (Baby #4 – don't we know what causes that?)
Christmas 1994 (David gets lost at a garage sale)
Christmas 1995 (Baby #5 arrives!)
Christmas 1996 (A not-quite second honeymoon)
Christmas 1997 (New job, new home, and new son – Baby #6)
Christmas 1998 (Extreme sports and broken bones)
Christmas 1999 (Baby #7 – Beth finally got the sister she wanted)
Christmas 2000 (Coast-to-coast tour of US – Joy comes in the morning)
Christmas 2001 (Baby #8 arrives two weeks early – another girl)
Christmas 2002 (Our first cruise and our first marathon)
Christmas 2003 (Baby #9 arrives amid house building and army duty)
Christmas 2004 (Backpacking Europe with all nine kids)
Christmas 2005 (Home church and Baby #10)
Christmas 2006 (Our firstborn leaves the nest)
Christmas 2007 (Another coast-to-coast tour and Baby #11)
Christmas 2008 (Our second-born leaves for A&M)
Christmas 2009 (Doug and Jennifer finish writing their first books)
Christmas 2010 (Baby #12 and Grandson #3; four kids in college)
Christmas 2011 (Mission trips, moving, broken bones, and diabetes)
Christmas 2012 (Dental school, MCATs, and State Championships)
Christmas 2013 (Beaches, Babies, Surprise Parties, and Med. School)
Christmas 2014 (Baby squirrels and book awards)
Christmas 2015 (Daughter-in-Law #2, Grandson #6, Books, Braces & BlueGreen)
Christmas 2016 (A marriage, a move & 2 new dentists)
Christmas 2017 (A new Daughter-in-Law, 2 new grandbabies, a trip to Europe, and a BBC special)
Christmas 2018 (World Travel, Summer Conferences, and Grandbaby #9)