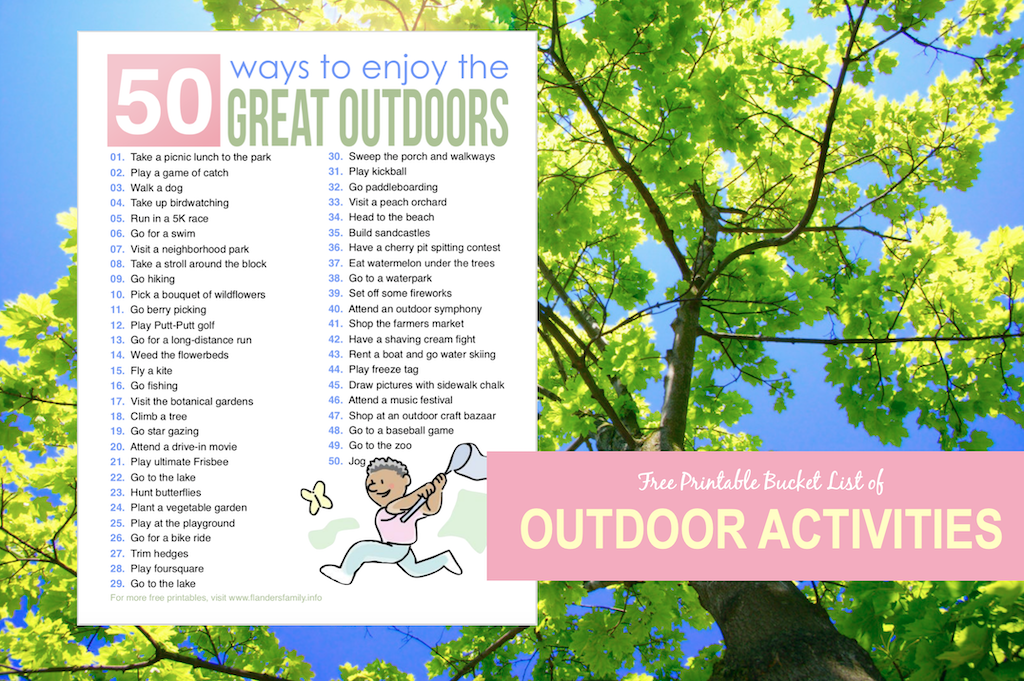 Thanks to COVID-19, we've been cooped up indoors for weeks. But the weather has been glorious in our neck of the woods lately. The sunshine is beckoning us to come outside. If you're feeling a similar pull, here are 50 Ways to Enjoy the Great Outdoors. Print out a copy and give one a try… today.
Granted, while social distancing rules are still in place, a few of the items on our list will have to wait. You're not likely to find any waterparks open or music festivals to attend. And you should stay away from playgrounds until the quarantine is lifted.
But most of these ideas can be enjoyed, even in the midst of a pandemic. Still others are easily adaptable. The local orchestra may not be staging any symphonies under the stars this spring. But you can bring your ipod and enjoy classical music to your heart's content while lying on a blanket admiring the Milky Way.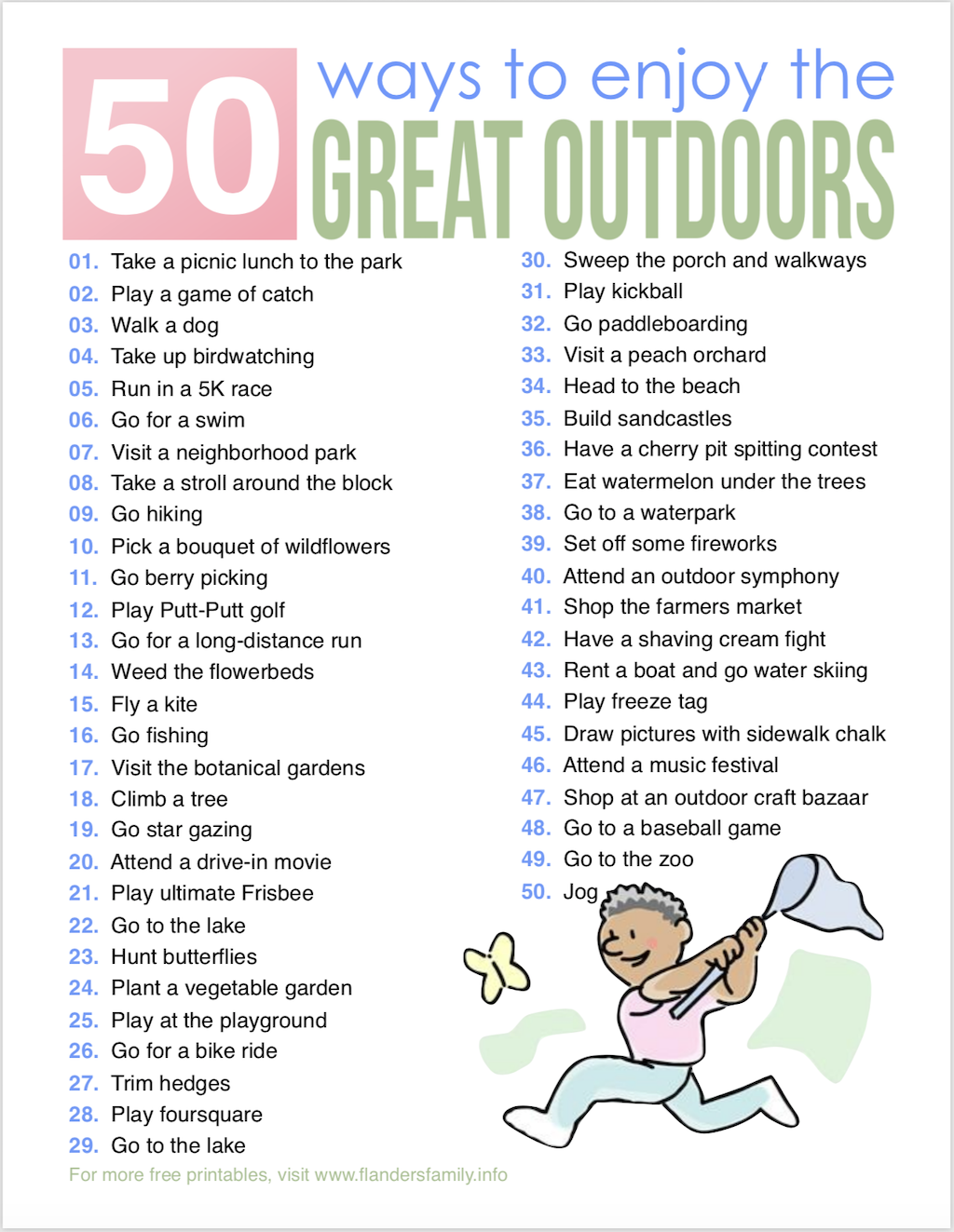 50 Ways to Enjoy the Great Outdoors
Take a picnic lunch to the park

Play a game of catch

Walk a dog

Reinforce what you're learning about our little feathered friends with our State Bird Coloring Pages

Run in a 5K race

Go for a swim

Last one in's a rotten egg!

Visit a neighborhood park

Take a stroll around the block

To make it more interesting, print out our Neighborhood Bingo Cards and see who can fill theirs first. If you walk around the block often enough, you may want to do as I did and laminate the copies. That way, you can use dry erase markers to check off the items you see and reuse the same cards again and again.

Go hiking

Pick a bouquet of wildflowers

Go berry picking

Come back home and use what you pick to bake a nice crisp or cobbler. And if there are any berries left over come morning, whip up a batch of blueberry muffins.

Play Putt-Putt golf

Can't find a course open? So why not design a makeshift course of your own with ramps, ropes, cups, and balls?

Go for a long-distance run

Weed the flowerbeds

The weeds don't take a vacation. And the flowers will thank you for getting them out of their bed.

Fly a kite

But find an open space to do it! We've had a kite stuck high in a tree in our front yard for months now!

Go fishing

Visit the botanical gardens

Check out the American Horticultural Society Website to find a garden near you.

Climb a tree

If the branches are comfortable, take a book along and read up there!

Go star gazing

Attend a drive-in movie

If you don't live close to a drive-n theater, take the laptop outside and stream a movie in your own backyard. My son did this on the roof with my grandchildren last week, and they loved it.

Go to the lake

Hunt butterflies

But be careful not to touch!

Plant a vegetable garden

Nothing will interest kids in eating their veggies faster than growing dinner in their own backyard.

Play at the playground

Go for a bike ride

Trim hedges

Play foursquare

Go to the lake

I just realized I listed this one twice. That's probably because I have such fond memories of going to the lake when I was a kid. So even if you've gone once already, go again! You can camp out along the water's edge, go wading, go boating or skiing, or just hike around enjoying the fresh air and sunshine.

Sweep the porch and walkways

Play kickball

Go paddle boarding

Visit a peach orchard

Head to the beach

Build sandcastles

If you want to really get crazy with the detail, bring along a set of sculpting tools.


Have a cherry pit spitting contest

Eat watermelon under the trees

Go to a waterpark

Set off some fireworks

Attend an outdoor symphony

As I already mentioned, a live concert is best. But if quarantines or other circumstances prevent such an outing, create a symphony under the stars of your very own. Headphones optional.

Shop the farmers market

Have a shaving cream fight

Give each kid a can (and maybe a pair of swim goggles), then let them go after it.

Rent a boat and go water skiing

Play freeze tag

But you may need to lay down some ground rules, or they may end up with chalk in places other than the concrete!

Attend a music festival

Shop at an outdoor craft bazaar

Or pack up your art supplies and do some outdoor crafting of your own!

Go to a baseball game

Go to the zoo

Jog
A Bucket List for Every Season
50 Ways to Enjoy the Great Outdoors joins several other free printables in the same series: