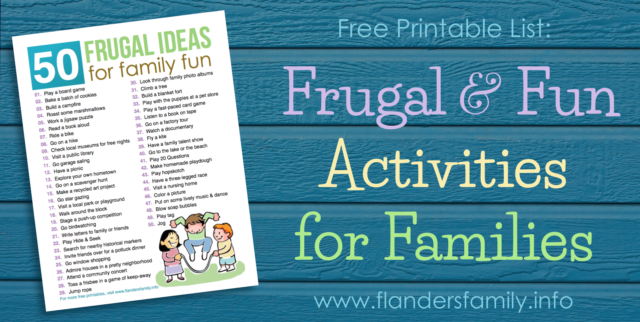 October 1 is "Frugal Fun Day!" So here's a long list of 50 fun & frugal things families can do together without breaking the bank:
Play a board game
Build a campfire
Roast some marshmallows
Work a jigsaw puzzle
Ride a bike
Go on a hike
Check local museums for free nights
Visit a public library
Have a picnic
Explore your own hometown
Go star gazing
Visit a local park or playground
Walk around the block
Stage a push-up competition
Go birdwatching
Write letters to family or friends
Play Hide & Seek
Search for nearby historical markers
Invite friends over for a potluck dinner
Go window shopping
Admire houses in a pretty neighborhood
Attend a community concert
Toss a frisbee in a game of keep-away
Jump rope
Climb a tree
Build a blanket fort
Play with the puppies at a pet store
Play a fast-paced card game
Listen to a book on tape
Watch a documentary
Fly a kite
Have a family talent show
Go to the lake or the beach
Play 20 Questions
Make homemade playdough
Play hopskotch
Have a three-legged race
Visit a nursing home
Put on some lively music & dance
Blow soap bubbles
Play tag
Go for a jog
For easy reference, here's a handy printable version of this list:
Post it on your fridge and refer to it next time you're in the mood to make some fabulous family memories!
By the way, if you live in East Texas (or would like to visit), there's a ton of fun activities taking place in Tyler this weekend that are completely free, such as movies in the park, Recycle Days at the zoo, Lego building at the library, and Kid's Clinic at Home Depot. Check out my current Family Matters column in the Tyler Paper for more details.