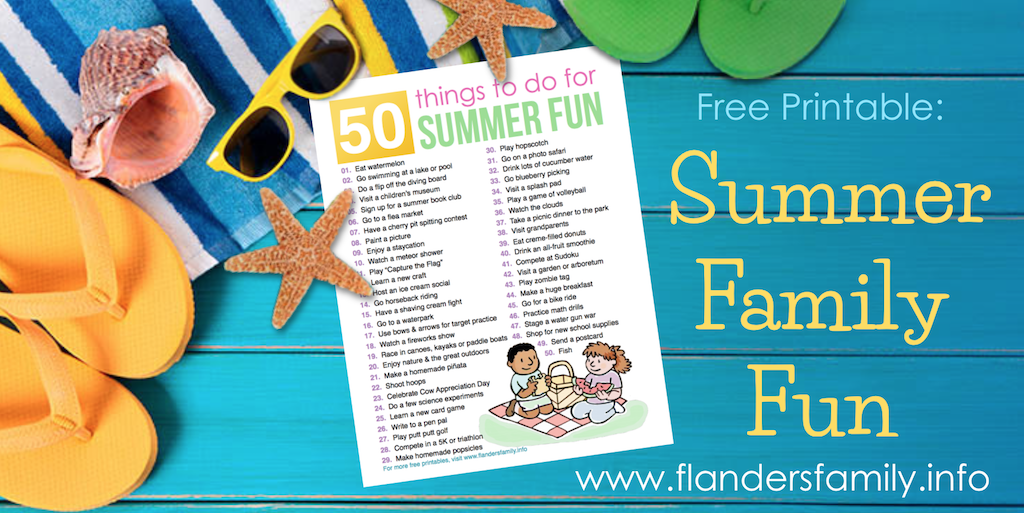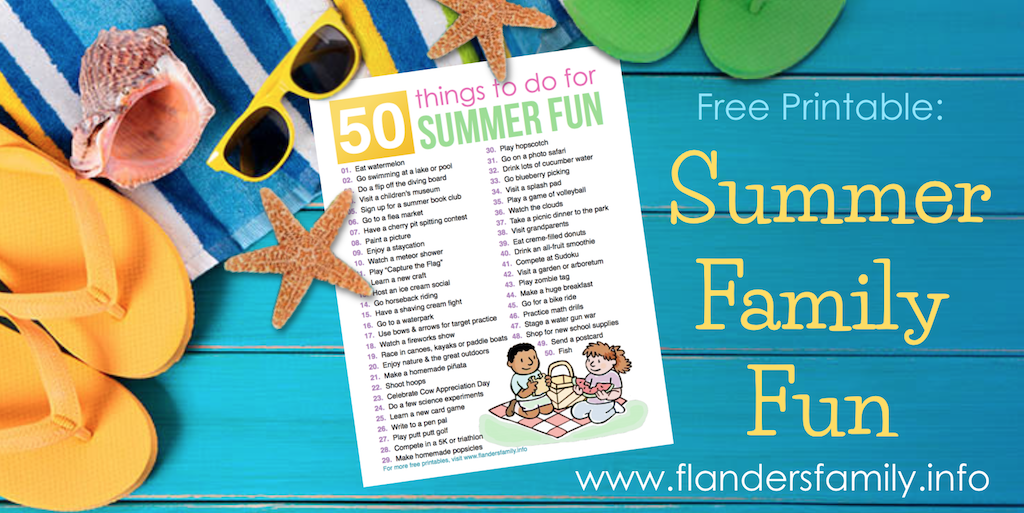 Yes, I know. The official start of summer is still more than a month away. But here in the south, warmer weather has arrived, school is winding down, and summer fun is beckoning, so I thought I'd publish this seasonal bucket list a little early so you can get a jumpstart on making memories with your kiddos while they have a break from classes and homework.
I highly recommend compiling a personalized list for your family of things you want to make sure you do before school starts back up in August. If you need some help brainstorming, you can start with this list of 50 Things to Do for Summer Fun and build from there:
50 Fun Activities for your Family to Enjoy this Summer:
Eat watermelon

To make it extra challenging, try racing to see who can devour a slice first with your hands behind your back!

Go swimming at a lake or pool

Do a flip off the diving board

Our sons love to stage diving board exhibitions and entertain us this way every summer.

Visit a children's museum

And if you'll be traveling this summer, you may want to become a member of your hometown museum in order to take advantage of reciprocal benefits on the road.

Sign up for a summer book club

If your local library doesn't offer a summer reading program for kids, check out this list of local businesses who reward children for the time they spend reading: Summer Reading Rewards Programs

Go to a flea market

See who can find the best treasure within a given price range.

Have a cherry pit spitting contest

Queue up in a line and see who can spit their pit the furthest. My husband holds the record in our family with a distance of 39 feet. (If you top that, let me know in the comment section below. I promise to be duly impressed!)

Paint a picture

Tempera, water color, oil or acrylic, it doesn't matter. Just grab a canvas or some card stock and let your creativity run wild.

Enjoy a staycation

You don't have to travel very far to get away from your everyday routine.

Watch a meteor shower

Play "Capture the Flag"

Learn a new craft

Host an ice cream social

Invite the neighbors over to make sundaes. You provide the bowls of ice cream and ask your guests to bring their favorite toppings.

Go horseback riding

Have a shaving cream fight

I'm not sure which of our kids first came up with this brainstorm of an idea, but it has become a favorite family tradition — one we usually observe on the Fourth of July, or thereabouts.

Go to a waterpark

Don't forget your beach towels and sunscreen!

Use bows & arrows for target practice

Watch a fireworks show

Another revered tradition for Independence Day. We sometimes bring a boom box and play John Phillips Sousa as we watch.

Race in canoes, kayaks or paddle boats

Enjoy nature & the great outdoors

For extra fun on your next family hike, try our Outdoor Scavenger Hunt

Make a homemade piñata

Did you know diaper boxes make great piñata bases? We've turned those cardboard cubes into red brick houses, ribbon festooned packages, and even Spongebob Squarepants. They hold up well to even big kids trying to break them open and hold plenty of candy to feed a crowd.

Shoot hoops

Celebrate Cow Appreciation Day

For one day a year, you can dress like a cow and get free food from Chick-fil-A. Can't beat that!

Do a few science experiments

Learn a new card game

Some of our family's favorites include Uno, Spoons, and Snappy Dressers.

Write to a pen pal

Play putt putt golf

Compete in a 5K or triathlon

Make homemade popsicles

Play hopscotch

Go on a photo safari

We make this one easy with a free printable list that you can download here: Nature Photo Safari

Drink lots of cucumber water

Go blueberry picking

These are delicious straight out of the pail, but if you have any left over, you might enjoy using them to bake with. Follow these links to try out our favorite recipes for blueberry oat muffins and fresh fruit crumble.

Visit a splash pad

Play a game of volleyball

Watch the clouds

Take a picnic dinner to the park

Visit grandparents

Drink an all-fruit smoothie

Compete at Sudoku

Visit a garden or arboretum

Play zombie tag

Make a huge breakfast

Go for a bike ride

Practice math drills

Stage a water gun war

Shop for new school supplies

Send a postcard

Go Fishing
So that's my list. What would you add?