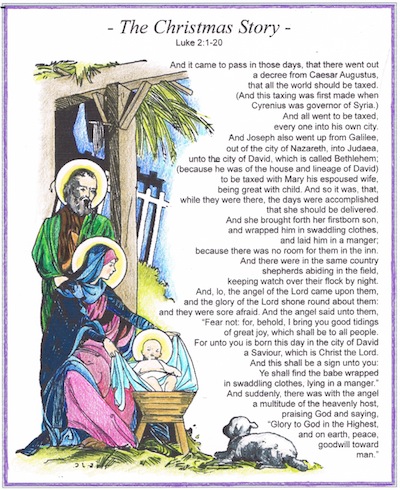 When I was growing up, my father would always read Luke 2 aloud on Christmas morning before we opened gifts.
When my husband and I got married, we decided to continue that tradition with our own children. Taking it a step further, we committed Luke 2:1-20 to memory, as well. We brush up on the passage every December until we can all recite it in unison.
My little ones don't yet have these verses down as well as their older brothers and sisters, so after revamping our printable, we added extra review sessions during our school day.
Want to learn it along with us? There's still time. Read through the whole thing together every day from now until Christmas, then review two new verses each day until you can say them by heart.
At that pace, you'll have the whole thing learned by Christmas morning.
Our Luke 2 printable is in the King James Version, since that's the one my dad always read and the one I'm most familiar with.
It includes a graphic of the nativity your children might enjoy coloring, as well. I colored mine with map pencils, but fine-tipped markers would work, too.