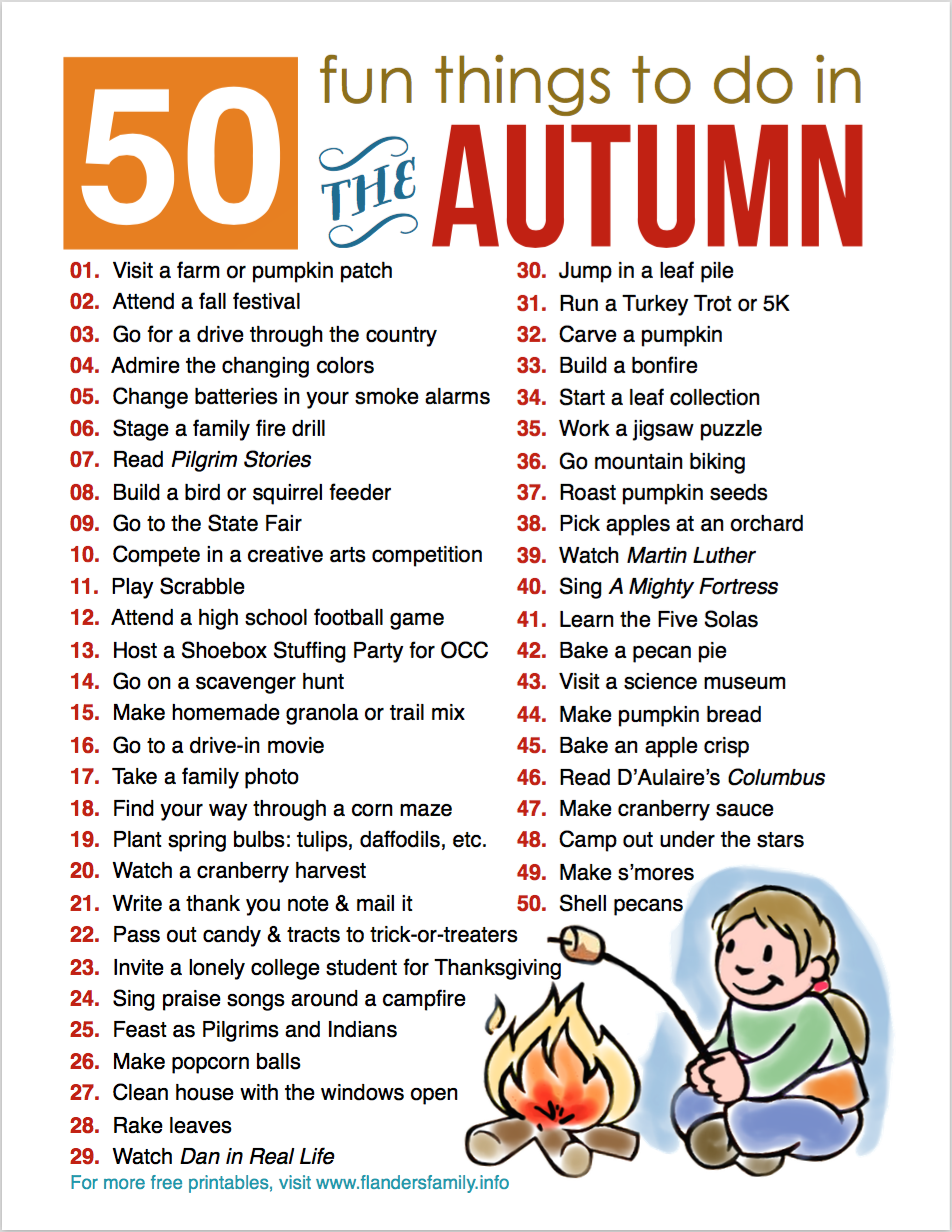 It may be hard to believe it, but fall officially starts this Friday. The year is nearly ¾ over! But the remaining quarter packs lots of potential for making great memories, if we're intentional about doing so.
Start by making a list of the activities you don't want to miss, then check them off as you go. If you are drawing a blank, here are 50 of our family's favorite things to do during the fall season, plus a few new activities we plan to try this year:
Visit a farm or a pumpkin patch
Attend a fall festival
Go for a drive through the country
Admire the changing colors (head to the Northeast for the best displays)
Change batteries in your smoke alarms
Stage a family fire drill
Read Pilgrim Stories
Build a bird or squirrel feeder
Go to the State Fair
Compete in a creative arts competition
Play Scrabble
Attend a high school football game
Host a Shoebox Stuffing Party for Operation Christmas Child
Go on a scavenger hunt
Make homemade granola or trail mix
Go to a drive-in movie
Take a family photo (check out these 6 tips for taking portraits you'll be proud of)
Find your way through a corn maze
Plant bulbs for spring: tulips, daffodils, etc.
Watch a cranberry harvest (if you can't see it in person, watch a YouTube video — it's facinating!)
Write a thank you note & mail it
Pass out candy & Halloween tracts to trick-or-treaters
Invite a lonely college student for Thanksgiving
Sing praise songs around a campfire
Feast as Pilgrims and Indians
Make popcorn balls
Clean house with all the windows open
Rake leaves
Watch Dan in Real Life
Jump in a leaf pile
Run a Turkey Trot or 5K
Carve a pumpkin
Build a bonfire
Start a leaf collection
Work a jigsaw puzzle
Go mountain biking
Roast pumpkin seeds
Pick apples at an orchard
Watch Martin Luther
Sing A Mighty Fortress
Learn the Five Solas
Bake a pecan pie
Visit a science museum
Make pumpkin bread
Bake an apple crisp
Read D'Aulaire's Columbus
Make cranberry sauce
Camp out under the stars
Make s'mores
Shell pecans
That should keep us busy for at least a couple of months! What are your favorite fall activities? Anything you'd add to our list?