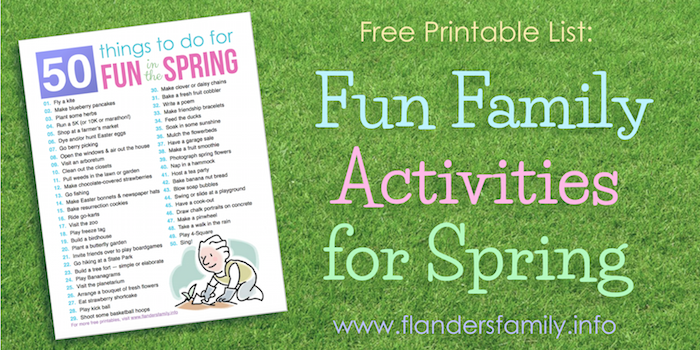 One of our sons is engaged to married in May, and most of our extended family came to Tyler over the weekend for a bridal shower some friends of ours threw for the happy couple. Everybody congregated at our house after the big event – parents, grandparents, siblings, cousins, aunts, nieces, nephews, in-laws, girlfriends, and lots of grandkids.
We played. We ate. We washed up the dinner dishes. And then, when there was a brief lull in the afternoon's activity, my brilliant husband passed out latex gloves and pressed the entire crew into service by having them weed on our front lawn.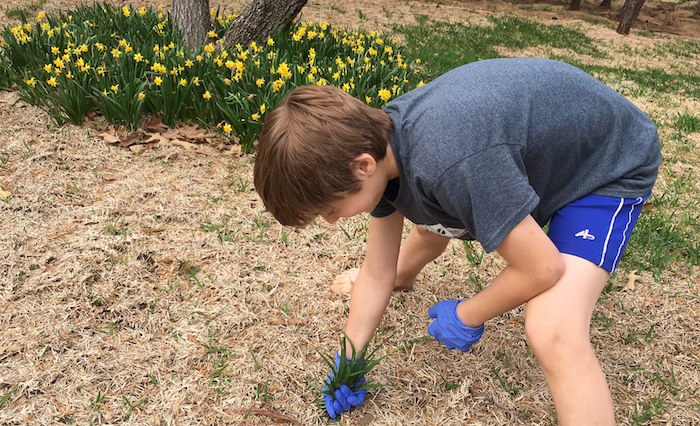 The job wasn't onerous – just five weeds each was all he asked – but the crowd (and the inevitable competition!) made it fun for everyone involved. "Many hands make light labor," and with 48 hands working together, our entire lawn was weed-free in short order. This, despite the fact that our not-well-established St. Augustine seemed to be fighting a losing battle with the dallisgrass that had dominated the lot while our home was under construction.
Of course, pulling weeds is not the only work to be done fun to be had this time of year. There's also spring cleaning: washing windows, airing bedrooms, clearing leaves out of the gutters, changing air filters, and so forth. Now that spring has sprung, I've posted a fresh new list of chores and amusements to keep our family busy for the next three months.
We try to keep a good balance of both. All work and no play may make Jack a dull boy, but all play and no work turns his home into a pigsty! Plus, with everybody pitching in on the chores, they're finished faster. That means more time is left for enjoying the more traditional fun stuff of spring: flying kites, going on hikes, playing games, picking berries, feeding ducks, dying eggs, having tea parties, shooting hoops, etc.
If you need inspiration, you can find plenty of ready-to-print springtime bucket lists on the Internet (including our family's version above), but we recommend gathering your children together and brainstorming a list of your own – or at least appending a few tailor-made ideas to whatever list you're using.
We had a family powwow for this very purpose on Monday – the first official day of spring! There was no shortage of great suggestions. One child asked if we could build a tree fort (since we left our old swing set behind when we moved). One wanted to take a family bike ride before breakfast every morning. Another child favors kayaking (we did that in New York last year and had a blast). Another thinks we should plant a vegetable garden.
There were several votes for eating frozen yogurt, playing Putt-Putt golf, and going to see a drive-in movie. One of our daughters is hoping we'll attend the Great Balloon Race in Longview this year (although I think that technically takes place in the summer). Your family's list may look far different from ours, but the memories we make will be the same: priceless.
---
Note: This post was adapted from a weekly column called Family Matters that I write for The Tyler Morning Telegraph.