Our family is full of Chick-fil-A fans. My husband, busy physician that he is, sometimes has to go without breakfast or lunch, so he often stops by Chick-fil-A on his way home from the hospital for an after-work snack (affectionately known as "first dinner").
And by often, I mean every day. Twelve piece nuggets, a large sweet ice tea, and a cup of ice dream with chocolate sauce. The workers know him by name and his order by heart.
When Doug went vegan for six weeks last fall, they must have wondered what happened to their most faithful patron. They saw nary a sign of him for 42 days straight (despite the fact Chick-fil-A sells a great kale superfood salad that would have let him enjoy the best of both worlds).
Nevertheless, his cravings eventually got the better of him and he ditched the vegan experiment in favor of those irresistible nuggets.
Just before our son (also an anesthesiologist) got hitched this spring, I overheard his father advising him on how to have a happy marriage: "Find a Chick-fil-A close to the hospital and stop by on your way home so you won't be starving once you get there. That way, you'll be in a better mood when you see your wife, and it won't matter if dinner isn't ready as soon as you walk through the door."
That advice undoubtedly says as much about my cooking – or lack thereof – as it does my husband's fondness for nuggets and sweet ice tea, but we do have a happy marriage, so I guess it's worked!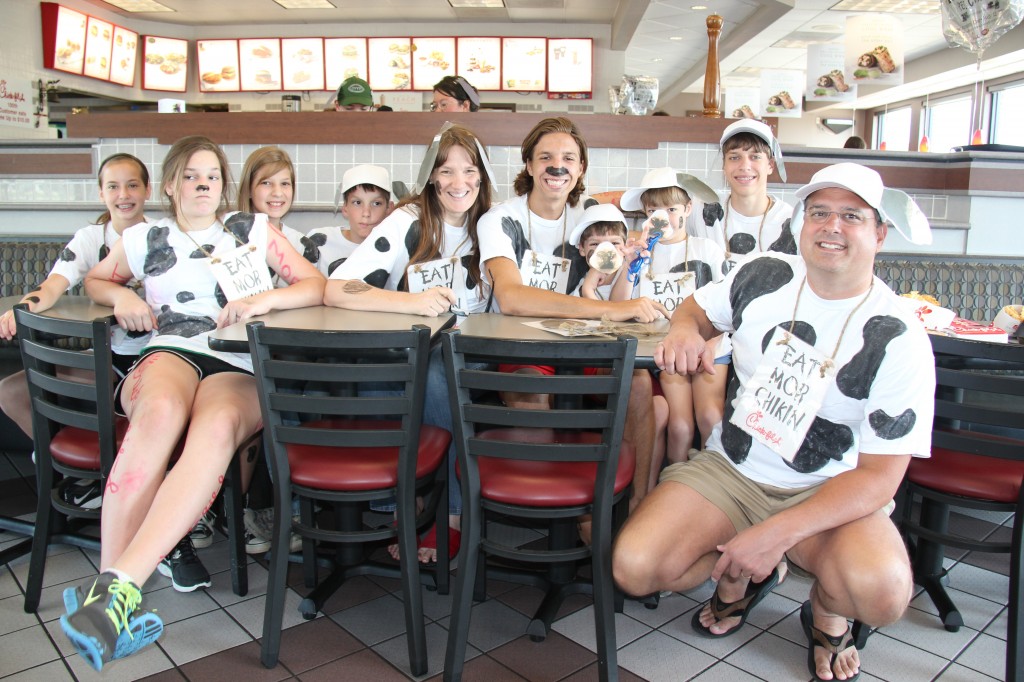 All this to say… one of our family's favorite summer traditions is celebrating Cow Appreciation Day (that's TODAY, but only from opening until 7PM!!).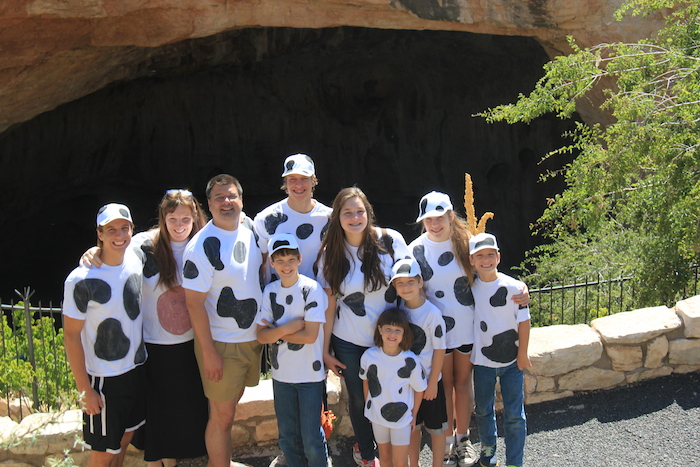 For thirteen years now, Chick-fil-A has been sponsoring this quirky holiday by giving free food to any customer who comes dressed as a cow. My daughter first got wind of this celebration many years ago and stayed up half the night making costumes. Since then, we've never missed it. We even take our costumes on vacation with us if we happen to be traveling on Cow Appreciation Day.
It raised a few eyebrows when our little herd of Holsteins stampeded through Carlsbad Caverns a few years back, but the bats didn't seem to mind, and the free lunch we enjoyed afterwards was worth all the funny looks the other tourists gave us.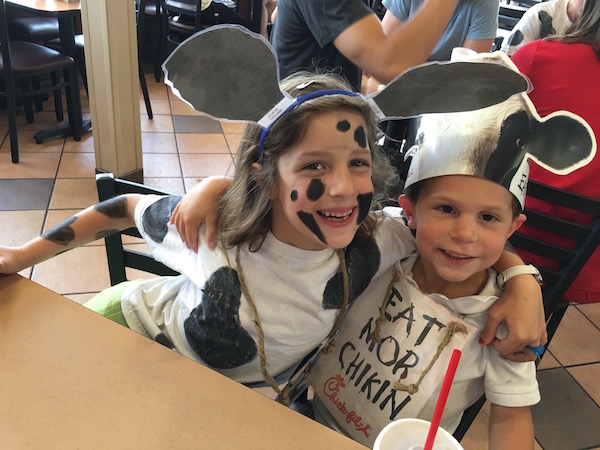 If you don't already have a closet full of cowhide handy, don't worry. Chick-fil-A makes it easy for folks to participate by providing a free printable "cow starter kit." How "udderly" amazing is that?
We printed out a whole stack of these out when we first "herd" about this promotion, laminated them, and have been using them ever since — along with our hand-painted T-shirts and, more recently, matching baseball caps. (Our kids like to add new touches to our costumes every year.)
So, if you like chicken sandwiches (or kale salad!) as much as we do, don your horns and hooves and moooove on over to your nearest Chick-fil-A. Maybe our family will "spot" you there!