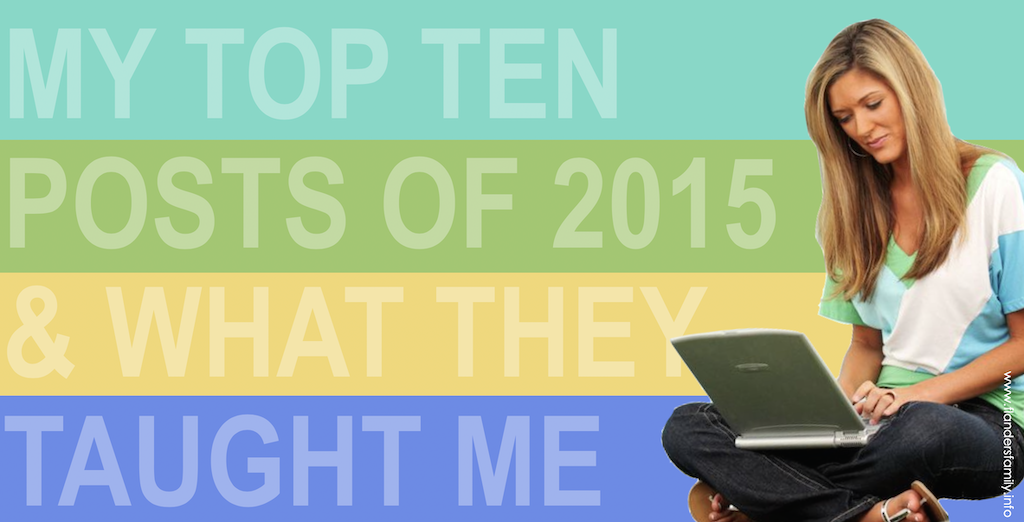 It always helps me in my blogging, when wrapping up the old year and setting goals for the new, to take stock of which of my posts have enjoyed the most popularity over the last twelve months. That's my goal in tabulating these top 10 posts of 2015. Knowing what has been most helpful to readers in the past helps me to better be able to serve you in the future.
As it turns out, the majority of this year's top 10 list made last year's list, too (although they've shuffled positions somewhat):
My Top 10 Posts and Pages of 2015:
Eight of the top ten involve some sort of free printable — five very practical, three just for fun — so I'll be sure to keep those coming in the New Year.
Interestingly, none of my most popular material has been written in the last twelve months. If I consider only the blog posts that have been written this year, my top 10 list reads like this:
My 10 Most Popular Posts (Written in 2015):
Breaking those down, we still see that half of them involve printables — no surprise there. Four deal with parenting, three with homeschooling, two with saving money, and four of them were from the "Mailbag Monday" column I started this time last year. (Got a question? Submit it here.)
Good news is, my old posts obviously have staying power. Bad news is, not many people are seeing my newest content — despite all the effort I've put into creating it.
You can help with that. Whenever you find a post you think is especially useful or insightful — here or on any other blog — please share it your friends (via Facebook, Pinterest, Twitter, whatever) so that they can benefit, too.
In the meantime, I'm going to limit myself to three posts a week this year, and really make them count. I'll keep posting Q&A in the Mailbag Mondays column and sharing the best of the printables I create for my own family.
This year's Word on Wednesday columns haven't gotten much traffic (although they have generated a lot of comments — thanks Elsie 🙂 ), but since that one was my husband's brainchild, I'm not ready to scrap it just yet. I do plan to scale back to posting every other week on that one, though — alternating with the weeks I share Scripture coloring pages on Sunday.
If there is a particular sort of post you'd like to see more of here, let me know in the comment section below. We view this blog as a ministry and sincerely want to bless as many families as we can through it. Thanks for reading and best wishes for an awesome 2016!