When I noticed yesterday that Restaurant.com — one of my favorite dining programs — is having a huge sale this week (only $2 for a $25 certificate), I shared the information with my friends on Facebook along with a tip about how to save even more by shopping through Ebates.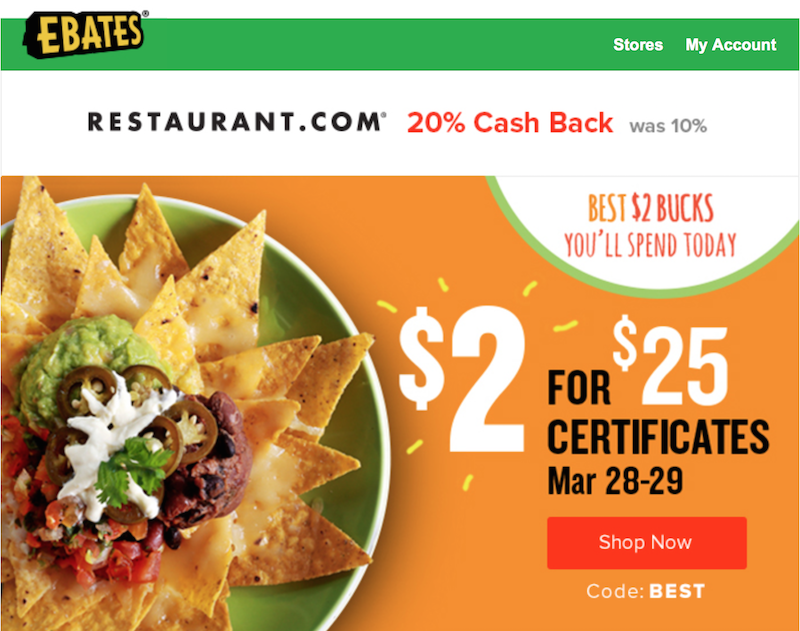 Here's what I posted:
One of the ways our family likes to save money while traveling is by eating at restaurants I find through Restaurant.com. I always wait to buy dining certificates (normally $10 per $25) until they drop the price to $2 — which they've done again through March 29. If you buy through Ebates, you'll get an additional 20% cash back, dropping the final price to $1.60 for a $25 dining certificate.

I stock up during this sale by getting generic certificates, then decide later which restaurants to use them at, depending on where we travel. If you don't already use Ebates, you can access using my affiliate link (they'll give you $10 credit for doing so if you're a new user), then type "restaurant.com" in the search bar at the top of the page to take advantage of this great deal.
Our family has been doing this for years, so it seems like a super-simple process to us. But my friends were full of questions as to how exactly it works. So I decided to post all those Q&A here for other readers who might be interested but unsure how to proceed.
QUESTION:
Can you use two certificates at the same time?
ANSWER:
No, you can only use one certificate per visit. And the minimum purchase required is always double the amount of the certificate (in other words, a $25 certificate can be used toward any tab of $50 or more).

Different restaurants offer different denominations of certificates, from $5 or $10 certificates (good toward a $10 or $20 purchase) up to $100 certificates (good toward a tab of $200). Those larger denominations come in handy when feeding our big crew!

Whenever I'm purchasing a gift certificate for a new restaurant, I first check out the menu (you'll find a direct link under the Restaurant.com listing) to get an idea of how much our family would likely spend eating a meal there, then I purchase a gift certificate for half that amount.
QUESTION:
When you say generic certificate, are you saying you can buy a credit for any restaurant.com restaurant to redeem later? Or do you just mean restaurants that you know will be available while traveling? Like chains that are common?
ANSWER:
It is possible to buy generic gift certificates to use later — there is a link at the bottom of the Restaurant.com site to do so, and you can usually find that option under the "specials" tab, as well. However, the price on the generic certificates is slightly higher during this particular sale.

However, since the restaurant-specific gift certificates never expire and can be exchanged, no questions asked, a better option would be to buy multiple certificates to a nearby restaurant, then exchange any of those you don't use for restaurants you want to try when you travel. Of course, you could also just use them as is for savings when you eat out at home. For $1.60 (after rebate) it is certainly worth checking out.
QUESTION:
How do you exchange gift certificates between restaurants?
ANSWER:
Once you buy a certificate, you will see it in your profile under "Restaurant Certificates." Next to each certificate are two options: "View Certificate" (so you can print and use it) or "Exchange Certificate." If you click on exchange, the credit will be immediately available to use at a different Restaurant.com restaurant (just hit "redeem now"). Or, if you don't want to use it immediately, choose "redeem later" and you'll see the credit listed under "gift cards" which you can use whenever you're ready. The certificates never expire.
Not only do these Restaurant.com certificates save us a bundle when we travel, but they make date nights more affordable, as well!
If you're interested in giving it a try, you'll need to act fast. This sale ends tonight at midnight. And remember to access the Restaurant.com site through Ebates to get an additional 20% cashback on your purchase. Bon appétit!