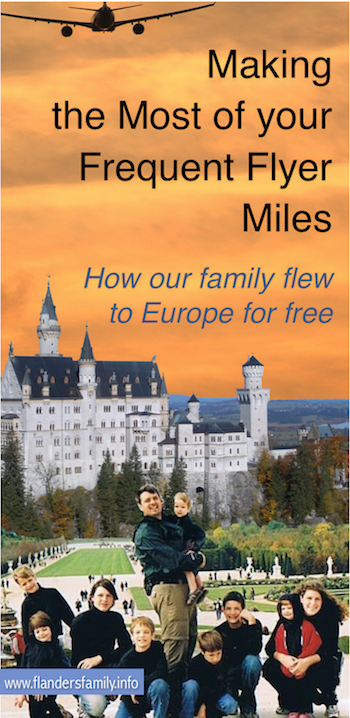 We are not a family of frequent fliers. Quite the opposite, actually.
Yet with a little ingenuity and intentionality, we amassed enough "frequent flyer" miles with American Airlines a few years back to get ten free tickets to Europe, then spent three weeks backpacking across the Continent with nine children in tow (our lap baby flew free, even without a ticket).
How did we do it? It wasn't as hard as you might think.
Granted, it took several years of saving to earn enough tickets for our big crew, but we accumulated those miles without a big time investment or change in lifestyle/spending habits.
We put forth a little energy up front to fill out the initial registrations for the programs listed below, then waited and watched as the miles added up over time.
For the sake of simplicity, our family stuck with American Airline's AAdvantage miles (or point programs that easily converted to AA miles), but there are many different travel reward programs out there, and the following tips will translate to most of those, as well (or possibly even in addition to, if you get really ambitious).
It's really easy, so give it a try. If you only do #2 and #6 below, you can earn enough miles for one round-trip ticket in the continental US, almost instantaneously!
To make your miles stretch further, you can choose to travel economy class and/or off-season. Check out this awards chart to see how many miles it'll take to reach your dream destination
Our family is currently saving our miles for a repeat trip to Europe with the children who were born after that first adventure, or were too young at the time to remember it. We can use all the help we can get, so if you know of any good ways to earn miles that we've not already listed, please let us know about them in the comment section below.
If you know of others who would like to learn how to fly for free, please share this article via Facebook, Twitter, Pinterest, or any of the other options below.
Thanks for reading… and bon voyage!