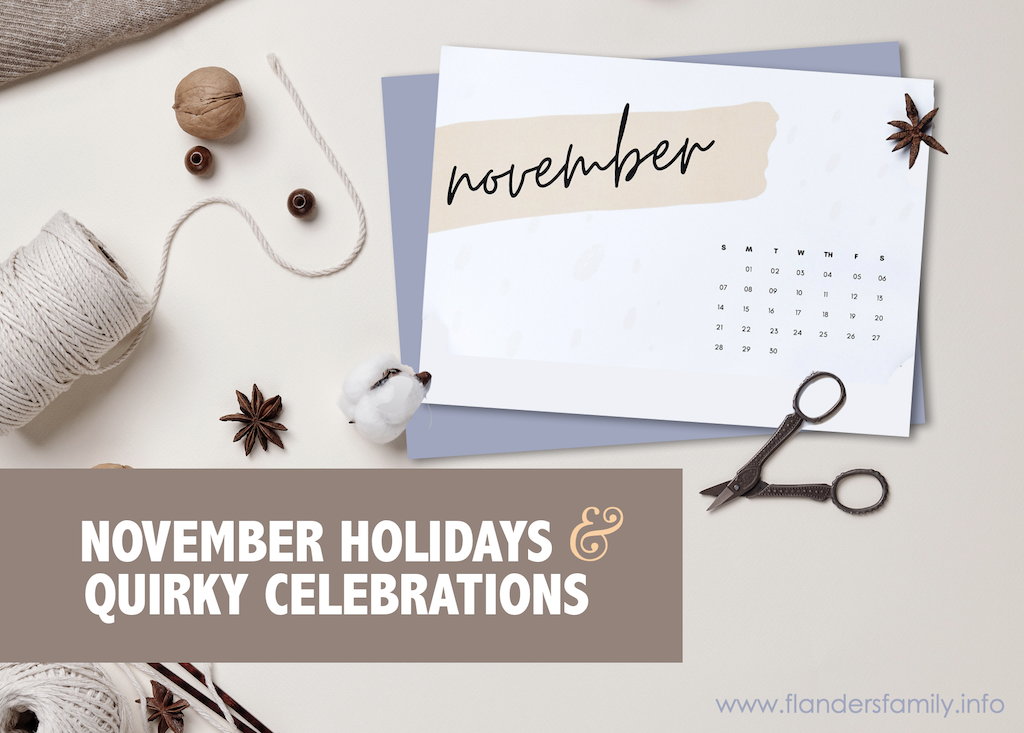 Eleventh in my monthly series on celebration-worthy moments, below you'll find a lengthy list of November Holidays and Quirky Celebrations. I hope these posts will help you make every month more memorable this year.
You'll notice that some items on this list are linked to other pages. Click through for ideas and resources to help your family get the most out of each occasion.
Rather than relying on memory or needing to reference this post multiple times throughout the month, I suggest making note of any holidays that interest you on your calendar or day planner and printing the related resources in advance.
November Holidays and Quirky Celebrations
November 1
All Saints Day
National Calzone Day
Author's Day – Seek God's blessing on your writing with this 31-day prayer challenge.
Extra Mile Day
International Scented Candle Day
World Vegan Day – Ease into a healthier, plant-based lifestyle with these 50 vegan snack ideas.


November 2
U.S. General Election Day (the day after the first Monday in November) – Remember to vote today if you didn't vote early!
Cookie Monster Day
National Deviled Egg Day
Plan Your Epitaph Day – How will you be remembered?
November 3
International Stress Awareness Day (first Wednesday in November) – For tips on getting from stressed to blessed, check out this post.
Cliché Day
World Jellyfish Day – We got stung by our first jellyfish on a recent trip to Hawaii. Ouch!
National Sandwich Day
National Homemaker Day – Housekeeping matters, as there is an art to making a house a home.


November 4
National Men Make Dinner Day (first Thursday in November) – Turn them loose in the kitchen to cook whatever they like.
National Skeptics Day – I doubt anybody will celebrate this November holiday
King Tut Day
Use Your Common Sense Day – Common sense is becoming less and less common, so if you've got it, utilize it!
National Candy Day
National Cash Back Day – Friends don't let friends pay full price, so I've created a short video tutorial on how to install a cash back button from my favorite program,Rakuten. It's quick, easy, and FREE, and will save you money on almost every online purchase.


November 5
National Jersey Friday (first Friday in November) – Show support for your favorite sports team!
Love Your Lawyer Day (first Friday in November)
National Donut Appreciation Day – Sometimes we don't fully appreciate something until it's gone.
American Football Day
Gunpowder Day
National Redhead Day – This November holiday is also known as "Love Your Red Hair Day" — something I started doing about the same time I learned to accept my freckles.


November 6
Book Lovers Day (first Saturday in November) – Check out these fabulous free resources for book lovers.
National Nacho Day – Can you say queso and jalapeños?
National Saxophone Day
Basketball Day – This November holiday is the perfect excuse to shoot some hoops or play a round of knock out.
National Ladies Learning Code Day
November 7
End of Daylight Savings Time (first Sunday in November) – Fall back! We gain an hour tonight!
National Bittersweet Chocolate with Almonds Day – My favorite way to eat dark chocolate… with nuts!
Notary Public Day
Hug a Bear Day – Or maybe just give a big bear hug to somebody you love along with these unbearably cute coupons

November 8
Try a New Recipe Day – You'll find all our family's favorites here, if you'd like to give one of those recipes a try.
National Ample Time Day – God promises to supply all our needs, and that means He will give us plenty of time to do the things we really need to do.
National Cappuccino Day
World Orphans Day – Pure and undefiled religion calls us to visit orphans and widows in their distress.
X-Ray Day
Dunce Day
National STEAM Day – One of my favorite places for buying STEAM-based curriculum? Timberdoodle!
World Pianists Day
Parents as Teachers Day – Whether you homeschool or not, you are your child's first and most important teacher. Don't take that role lightly!


November 9
Young Readers Day (second Tuesday in November) – Encourage your young readers with some of these great reading rewards for kids.
Chaos Never Dies Day
Go to an Art Museum Day
World Freedom Day – The Bible says, "It is for freedom that Christ has set us free." That's as good a reason as I've ever heard to celebrate!


November 10
Sesame Street Day – The show first premiered on this date in 1969.
USMC Day – This November holiday celebrates the Marine Corp's founding, which took place during the Revolutionary War.
International Accounting Day
National Vanilla Cupcake Day
National Forget-Me-Not Day – This is a day for remembering family, friends, and loved ones. Why not send them one of our free printable greeting cards to let them know you're thinking of them?

November 11
Singles' Day
Origami Day – Get a square of paper and start folding!
National Sundae Day – Host an ice cream sundae party for your friends and neighbors. You provide the ice cream and have guests bring their favorite toppings.
Veteran's Day – You'll find lots of free printables for Veteran's Day on our website.


November 12
Chicken Soup for the Soul Day
National Pizza with Everything (Except Anchovies) Day – Here's a fun pizza recipe with all the veggies on it.


November 13
National Moms and Dads Day – Children need both!
Actor's Day
World Kindness Day – Pay it forward!
Sadie Hawkins Day
November 14
Orphan Sunday (second Sunday in November)
International Tongue Twister Day (second Sunday in November) – Teach your kids some of the most common tongue twisters, about selling seashells by the seashore, wood-chucking woodchucks, or pecks of pickled peppers.
National Seat Belt Day – "When you ride in the car, what's the first thing you do? Buckle your seatbelt, that's what you do!"
Operating Room Nurse Day
National American Teddy Bear Day
National Family PJ Day – This November holiday is all the reason you need to stay in comfy pajamas all day long!
National Girls Day
National Spicy Guacamole Day – For the perfect amount of spiciness, try our savor-it-slowly guacamole.
National Pickle Day
World Diabetes Awareness Day – We have three sons with Type 1 diabetes, so we know how important it is to recognize the signs.
International Day of the Bible – This November holiday would be ry your hand at one of our Bible trivia tests.


November 15
Day of the Imprisoned Writer – Some of my favorite New Testament books were written by an imprisoned writer!
American Enterprise Day
National Clean Your Refrigerator Day – Stop stalling! Time to tidy up the fridge. And remember… when in doubt, throw it out!
I Love to Write Day
National Philanthropy Day
National Bundt Pan Day
Pack Your Mom's Lunch Day – My son makes my lunch for co-op every Monday. Isn't he sweet?
Little Red Wagon Day
National Raisin Bran Cereal Day – If you don't want to eat raisin bran with milk, try baking it into our delicious Raisin Bran muffins.
America Recycles Day – Our favorite way to recycle? Using recyclables for craft projects!


November 16
National Entrepreneurs' Day (third Tuesday in November)
Have a Party with your Bear Day 
International Day of Tolerance
National Fast Food Day – Make it easy on the cook and get dinner at a drive-through tonight.
Button Day – Celebrate this November holiday with some cute button crafts.


November 17
Homemade Bread Day – Why not bake a loaf or two or three of our banana bread today?
National Farm Joke Day
International Students' Day
National Baklava Day – My daughters make this from scratch, and is it ever yummy!
World Prematurity Day
The Little Mermaid Day – Time to re-watch the classic movie version.
Take A Hike Day – Celebrate by taking–you guessed it–a nice, long hike.
World Peace Day
November 18
Use Less Stuff Day (third Thursday in November) – Always a good plan in our materialistic society: "Use it up, wear it out, make it do, or do without."
World Philosophy Day (third Thursday in November)
Great American Smokeout  (third Thursday in November) – This November holiday was designed to help people quit smoking.
Mickey Mouse Day
Apple Cider Day – Serve it hot with a cinnamon straw!
National Princess Day
William Tell Day – Listen to The William Tell Overture and/or read this lovely picture book about William Tell.
November 19
November 20
National Adoption Day – (Saturday before Thanksgiving)
Family Volunteer Day (two days after the third Thursday in November) – This is a great way to give back to your community.
Name Your PC Day – If this idea seems strange to you, you need to read The Old Woman Who Named Things (or meet my daughter-in-law who names EVERYTHING).
National Peanut Butter Fudge Day – Whip up a batch to enjoy with your family after dinner tonight.
National Absurdity Day
Beautiful Day – This November holiday provides a great opportunity to enjoy one of our all-time favorite movies, Life is Beautiful. Or you can get a head start on watching Christmas movies by screening It's a Wonderful Life (and then take our Wonderful Life Trivia Quiz to see how well you paid attention).

November 21
Mother Goose Parade Day (three days after the third Thursday in November) – "Old Mother Goose, when she wanted to wander, would fly through the air on a very fine gander…."
World Hello Day
National Stuffing Day
Pumpkin Pie Day – Get started early on your baking for Thanksgiving Day. My girls have a "Sister's Pie Making Session" every year about this time and turn out half a dozen or so for all our family feasts.
National Gingerbread Day
National Red Mitten Day (Canada) – This is a good time for reading a childhood classic I grew up with, Too Many Mittens.
International Day of the Bible – Get a head start on reading through the Bible in a year.


November 22
Humane Society Anniversary Day
Keep 'Em Busy Day
Toy Story Anniversary – a great time to re-watch the movie, which debuted on this day in 1995
National Cranberry Relish Day
Go for a Ride Day – Today would be a great day for having a family bicycle race. Instead of competing to see who can finish the course first, have a slow race to see who can finish it last (without stopping or backtracking). Fun!


November 23
Doctor Who Day – I always get Dr. Who mixed up with Dr. Strange, but true fans can tell them apart and might enjoy a movie marathon today.
Fibonacci Day
National Cashew Day
Eat a Cranberry Day – One of my favorite ways to eat cranberries? In our orange cranberry pancakes!


November 24
Tie One On Day (always day before Thanksgiving) – Bake a loaf of bread, tie it up in apron with note in the pocket, and share with someone less fortunate or someone who needs cheering up.
What Do You Love About America Day (day before Thanksgiving) – There is so much I love about America, I wrote a whole book about it for people who love this country as much as we do!
National Jukebox Day (day before Thanksgiving)
Evolution Day – Please teach your children about evolution. They need to be aware of the mindset of the majority, even if there is scant evidence to support it, as our daughter Bethany discovered at Texas A&M when she was forced to take a class on the ecology of evolution. Note: This November holiday coincides with the date Charles Darwin's Origin of Species was first published and is also known as "All Our Uncles are Monkeys" Day (some of the uncles in our family are figurative monkeys, but all descended from the first Adam, not from apes)!
National DIY Day
Celebrate Your Unique Talent Day – This November holiday is a great reminder to bloom where you're planted.


November 25
Thanksgiving Day (fourth Thursday in November) – We have a wealth of free Thanksgiving printables to help you make the most of this November holiday.
Family Health History Day (fourth Thursday in November) – While the family is gathered for Thanksgiving, it would be a good time to get everybody's health history.
National Parfait Day – This may be a quick and easy breakfast idea to tide folks over until the turkey and dressing are done!
Native American Heritage Day
November 26
National Day of Listening (day after Thanksgiving)
Black Friday (day after Thanksgiving) – Midnight shopping sprees is a big tradition in a lot of families, but I prefer to do most of my Christmas shopping online, where I earn cash back with Rakuten.
Buy Nothing Day (day after Thanksgiving) – A November holiday for the self-disciplined among us!
National Leftovers Day (day after Thanksgiving)
National Flossing Day (day after Thanksgiving) – Make your dentist happy by maintaining good dental hygiene habits through the holidays.


November 27
Small Business Saturday (always the Saturday after Thanksgiving)
Pins and Needles Day
National Craft Jerky Day
Turtle Adoption Day
Visit the Zoo Day – If the weather is nice, a trip to the zoo would be wonderful!
November 28
Advent Season Begins (Sunday after Thanksgiving) – Celebrate Advent with our Scripture Countdown Chain or one of our other Advent Calendars
Make Your Own Head Day
Red Planet Day – Screen the movie The Martian and discuss: If the US were to establish a colony on Mars, would you sign up to go?
National French Toast Day
Turkey Leftover Day – Try using turkey instead of chicken in our yummy pot pie.
It's Letter Writing Day – It's time to sit down and write a newsy family update to include with your Christmas cards this year.


November 29
Square Dance Day – "Grab your partner, Do-see-do!"
National Lemon Creme Pie Day
Throw Out Your Leftovers Day – If you haven't polished them off by now, you'd better toss them out.
C.S. Lewis's Birthday – Celebrate by reading one of his classics, like The Magician's Nephew or The Horse and His Boy.
November 30
GivingTuesday (on the Tuesday after Thanksgiving)
Computer Security Day
Mark Twain's Birthday
Perpetual Youth Day
National Stay at Home Because You're Well Day – A great excuse to stay in and start decking the halls for Christmas!
National Mason Jar Day – Whip up some soup mix or brownie mix in a jar to share with neighbors.
Week-long Celebrations in the Month of November
First Week of November
Chemistry Week
National Cat Week
National Fig Week
World Communications Week
National Animal Shelter Appreciation Week
Drowsy Driving Prevention Week – This is a big problem for me, but listening to audiobooks helps keep me alert. Also taking frequent stretch breaks, singing, rolling down the car window, and snacking on something crunchy.
Second Week of November
National Education Week (for five days beginning November 11)
Dear Santa Letter Week
International Games Week – Drag out a few favorite board games and play as a family.
National Apprenticeship Week
National Split Pea Soup Week – A week for eating peas porridge hot, peas porridge cold, peas porridge in a pot nine days old!
Pursuit of Happiness Week
National Young Readers Week – Here's a fun challenge to do with your young readers!


Third Week of November
National Hunger and Homelessness Awareness Week (for nine days beginning second Saturday in November
Geography Awareness Week
Game and Puzzle Week – Work a puzzle (or two or three) with your kids this week. Be sure to choose something challenging!


Fourth Week of November
National Family Week (observed week of Thanksgiving)
Better Conversation Week (observed week of Thanksgiving) – We have just the resource for encouraging discussions around the dinner table. Download some of our free conversation starters or buy the whole collection in our Table Talk book.


Special observances that last the entire month of November
National Adoption Awareness Month
National Gratitude Month – November is a great time to Count Your Blessings!


Aviation History Month
National Pomegranate Month
National Scholarship Month
Peanut Butter Lovers Month
National Family Caregivers Month
No-Shave November – If you love beards, this month-long celebration is for you. If not, you'll be thrilled when December finally rolls around and your husbands and sons pull their razors out of storage!
Movember – Can't grow a full beard? A mustache works, too. You might even like to take our mustache trivia quiz in between twirling and waxing your mo.


Spinach and Squash Month
World Vegan Month – A good month to master one of our favorite vegan dishes, garlicky lentil soup.
Child Safety Protection Month
International Drum Month
National Diabetes Awareness Month – Again, you need to know the signs of diabetes!
National Epilepsy Month
Banana Pudding Lovers Month
Family Stories Month
Picture Book Month – You'll find a few of our favorite picture books here.
National Model Railroad Month
National Novel Writing Month
Healthy Lifestyles Month
Military Family Appreciation Month
Real Jewelry Month
Native American Heritage Month
National Sleep Comfort Month
Family Literacy Month – We have a family full of bookworms, so encouraging literacy is very important to us!


And that wraps us our November Holidays post. For more posts in this series, please follow this link: Monthly Holidays & Quirky Celebrations And to keep the fun going through every season of life, check out our family fun bundle. It's packed with practical ways to nurture family relationships and make the most of daily interactions all year long.