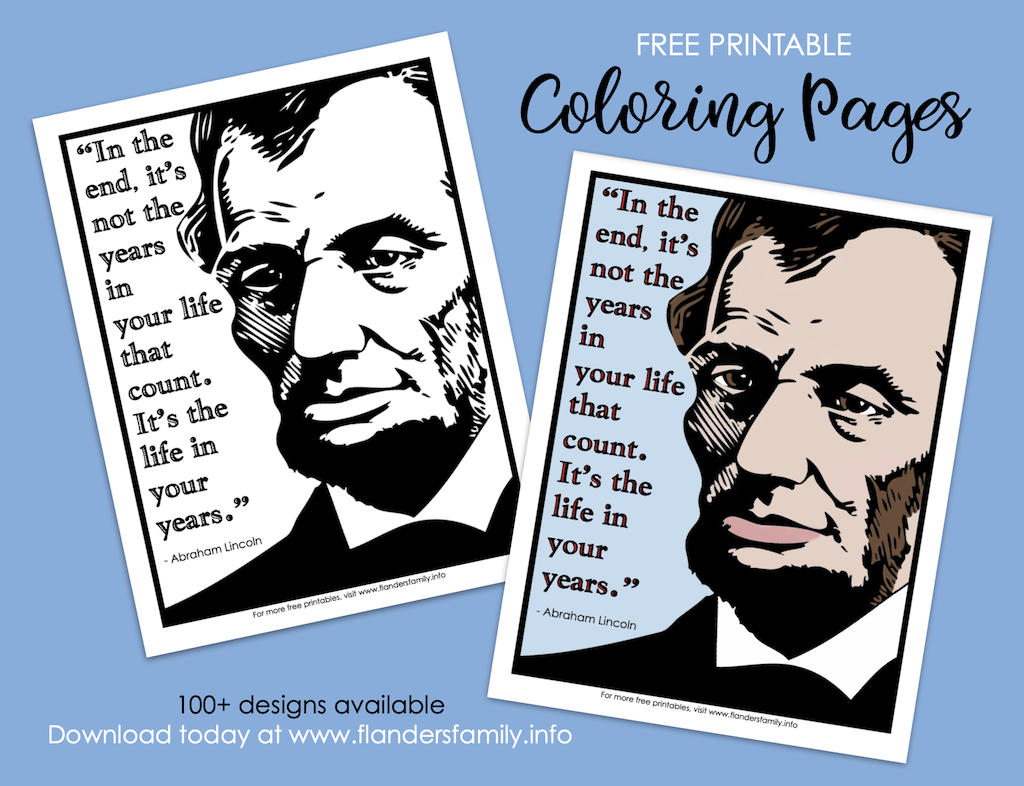 Yes, I know President's Day isn't until Monday, but today is Abraham Lincoln's actual birthday. Back when I was growing up, we used to get two days off from school instead of just one, because we celebrated Washington's and Lincoln's birthdays separately.
And it is in that spirit this post is written.
Ideas for Celebrating Lincoln's Birthday
Memorize Lincoln's Gettysburg Address

My children memorized the Gettysburg Address last year, so we'll start the day by reviewing that.

Read Some of Lincoln's Quotes

I've posted a few of my favorites, including one to color, here: Abraham Lincoln on Choosing Sides

Color a Picture of Abraham Lincoln

Next, we have a free printable coloring page featuring a wonderful quote by President Lincoln.

If your kids finish that one and are begging for more, here's another Lincoln quote to color.

Read a Biography of Lincoln's Life

For younger children interested in learning about Lincoln, it's hard to beat this beautifully illustrated biography by Ingri and Edgar Parin D'Aulaire.

Complete our Lincoln Worksheet

Test how much you know about our 16th president (or how closely your kids were paying attention to the book you just read) by completing this fill-in-the-blan worksheet on Lincoln's life.

Build a Log Cabin

Today would also be a great day for building with Lincoln Logs — a toy that has been a longtime favorite of my kids:

Draw a Picture of Abraham Lincoln

Or how about drawing a portrait of Lincoln? You'll find simple instructions for doing so on wikihow.com: How To Draw Abe Lincoln. [Update: sadly, this sweet tutorial has recently been removed. Cancel culture strikes again. Fortunately, I took a screenshot of the sample, in case you want to use that as a pattern for your own drawing.]

For students interested in doing even more realistic portraits, I use (and love) the Draw Today Program to teach my kids. It's a little hard to find these days, but very easy to follow. Lincoln's is one of the first portraits students are asked to draw in this program. One of my sons won a blue ribbon at the State Fair on that assignment several years back.
For more fun ideas for celebrating Lincoln's birthday, check out my President's Day Pinterest Board.