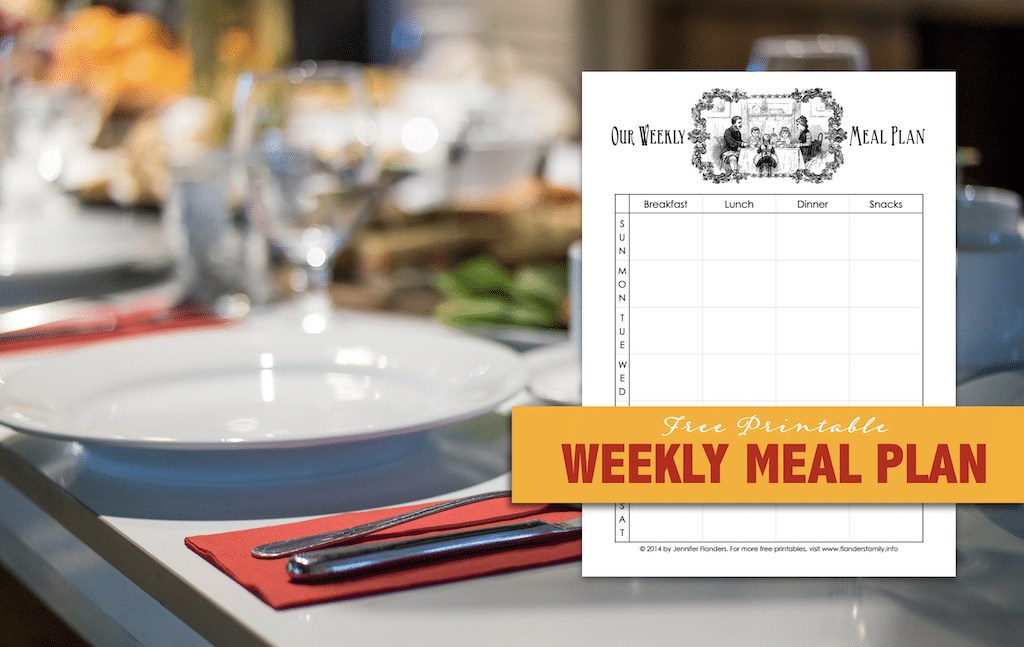 One of the best things a homemaker can do to get organized is to create a weekly meal plan for her family. Today I'm sharing a free printable that will make doing this job so much easier.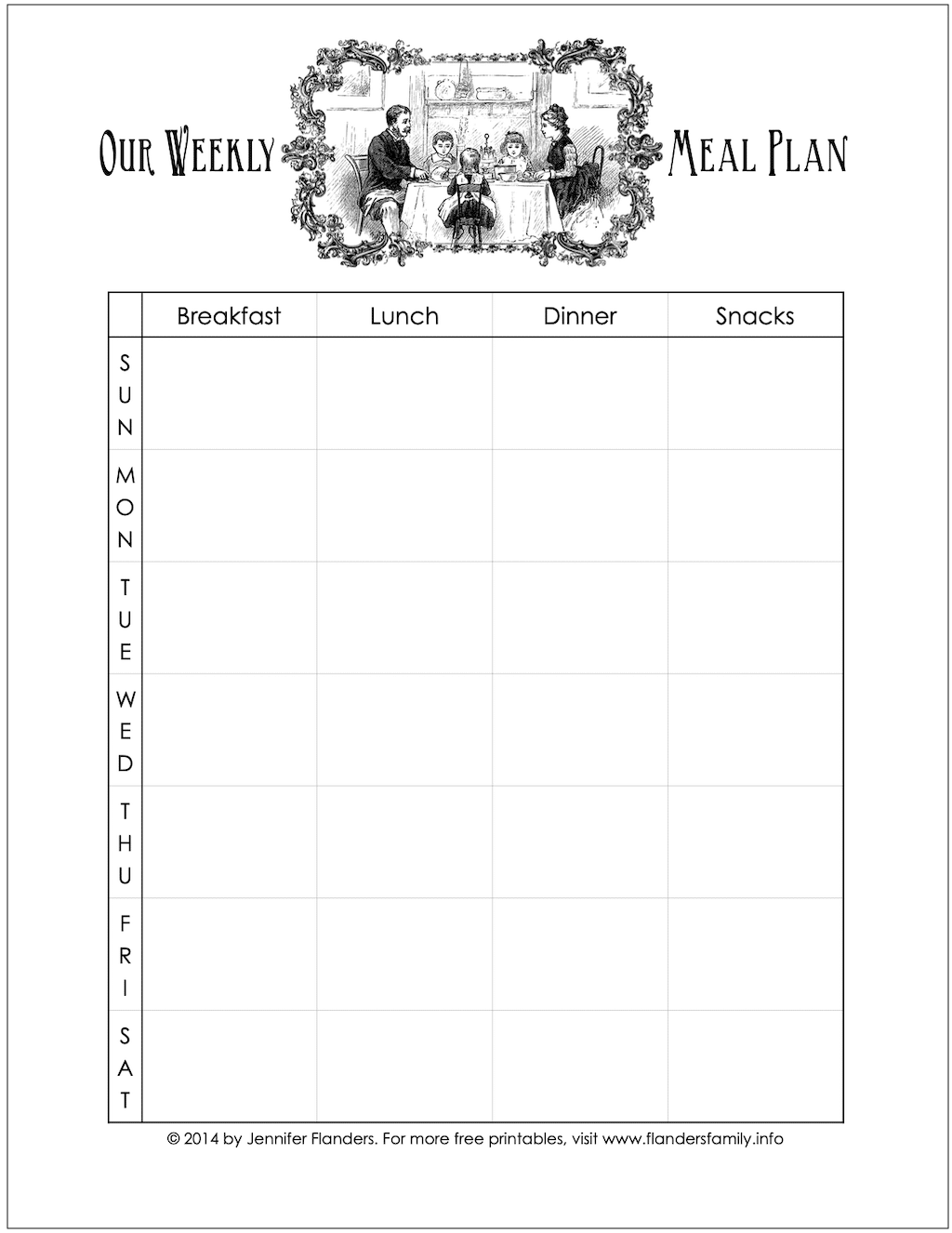 To ensure good variety, you might think in terms of theme nights. I took a page out of my sweet daughter-in-law's book and came up with these broad categories for my own family's dinners:
Daily Dinner Theme Nights
Soul Food Sundays

Southern comfort foods I grew up eating, like chicken fried steak, potato salad, macaroni & cheese, chicken pot pie, pinto beans, and cornbread

Meatless Mondays

Vegan and vegetarian dishes many in our family have grown to love: lentil soup, quinoa chili, cauliflower steaks, roasted veggies, hummus

Tex-Mex Tuesdays

Favorite flavors from south of the border: tacos, enchiladas, tamales, fresh pico de gallo, homemade guacamole, nachos, and burritos

World Cuisine Wednesdays

We like to try recipes from all across the globe, so one week we'll eat Italian dishes like spaghetti or lasagna, another week it will Indian, such as curry or butter chicken, another week Mediterranean fare including gyros, schwarma, and hummus

Thrifty Thursdays

This is a great night for cleaning out the refrigerator and eating up all the leftovers… or combining them into something new, such a vegetable beef stew or a huge fruit salad.

Al Fresco Fridays

We usually clean house on Fridays and will either picnic in the backyard to avoid messing up the kitchen or go out to eat as a family to give the cook a break!

Soup & Salad Saturdays

We have lots of favorite soups in our family — minestrone, chicken noodle, creamy potato, etc. — and when paired with a big salad and some fresh dinner rolls, they can be quite filling.
Translated onto my weekly meal plan printable, here's how our family's dining habits would look: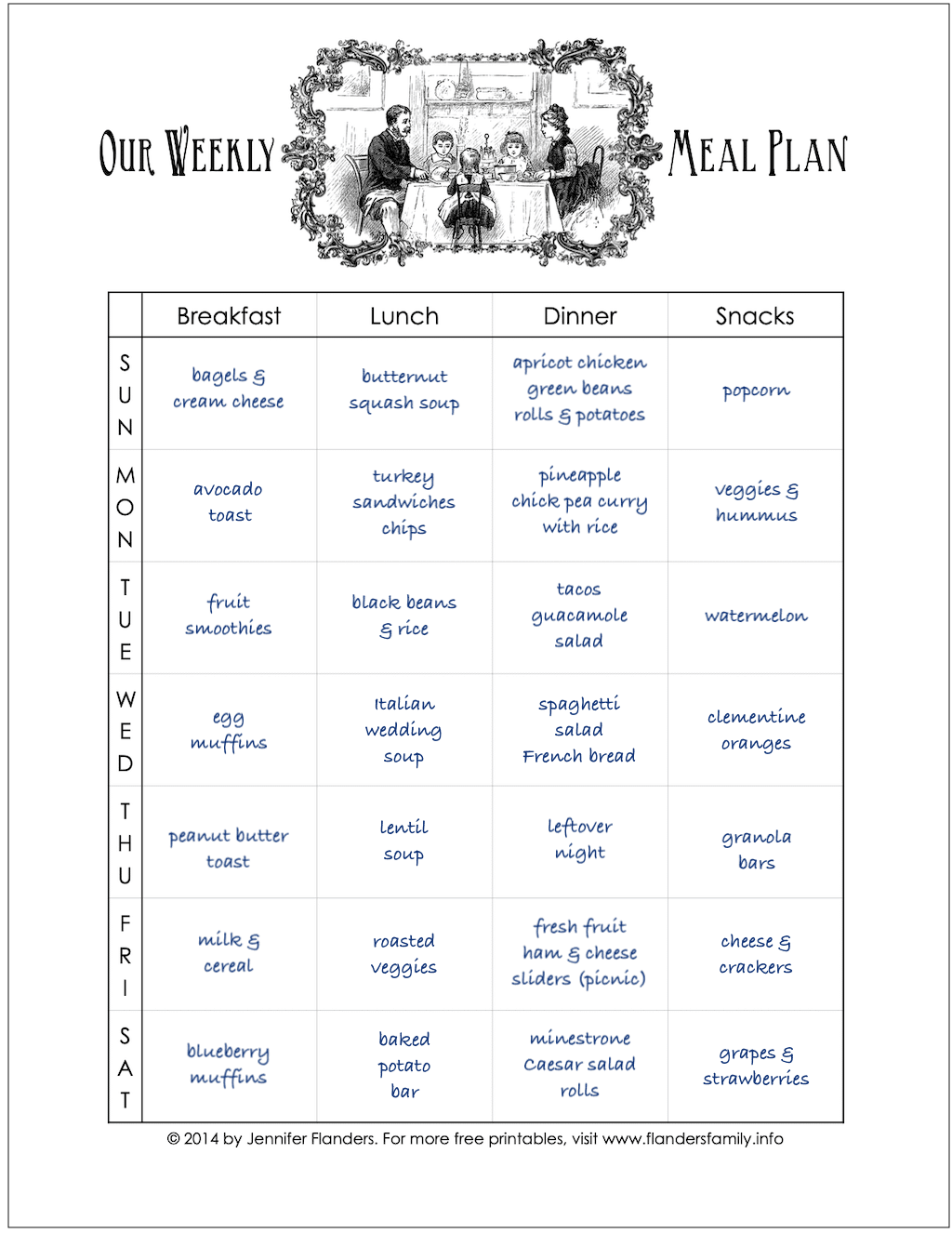 More help in the kitchen
Love to cook? You can view a categorized list of my other recipe posts here: Our Favorite Recipes. Or — for even more Flanders family favorites, plus a wealth of ideas for making mealtime memorable — get a copy of my book Sit Down & Eat.

Have enough nutritious and delicious recipes to fill a book of your own? Then grab a copy of my new devotional journal for culinary artists, Bread of Heaven so you can put them all down in one place.