I'm in the mood to decorate for Christmas, but still have a garage full of boxes from our recent move that need to be unpacked. So I've been setting goals for myself. Unpack a certain number of boxes before I work on some other fun project. If this, then that.
This morning, I sorted and put away contents from five boxes before sitting down to blog. It's Sunday, so I wanted to share another coloring page today, especially since I've missed doing so for a couple of weeks now. Sorry!
And since I've got Christmas on the brain, I thought I stick with that theme for this post, as well.
Today's coloring page features a woodcut illustration of a shepherd watching his flock:
It takes on almost a stained glass appearance when it is colored in. Here's a picture of mine in progress: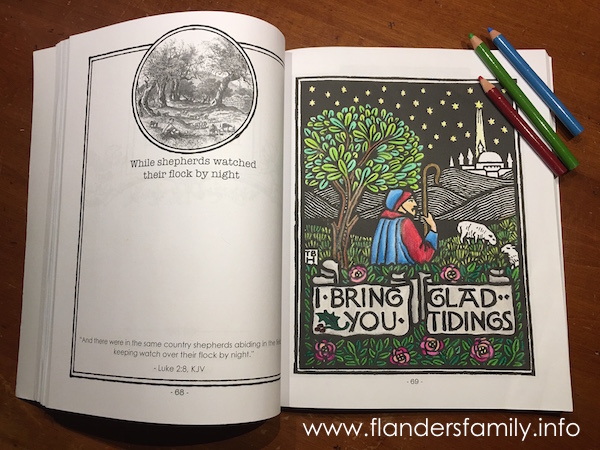 I use Prismacolor pencils for coloring. I like them because they come in such a wide array of shades and are so easy to blend. Also, they don't bleed through the way markers can, so they're perfect for coloring books.
Today's coloring page was taken from Joy to the World: A Devotional Journal for Christmas. This was one of the first books I unpacked in our new house, and I plan to work in it all month long.