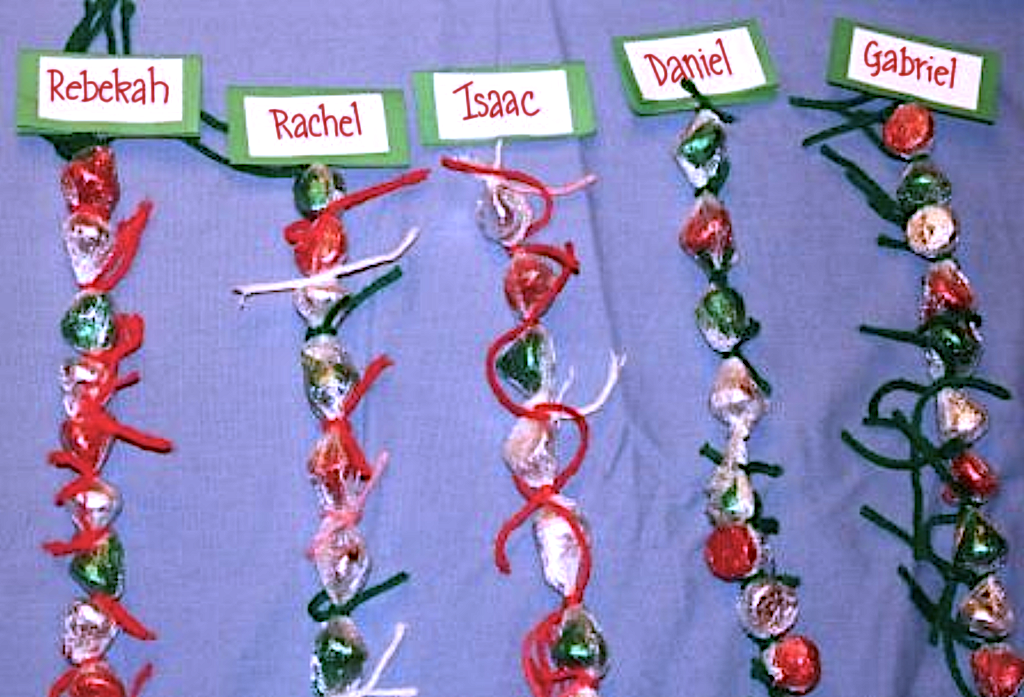 Our kids like to make this super-easy (and tasty!) craft to help count the days until Christmas. We usually make them right after Thanksgiving, although we're running a little late this year. Then beginning December 1 (or whenever we finish the chains), we cut off one chocolate kiss per day until Christmas.
To motivate the children to think of others, we tell them they cannot have the day's kiss until they've done something sweet for somebody else — which may mean reading a picture book to the baby, making their sister's bed, folding their brother's laundry, raking a neighbor's leaves, etc.
Supplies You Will Need to Complete This Craft:
25 chocolate kisses
long piece of plastic wrap
yarn or ribbon in Christmas colors
scissors
gift tag for name (optional)
Do It Yourself By Following These Simple Steps: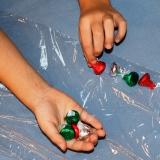 Cut a yard-long length of clear plastic wrap, and lay it flat on the table. Position 25 chocolate kisses along the edge of it, leaving a little space between each kiss. You may use more than 25 candies if you want to start counting early, fewer if you're making the chain later in December.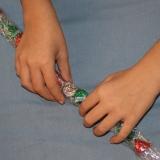 Carefully roll the kisses into the wrap, forming a long tube. Young children may need help with this step, as the wrap is very clingy. Ideally, there should be at least a double layer of wrap around all the kisses in the chain.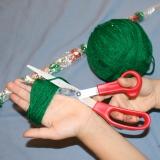 Cut yarn or ribbon to uniform length, about 4″ long. This is easily done by wrapping it loosely around your hand twenty-six times, then cutting through the loops once.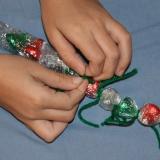 Tie a piece of ribbon or yarn between each kiss. Tie it tightly, so that the kisses won't fall out.You should have extra wrap left at one end, but do not cut it off yet.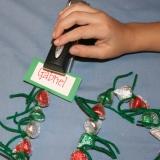 Staple or tie a name tag at the top of the chain (especially important if you have more than one child making this project). The excess plastic wrap will help in attaching the tag. Then hang it on your bulletin board, and you're ready to go. Remember to "do something sweet to get your treat!"