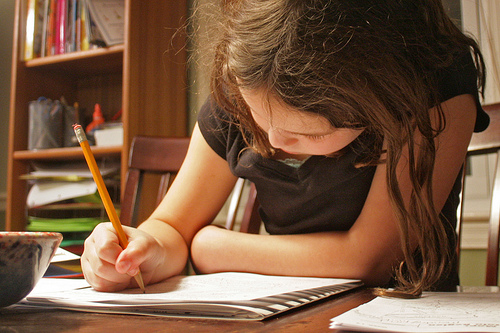 Hey Jennifer!

I have been trying to come up with a new homeschool chart for my kids' actual school subjects… thought you might have something fabulous!! What are your favorite places to research new homeschool ideas??

– Ginger
---
Dear Ginger:

"Fabulous" is a tall order, but there might be something in the printable charts page of our homeschooling section that you could use. You'll find weekly charts as well as semester planners there.

Honestly, though, I think a straightforward list is hard to beat. Here is a sample of the one I use for myself to keep track of the subjects I teach directly (both one-on-one tutoring and multi-level instruction). I print it off the computer as-is, then fill in the lesson numbers by hand at the beginning of each week. It helps to break down the assignments in such a way that I can check off each day's work as I go (e.g., instead of writing "Lessons 1-5" I'll write out "L1 L2 L3 L4 L5").

I do similar lists for the older kids with 4-6 weeks of assignments at a time so that they can work ahead if they want to (this example is from several years ago… David will be graduating from UTTyler this spring). The kids' lists contains only their personal assignments, both for the courses I teach them directly as well as for reading and other coursework they are responsible to do independently. For the little kids, I print a simple chart for them to mark as they do their chores and lessons, but I keep track of the actual page and lesson numbers.

As for researching new ideas…. honestly, Ginger, I guess I try not to worry about that too much. Once I find a curriculum that works for us (like Saxon Math or Apologia Science), I just keep using it and don't worry that there may be something bigger, better, or brighter elsewhere (I don't believe there is, anyway). You could drive yourself crazy and possibly bankrupt with too much second-guessing and switching methods mid-stream. If I encounter an area in which the method I've picked does not get the results I want (like I had with spelling a few years back), then I ask browse around at The Scroll (grand re-opening today at their new location on Broadway) or ask other homeschool moms what they use (one of whom recommended Sequential Spelling, which has been WONDERFUL).

That said, word-of-mouth is a powerful endorsement, and if I hear very many people talking about a new idea, I will usually investigate. I also enjoy thumbing through issues of THIS OLD SCHOOLHOUSE and PRACTICAL HOMESCHOOLING. I often spend as much time reading the ads as I do the articles. And I also like to browse through the offerings at Timberdoodle and to the read homeschool ideas on The Pioneer Woman and Large Family Logistics.

Hope that helps. Thanks for writing!