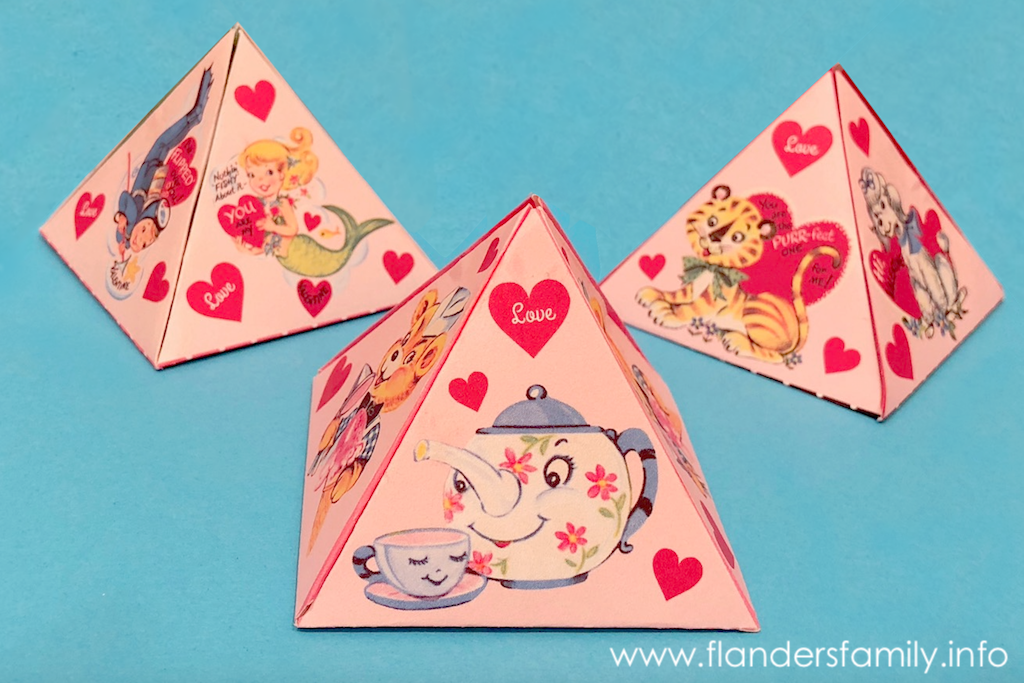 I'm up late tonight working on some last-minute treats for Valentine's Day tomorrow. For my younger kids, I designed these pyramid Valentine treat boxes:
Aren't they cute? They remind me of the kinds of Valentines I used to find in those big books of cut-out-your-own cards and envelopes. Remember those? They were always my favorites. I think kids totally miss out these days when they buy boxes of ready-made cards to share with classmates.
If you'd like to print some of these little treat boxes, I'd recommend you use card stock, if you have some available. Regular copy paper will work, but the heavier stuff will be a little more durable. Cut out the design on the outer lines, fold along the inner lines, and glue the rounded-edge flaps together inside the box where they won't show.
Don't forget to put a few pieces of candy or some other small gift inside before you glue that last flap down!
I also found a perfect last minute gift for my husband, the movie buff. I've been hearing a lot about the MoviePass program (aff. link). For one low subscription price, you can watch a different movie every day of the month if you're so inclined.
And I don't mean streaming B-list videos at home. This program is for first run movies at your local movie theater, even on opening night! For the price of one ticket, my husband can watch as many movies as he likes all month long, up to one a day. No black out dates!
I checked first to make sure our local theaters accepted the passes (they do — all four of them!), then signed my husband up for the yearly subscription. Although it's regularly $10 a month, for a limited time you can get a MoviePass subscription for the low monthly price of $7.95.
If you have a friend or family member who, like my husband, wants to watch new movies as soon as they're released, you should tell them to check out MoviePass before the price goes back up.