I finally got my desk cleared off again. Hooray! It had been piled high with paper work, books, mementos, mending, miscellaneous gifts, and unfinished craft projects, ever since Christmas.
It's amazing what a difference that one little change has made to my productivity! I finally have a nice, orderly place again to work on projects like the Retro Valentines below.
[Do you need help making more time for the things you love? For a limited time, you can download a FREE ebook, Make More Margin, by following this link. Enjoy!]
Now I'm probably dating myself to admit it, but back when I was in grade school, boxed valentines didn't exist. You couldn't buy stacks of tiny cards ready to sign and seal in pre-made envelopes. Instead, they came in huge paper books. Books full of vintage designs and matching envelopes you had to cut out and assemble yourself.
Many happy hours I spent snipping on solid lines, folding on dotted lines, and pasting the various embellishments where they went. I haven't seen those big books of do-it-yourself greetings for decades, but I did find some scanned copies of some old vintage valentines online, thanks to The Graphics Fairy and The Old Design Shop.
The collection below originally contained the same corny puns I remembered from childhood:
"What a scoop to have a Valentine like you!"
"You're purrr-fect in every way."
"My tu-lips are for you!"
But I've edited them to add Bible verses, instead. That only seemed fitting, in my opinion. If Valentine's Day is all about love, what better LOVE do we have to celebrate than the marvelous, matchless, unending love of Jesus?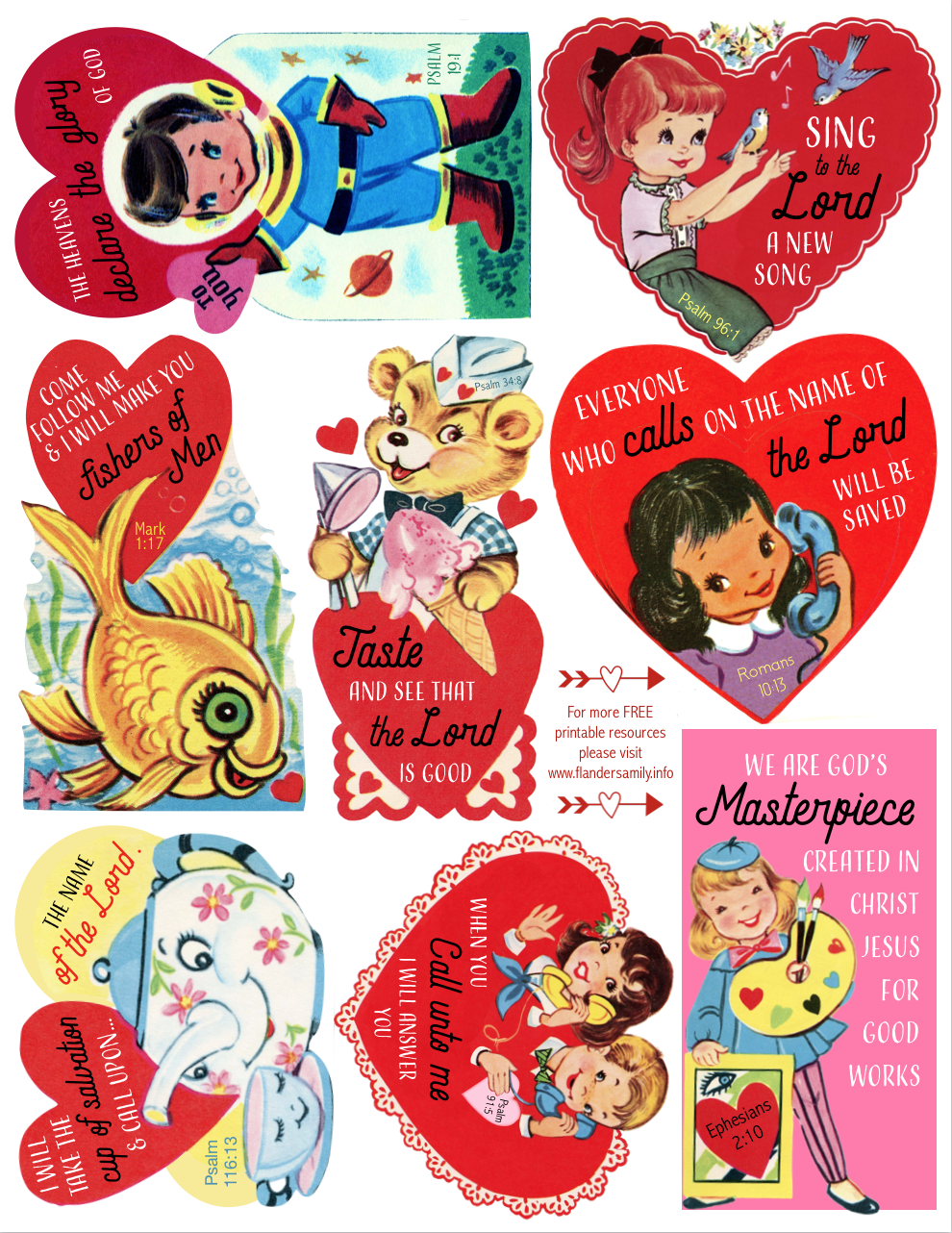 I hope you'll have as much fun clipping, trimming, and sharing these as I did designing them. And I pray that if you don't already know Jesus, you won't wait a moment longer to give your whole heart to Him.