This weekend didn't go quite the way we thought it would. We ended up spending about ten hours in the emergency room with this poor boy: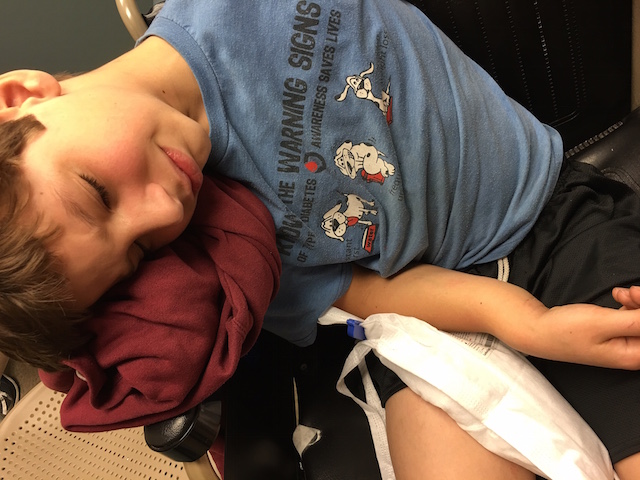 Nobody had to tell us Daniel's arm was broken. That much was obvious, but the X-rays gave us a better idea as to the extent of the damages.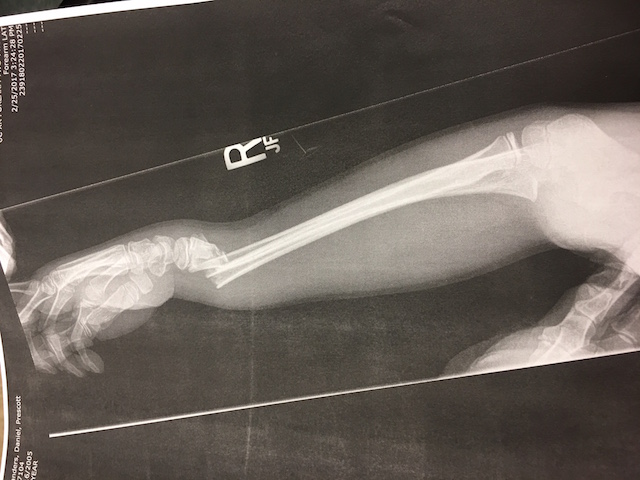 Good news is, the growth plates weren't involved. Bad news is, he had to have surgery to reduce the fracture. So the folks at the urgent care clinic just put the arm in a temporary splint and sent us over to the main hospital.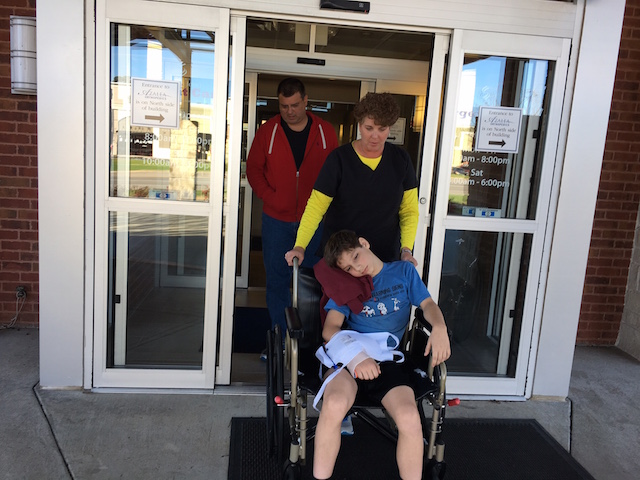 Interestingly, Doug was originally scheduled to take Saturday call at this hospital, but had traded out of it the day before. So the partner who was covering for him came in to provide anesthesia for the surgery.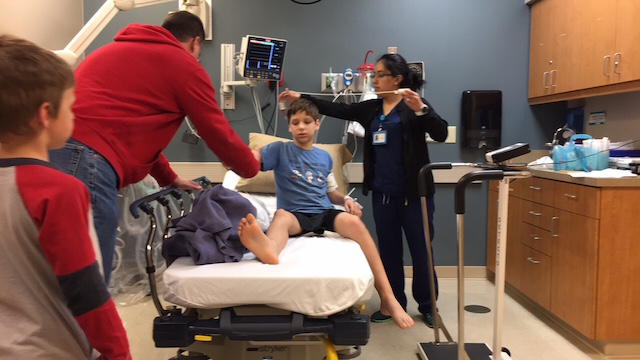 Daniel had just finished lunch an hour before the injury, so we had to wait another seven for the food to clear his stomach before they could wheel him back to the operating room. His brother brought the nephews by to keep him company while we waited. They took turns coming in to cheer Daniel up, although Dan didn't feel up to playing a game of slaps, like Sawyer suggested. Ha!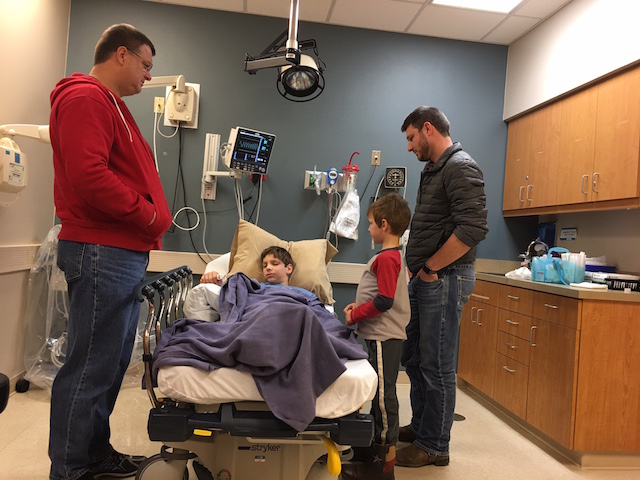 Once the waiting time was up, things really started hopping. They started an IV, gave Daniel some more medicine, and carted him to the surgical suite.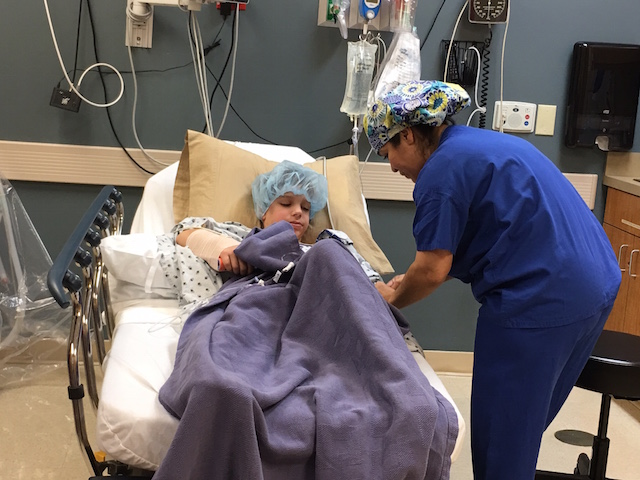 Next time we saw him, he had a straight arm and a happy grin — which probably had something to do with all the morphine on board. No more crying or pain!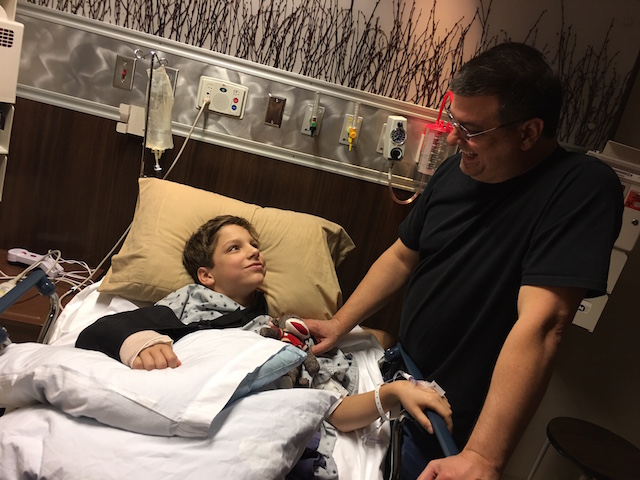 And that's the theme of this week's coloring page. God promises that in Heaven, He'll wipe every tear from our eye. There'll be no more death or mourning or crying or pain — even without the help of morphine!
I posted a couple of photos on social media requesting prayer for our sweet boy. It hurts a mama's heart to see her child in so much pain.
We appreciate all our friends lifting Daniel up before the Lord. Since a couple of them asked how the arm got broken in the first place, Daniel drew a picture (left-handed) this morning to explain. The stick figure in the middle is him, trying to take two rungs at a time on the monkey-bars, but missing: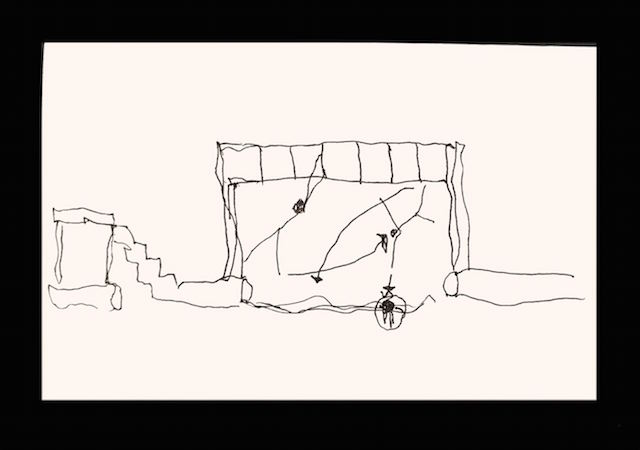 And if that sketch isn't enough to give you a detailed picture of the accident, Daniel's brother Isaac used some Lego mini-figures to tell the same story: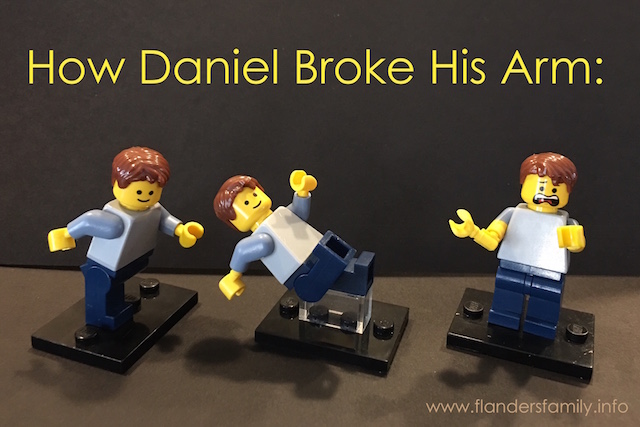 As you might imagine, with eight extremely active boys, we've had our fair share of fractures over the years. This mishap brings our total to 11 broken bones since first starting our family. Unless you count parents, too, in which case a fractured wrist and three busted ribs for Dad plus three broken toes (all separate accidents) for Mom bring the tally to 18.
Our daughters are fairly active, too, but none them have ever broken any bones. Stitches are another story. We've had at least 40 or 50 of those — I've completely lost count!
At any rate, we hope you all have a blessed, trauma-free week! If you like to color, come back again next Sunday for another free printable coloring page. Or you can look here to download any of the designs I've published in the past.
If you'd prefer a bound collection, check out my Color the Word series. These richly-detailed, Scripture-based coloring books were designed with grown-ups in mind, but can be enjoyed by all ages. They're even available in Spanish!