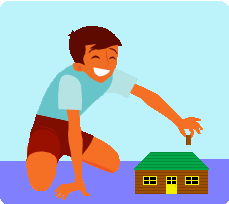 For many of us, the best way to begin organizing our children's playthings is by getting rid of about half of them. Most children these days own many more toys than they will ever play with, and the excess just creates confusion and prevents them from enjoying the toys they really like. So clear out the clutter – toss the stuff that is broken or missing parts, donate little-used toys or games to charity – then store the bulk of what you keep in boxes to be rotated, thereby giving your children only a few choices at any given time. This will do a more effective job of promoting creativity and contentment than anything else you might try.
A Few Family Favorites:
If there's one thing we've learned from twenty years of raising children, it's that most toys are not made to last, and the few that are seldom need replacing. Below is a list of the toys that have proven to be "keepers" for our family. They will always be allotted space in our toy closet.
Art Supplies: We stock a lot of craft supplies, including colored pencils, construction paper, scissors, water colors, crayons, glue, etc. Paper and pencils are readily available drawing; everything else is stored to be used only with permission and supervision. A box in the pantry holds a small stash of egg cartons, tin cans, paper bags, and the like for "recycled art" projects.
Baby Toys: We've found that baby's favorite playthings are brothers and sisters. We have an ample supply of both, although we don't normally store them in the toy closet. Besides giving baby lots of our attention and playing games like peek-a-boo or patty-cake, we also provide a crib mobile (ours plays classical music), lots of board books, a couple of rattles or teething toys, and a little cart that baby can push around when he's first learning to walk or can ride when he wants to get someplace in a hurry!
Balls: We keep a variety of sports equipment on hand, including two basketballs, a football, a soccer ball and cones, tennis balls and rackets, ping pong balls and paddles, and two four square balls (with chalk for marking a court on the driveway).
Bikes: Our family loves riding bicycles. Everybody in the family has a mountain bike (with baby carriers attached to the biggest three) and a helmet. We ride them around the neighborhood, or peddle to nearby restaurants on the weekend for lunch. The older, more competitive members of the family have road bikes now, too, for racing.
Building blocks: Plain wooden blocks for stacking, Lincoln Logs, Duplo blocks, and Legos (the older boys buy the Lego sets themselves, with the understanding that any of them Dad finds lying around the house will be immediately tossed, as they are definitely choking hazards for babies).
Dolls: The girls each have a baby doll and an "American Girl"-type doll, with several changes of clothing, a few of which they've sewn themselves.
Games: Favorite board games are Scrabble, Chess, Risk, and Monopoly. We also keep a couple of jigsaw puzzles. Our favorites are the "family puzzles", which contain three different-sized pieces in the same box, so that all ages can work together to complete it.
Tools: We give our older kids access to our tools – hammers, nails, drills, saws, wood-burners, etc – and a small supply of scrap lumber, with which they've built birdhouses, squirrel feeders, book shelves, tree-houses, etc.
Trains: We have a wooden train set we've added to over the years, complete with a couple of little battery-operated engines. Even the older children enjoy laying out a floor-full of interconnected track.