Our family got an unexpected opportunity this week to practice the admonition in today's coloring page. The verse is a familiar one, 1 Thessalonians 5:18:
In everything give thanks…
This is "birthday week" for our family. My youngest daughter turned eight on Friday, I turned 53 yesterday, my husband turned 51 today, and tomorrow will mark the 32nd anniversary of the day we met.
As is his habit, Doug took the week off work to celebrate. We'd planned to spend it in Wisconsin Dells, but Abigail started throwing up just hours before we were scheduled to leave town. What a way to spend your birthday, right?
Next Gabriel got sick, then Isaac succumbed to it, then Rachel, then Rebekah. So instead of spending a week taking a fun family vacation, we've spent it doing laundry, rinsing out throw up buckets, and disinfecting everything the afflicted touch.
Yet even in these circumstances, we can give thanks:
We are thankful that God is in control.

Perhaps He used this illness to protect us from something far worse — a fatal car accident or some other life-altering event.

We are thankful the virus hit before we got on the road.

As difficult as it has been to have so many sick children at once, it would have been ten times harder to deal with (and they would've felt ten times more miserable) if they were throwing up in the van!

We are thankful for the good health we normally enjoy.

There's nothing like a brief bout of sickness to make an otherwise healthy person appreciate the fact that he usually feels amazing. We oughtn't take that fact for granted.

We are thankful for washing machines and indoor plumbing.

For obvious reasons, dealing with the aftermath of a stomach virus is so much simpler thanks to modern day conveniences.

We are thankful for downtime.

Our lives tend to be very busy by nature, but illnesses force us to slow down and rest. That's restorative for all of us.
One thing I've been doing with my unanticipated downtime is working on my Sweet Child of Mine journal. That's been especially therapeutic for me, as I'm having to come to grips with the idea that my "baby" (born the day before I turned 45) is eight years old already and I've likely left those precious childbearing years behind me for good now.

In fact, today's coloring page is taken straight out of this devotional journal for moms.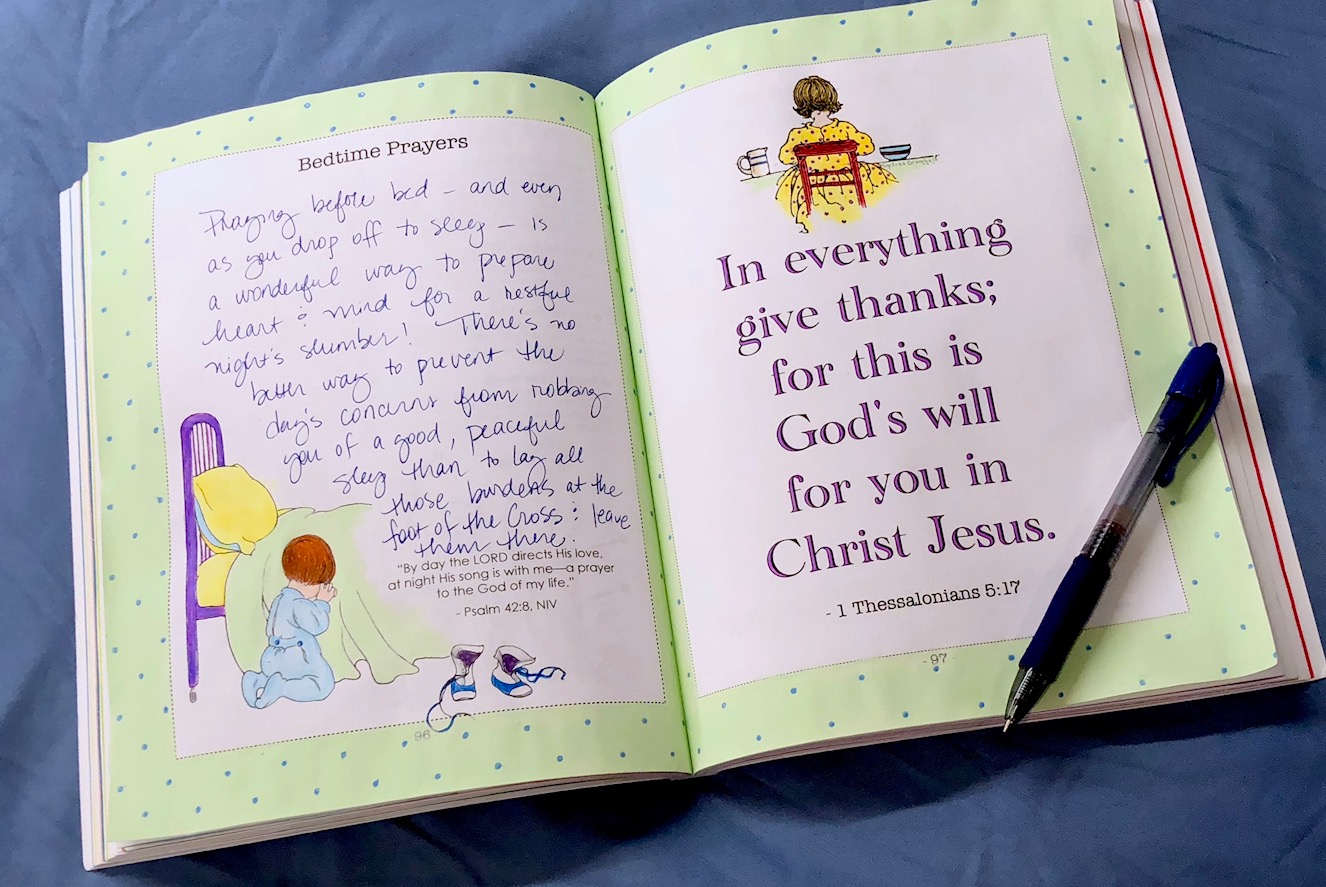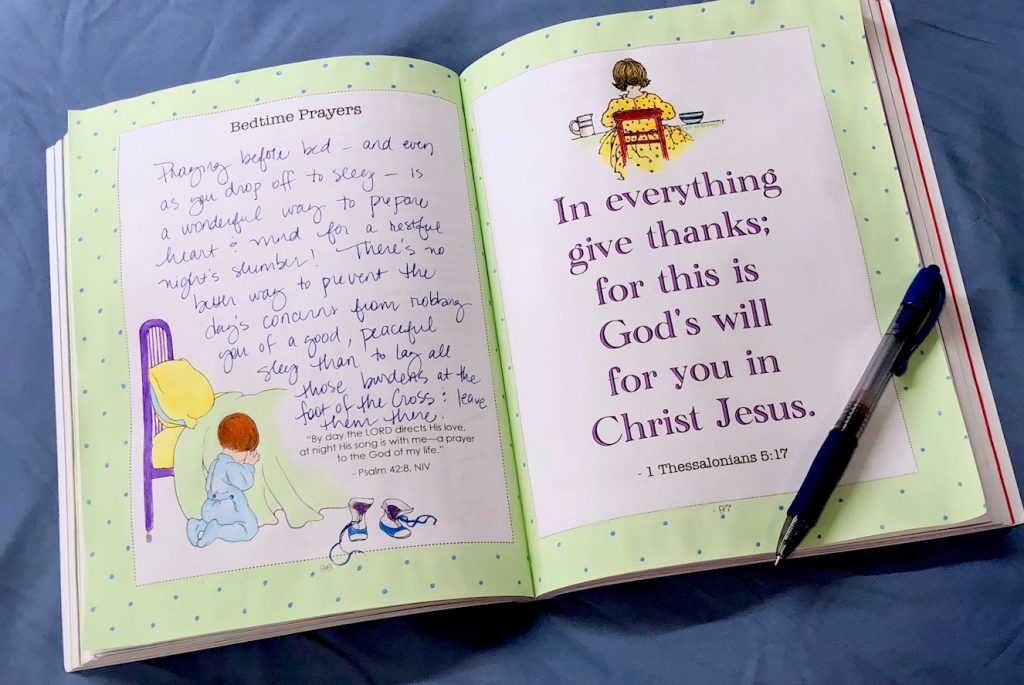 I recently discovered I could paint the borders of the pages without bleeding through, which opened a whole new world of creativity where these journals are concerned.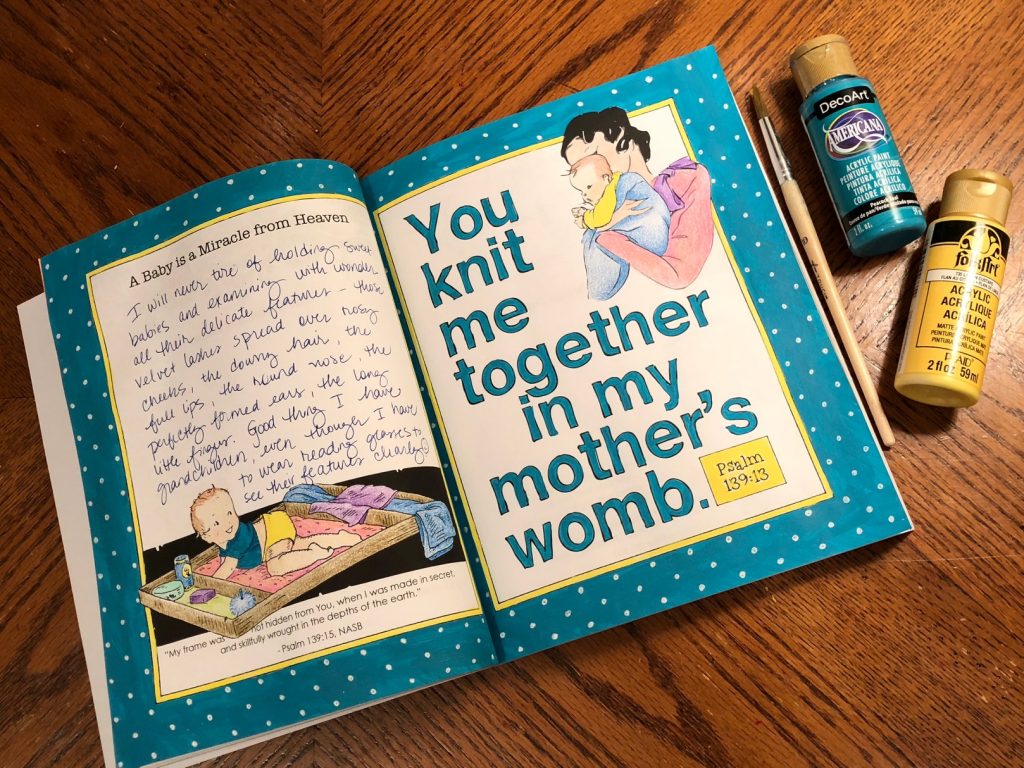 Up until now, I had primarily used my Prismacolor pencils to color in the artwork and borders in these journals. I love the shading and blending I can achieve with these high-count pencil sets.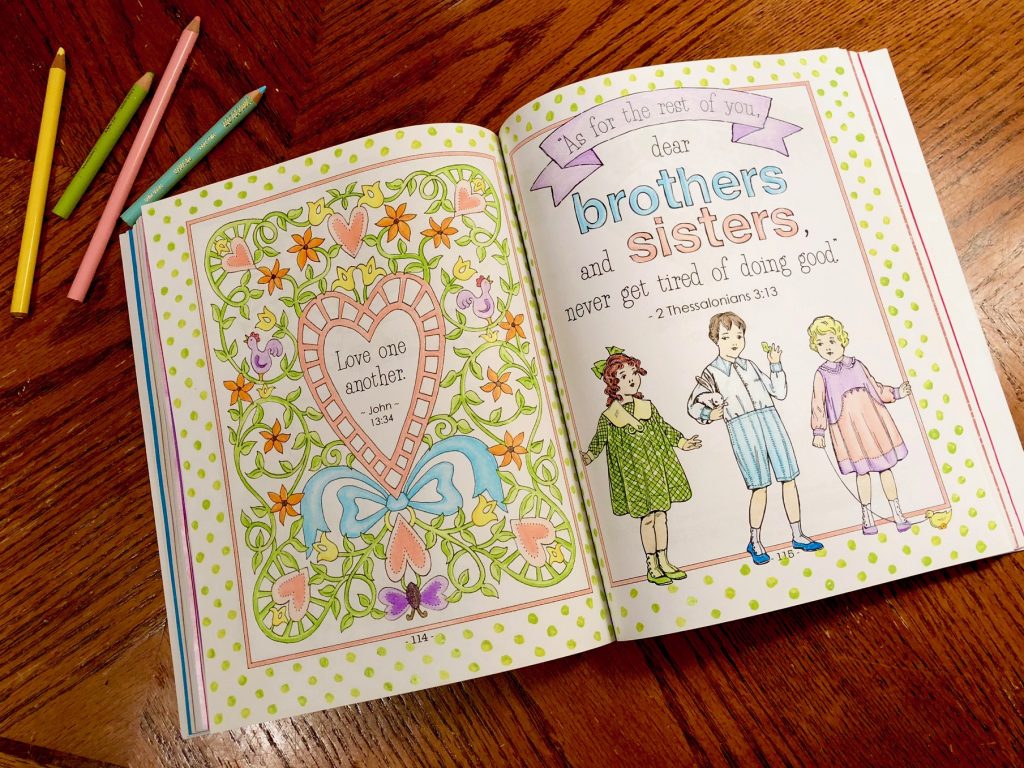 But I also love the creamy smooth solids I get when using my Folk Art and Americana paints: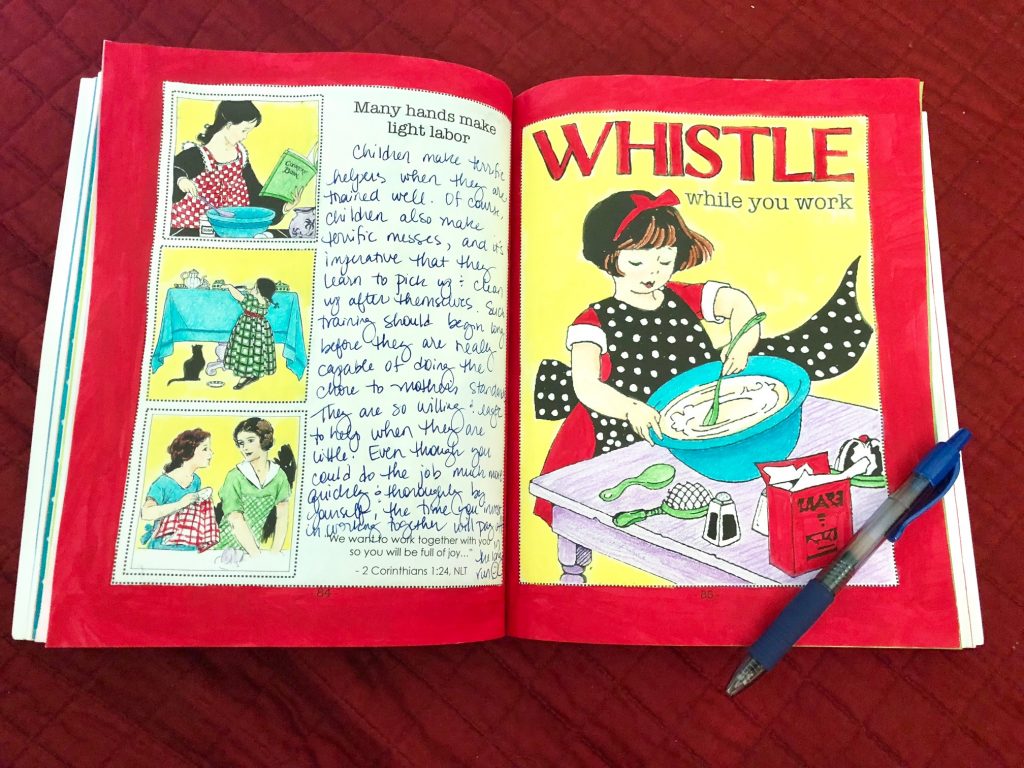 Aren't these pages fun and pretty? You can see why I've been having such a blast working on it.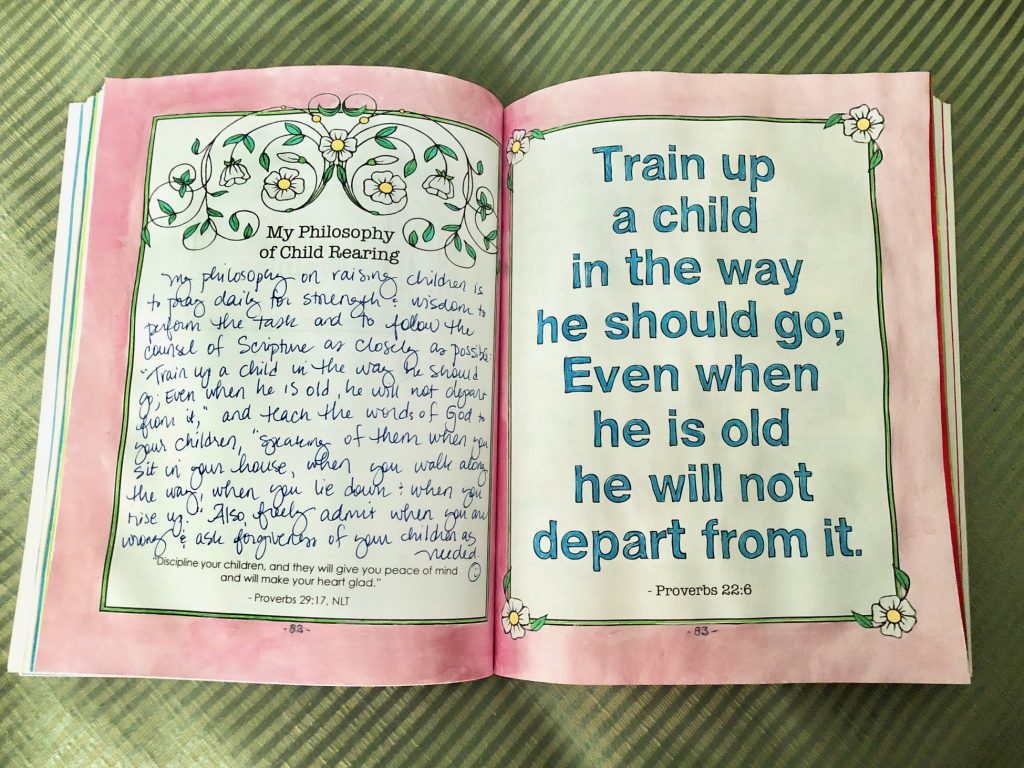 Keep in mind that Mother's Day is right around the corner. If you need a gift idea for any of the mothers in your life, young or old, Sweet Child of Mine would make a great one. It's loaded with Bible verses, inspirational quotes, word studies, and some of the most beautiful vintage artwork you'll ever see.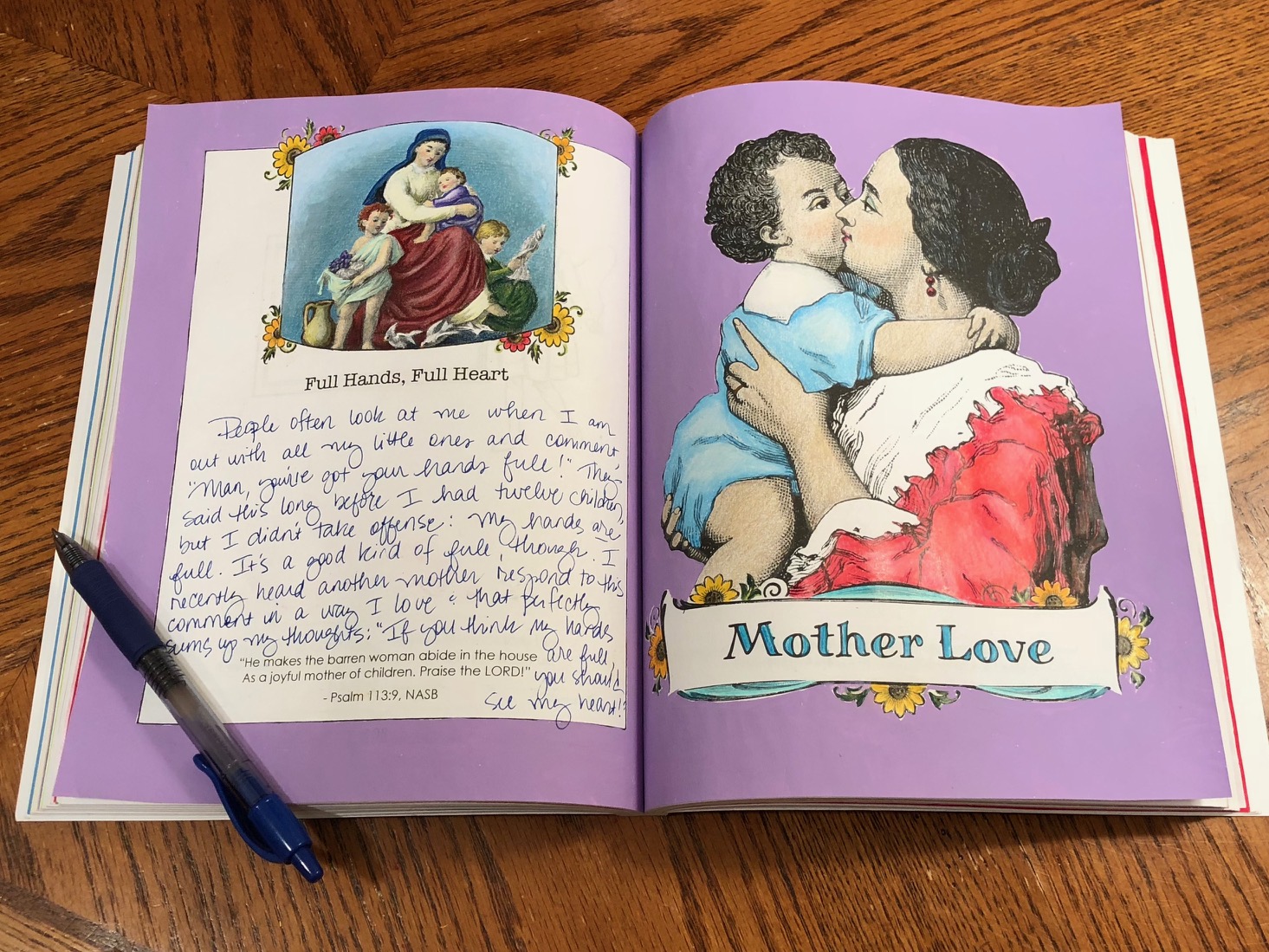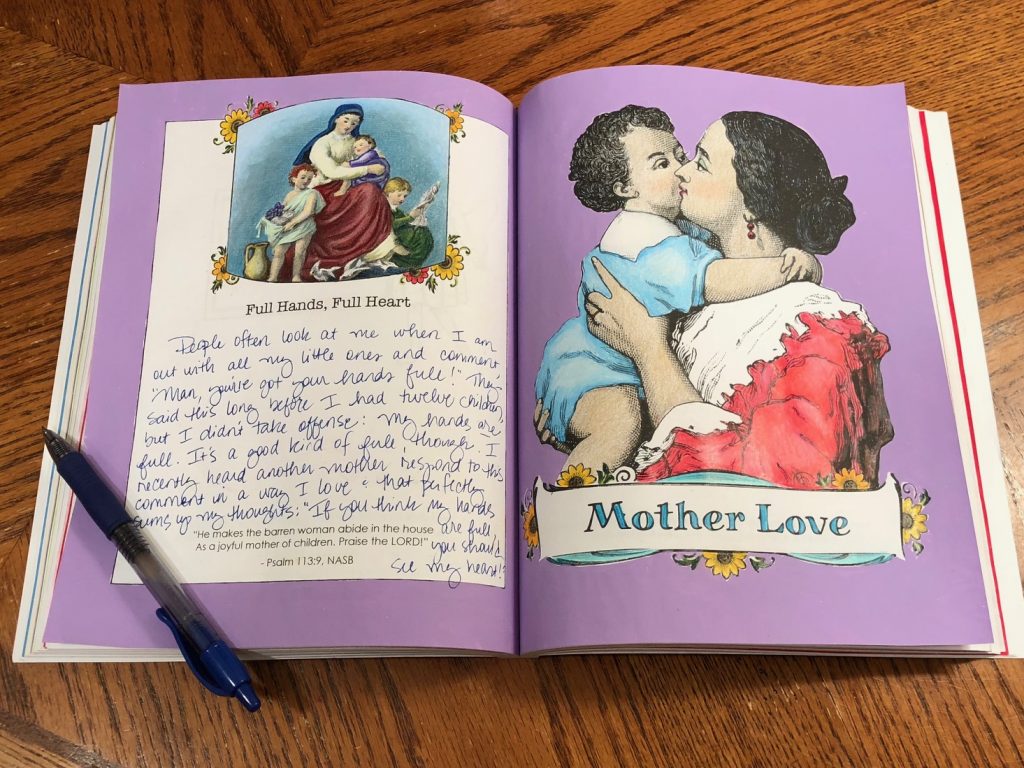 In the meantime, I hope you'll enjoy today's printable, and — no matter what life throws your way — do your best to give thanks in the midst of it. 🙂