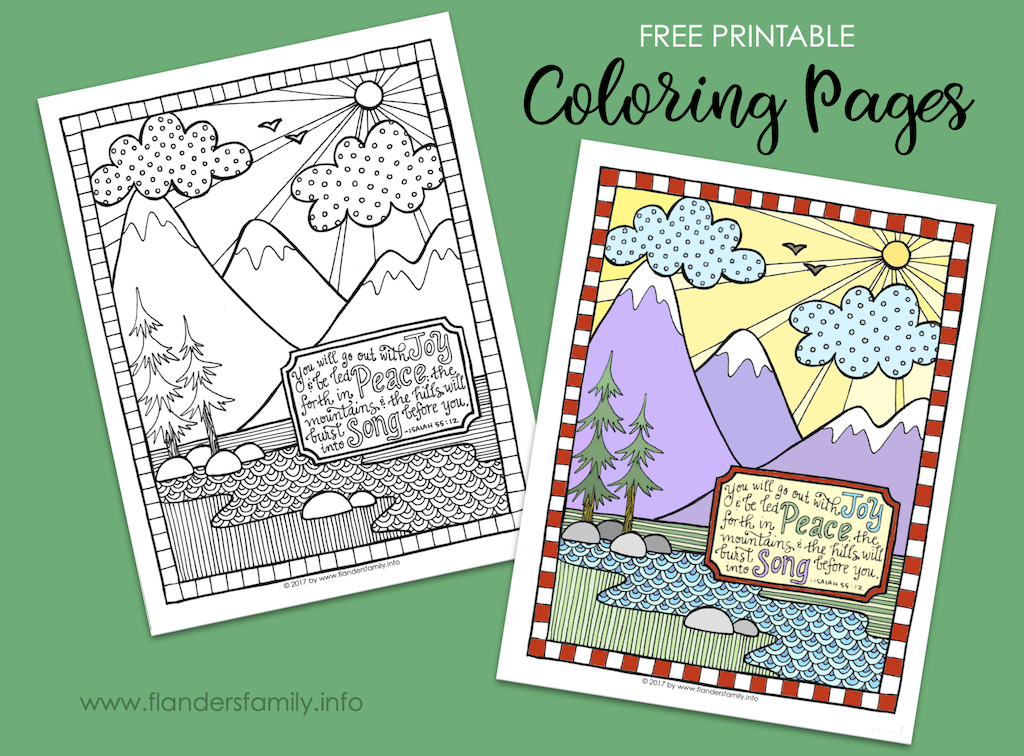 One of my favorite movies of all times is The Sound of Music. In my estimation, this film has it all: love, honor, faith, family, history, humor, action, adventure, tenderness, courage, intrigue, breathtaking views and, of course, beautiful music.
The opening scene with Julie Andrews singing in the foothills of the Alps, wide-armed and filled with wonder, makes me long to scramble up the mountainside with her to bask in the sunshine and belt out the chorus of that beloved song, "The hills are alive with the sound of music…."
That beautiful scene also brings to mind the Bible verse:
"You will go out in joy and be led forth in peace; the mountains and hills will burst into song before you, and all the trees of the field will clap their hands." – Isaiah 55:12
So that's the topic of today's coloring page:
Here in the South, signs of springtime abound. The grass is greening, the azaleas are blooming, the birds are singing. It fills my heart with joy and makes me want to sing, too. So that's what I'm doing this morning. Want to join in?
More Scripture to Color
Want still more free printable coloring pages? You can access all my past "Scripture Sunday" posts by following this link. If you'd prefer a bound collection, check out my Color the Word coloring books below.

Or, if you enjoy writing as much or more than you enjoy coloring, take a peek at my devotional journals:


Until next week, happy coloring!
PLEASE NOTE: This post contains affiliate links through which Flanders Family Home Life may receive a small compensation — at no additional cost to you. See my full disclosure policy here.