People keep asking me if I'm ready for Christmas (by which I think they mean, have I finished all my shopping), and I'm embarrassed to tell them how little shopping I've gotten done.
I don't do much Christmas shopping as it is, as we normally adopt a minimalist approach to holiday gift giving within our family, but with last month's move and all the associated unpacking and organizing there is to do, I've hardly given a thought to what anybody will be getting from me this Christmas.
So that's my goal this week: Make my list, check it twice, and finish all my gift-shopping. (Of course that's my goal. Christmas is just seven days away, so a week is all I've got left!)
On the topic of gifts, this week's coloring page is a reminder of all the wonderful gifts our heavenly Father lavishes upon us:
One reason our family celebrates a low-key Christmas is that my husband is such a giver. He takes excellent care of our every need (and most of our desires) all year long, holding nothing back. When it comes to gift giving, I gave up trying to save things to wrap and put under the tree, because he provides for every need as soon as he notices it. With him, it's as if every day were Christmas.
God's no minimalist when it comes to pouring out blessings upon His children, either. He stands at the ready to meet every need, as soon as we ask.
"If you then, being evil, know how to give good gifts to your children, how much more will your Father who is in heaven give what is good to those who ask Him!" – Matthew 7:11
Today's coloring page was taken from Joy to the World: A Devotional Journal for Christmas.
Remember: From now until December 31, you can get any of my devotional journals for 40% off right now when you order five or more directly from Prescott Publishing and use the code JCC5XVGA during checkout. Feel free to mix and match!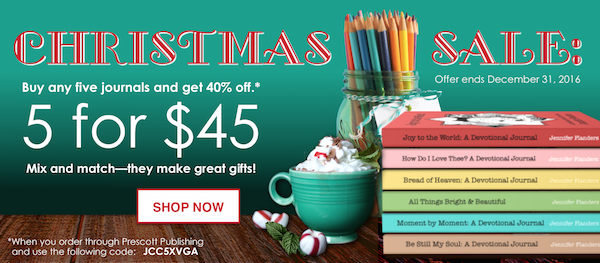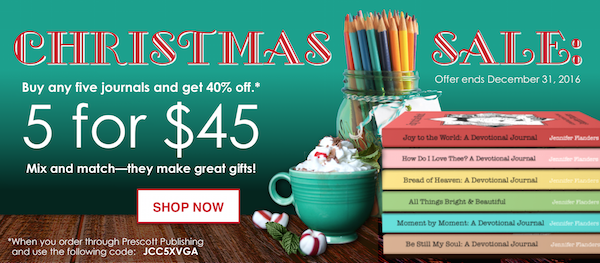 Although they are not pictured in the ad, this sale includes even the newest titles in this series, Sweet Child of Mine and God Bless America.