Although you wouldn't know it to hear them talk today, several of our children required speech therapy when they were younger. They came by their reversals and delays honestly, for I had to take several years of speech therapy as a child myself.
We are firm believers in calling in the professionals when speech problems are pronounced or persist into grade school, but there are many things parents of younger children can do at home to improve articulation.
An excellent book on this topic, incidentally, is Teach Me How to Say it Right by Dorothy Dougherty.
Four of the most problematic sounds for our kids were "K," "F," "SH," and "R." I've already published a couple of games for the "K" sound, and I'll try to post what we used for other sounds in the future, but today I thought I'd share this activity, designed to provide practice in articulating initial "F" and final "SH."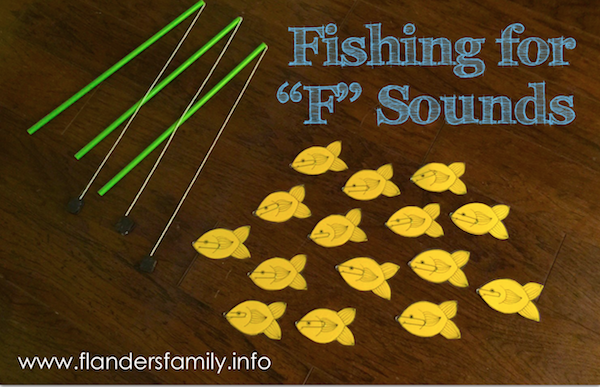 We call the game Fishing for "F" Sounds. To play, you'll need to print a couple of pages of these fish, then print the pictures of the "F" words (don't know what else to call them) on the backs. I used yellow cardstock to make mine sturdier and laminated them to make them more durable.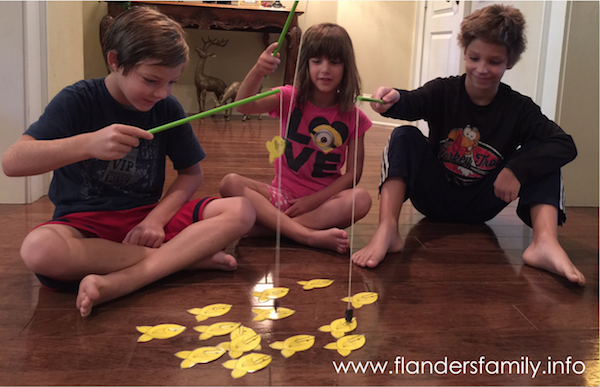 You can cut them into rectangles to use as a card game, played like "Go Fish," but I cut mine out so the children can fish for them. Construct fishing poles from sticks and a little string with a magnet tied (or in our case, hot glued) to the end, then slip a paper clip on the end of each fish and let the kids try to snag as many as they can.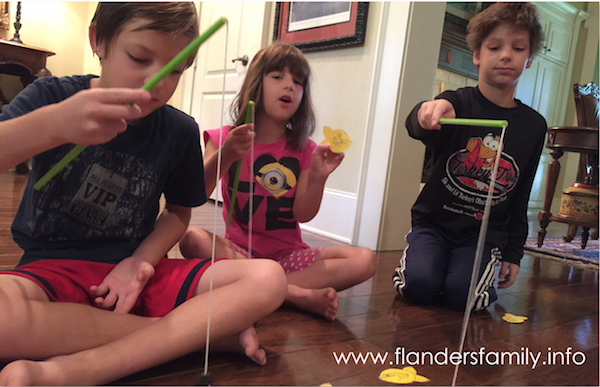 Whoever catches a fish must identify (and properly pronounce) the picture on the back before putting the fish in his pile. For very young children, saying the single word may be enough of a challenge, but for my older ones, they must use it in the sentence, "My fish has a ___________."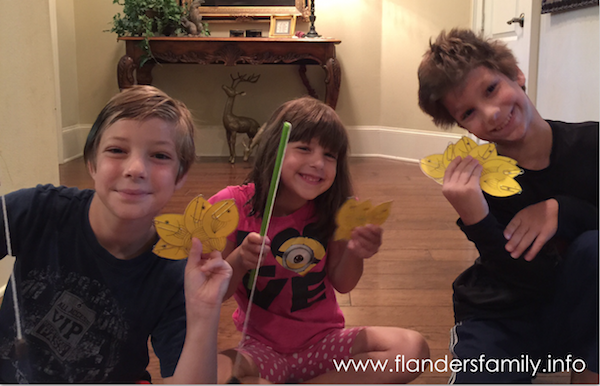 The fishing game is great for practicing things other than "F" sounds, too. You can leave the backs of the fish blank, laminate, and use a wet erase marker to make cards for whatever your child needs to practice: sight words, addition facts, Bible verses, etc.
For more fishy-fun, follow up this activity with a field trip to an aquarium or fish hatchery (and keep practicing those "F" sounds while you're there).
We live right down the road from Texas Freshwater Fisheries Center and have also toured the Shepherd of the Hills Hatchery in Branson, Missouri — both are very educational and lots of fun.
We've also spent 25 years visiting aquariums from coast to coast. Favorites include South Carolina Aquarium in Charleston, Texas State Aquarium in Corpus Christi, and Audubon Aquarium of the Americas in New Orleans.
Our next stop is Phoenix, where we're planning to visit Sea Life Arizona. [If you're traveling that way, too, you can save $3 off Children's Admission and $5 off Adult Admission with this coupon. It's valid for up to 6 discounts per coupon, but cannot be applied to pre-purchased or online tickets.]