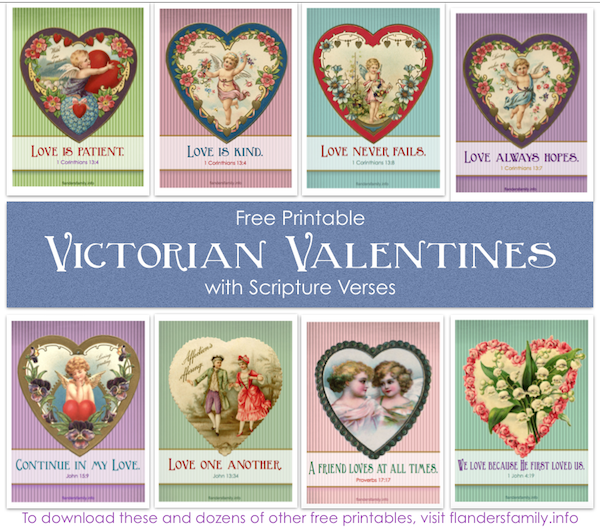 Our family has been making lots and lots of valentines this week.
Several of our older children have moved away from home, and our little guys wanted to be sure their big brothers and sisters know they're still in our hearts and minds, even though they're no longer in our home.
Some of the kids made their cards from scratch.
Some wrote their sentiments on the new Scripture-based Victorian Valentines that I designed this year. (There are eight different cards in this set. Click the image below to download them all.)
And some preferred to color these designs I posted last year:
All these valentines work best when printed on heavy cardstock. If you are sending them through the mail, you may also want to print out some of our new Valentine's Day envelope seals. I made a variety of styles to choose from. I'll be posting pictures and links tomorrow so you can pick your favorites, or you can download the entire set today by clicking here: Valentine's Day Stickers (I printed mine using these Avery Labels)
We hope you'll enjoy these resources. If you know somebody else who would like them, would you please share by using the social media buttons below or by pinning to Pinterest? Thanks!