Hi, Jennifer.
WOW! I found your blog by doing a search for blood sugar logs. My three children all have Type 1 diabetes. The older two wear pumps and CGMs and we haven't kept a traditional log for years. However, our youngest was diagnosed super early through TrialNet and just started on insulin today, 4 months after dx. I quickly needed a log that made sense for us and yours seems to be the best one I've found for what I want to track! Thank you for sharing it! BTW, we are also homeschoolers. 🙂
Wendy
---
Hi, Wendy.
I'm so glad you found us. We also have three children with Type 1 diabetes. Our firstborn was diagnosed shortly before his second birthday. He's been getting four shots a day for twenty-five years now. Three years ago, we had two more sons diagnosed with Type 1 just a few months apart.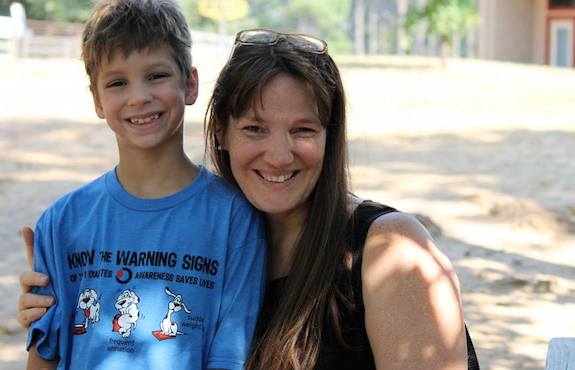 No family history on either side, and all three boys are the picture of health otherwise: lean, muscular, physically active. Yet, their bodies no longer produce insulin, so they must receive it by injection.
Anyway, I'm happy our log was helpful. I've been meaning to revamp it a bit. The color version is cute, but uses a lot of ink, so here is the black and white version I'm currently using, in case you might like it better, too:
And for readers who may not know the early warning signs of Type 1 diabetes, they include:
extreme thirst
increased appetite
frequent urination
Those three are the classic signs, but you might also observe any of the following symptoms:
sudden weight loss
sudden vision changes
drowsiness, lethargy
sugar in urine
irritability
yeast infection in girls
fruity, sweet, or wine-like odor on breath
heavy, labored breathing
stupor, unconsciousness
People sometimes ask me what prompted us to check our children for diabetes in the first place. With our firstborn, it was his excessively wet diapers — he would completely drench his Huggies, pajamas, and bedclothes several times a night, so much so that we had to keep bath towels in his crib to help absorb it all.
We knew there was a problem with our second when, on a family road trip, he had to request that we stop for a potty break every half-hour. No telling how long it would have taken us to notice the frequent urination had we not been traveling, as he was 14 at the time and not in the habit of announcing every time he had to go to the bathroom at home!
We became suspicious with our third when he asked permission to go get a drink in the middle of church one Sunday, then acted panicky when my husband told him to wait, because the service was almost over. The same thing happened the following week, so we tested his blood, and the glucose was through the roof. He's been getting insulin ever since.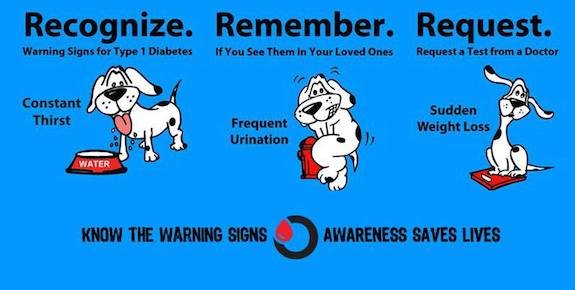 In the US alone, 15,000 children will be diagnosed with Type 1 (insulin-dependent) diabetes this year. An estimated 26 million Americans suffer from diabetes, but the vast majority of those (23 million) have Type 2 diabetes, where the pancreas still produces insulin, but the body is resistant to it. In either case, outcomes are better when the diagnosis is made early.
Want to help spread the word? A friend of mine has designed several T-shirts detailing these warning signs to help raise awareness. For more information on purchasing one of those, click here. (This isn't an affiliate link. Just a public service announcement. 🙂 )