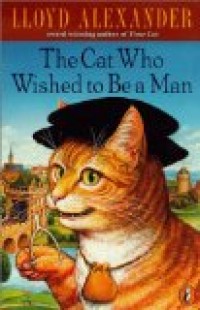 I enjoyed listening to Rachel and Rebekah laugh over this book as they read it in their beds before turning in one night recently.
Since Doug has always been a huge fan of Lloyd Alexander, he actually read it to me and the older kids many long years ago, but I didn't recall much of the storyline until the girls jogged my memory.
They say their favorite part was how the main character "could smell and do a lot of cat things, like jumping over walls and chasing rats, even after he had been changed into a man."
Both girls say they plan to read it aloud to their own children someday. But they "don't know what other people would think about the book, since it has a wizard in it," albeit a wizard who prefers "doing things like cooking the old-fashioned way, instead of using magic."
If you aren't familiar with this author, you are missing out! Should the cat-man story not appeal to you, check out some of our family's other favorites by Lloyd Alexander. Click on the affiliate links below for more information about each title:
The Iron Ring
The First Two Lives of Lukas Kasha
The Chronicles of Prydain
The Remarkable Journey of Prince Jen
Gypsy Rizka
And we also love Lloyd Alexander's picture book, The Fortune Tellers. I was hesitant to order that one because of the subject matter, but found it made a great teaching tool. And it's very cleverly written with beautiful illustrations.
Want to inspire more independent reading among your children? Download our free printable reading challenge.