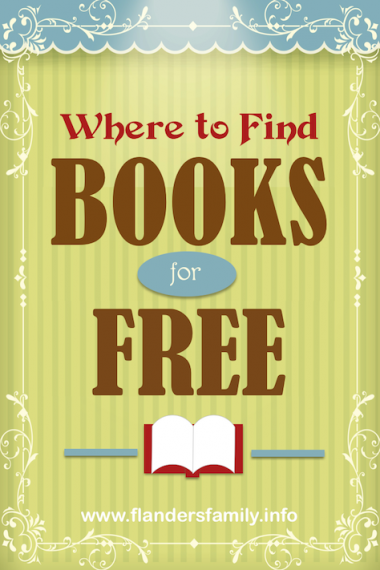 We have a bunch of bookworms in this family, and a big part of our budget goes to buying new books — especially when you lump in all the textbooks needed by the five of our kids who are in college or professional school.
(Textbooks are especially pricey, which is why one of our students rents most of his — but that's another post for another day.)
Of course, we borrow a lot of books from the local library (mainly children's picture books), but we purchase the titles we want to keep. When possible, we buy them used at a substantial discount. But we've also found some great ways to get books for free:
Don't let the name of the club fool you — you can also get hardbound or audio copies of books, not just paperbacks.

Anytime I have a long list of books to purchase, I first check to see if any of them are available through PaperBack Swap. If so, I order as many as my accrued credits allow.

It does not cost anything to join the club (they do offer some paid subscription levels with extra perks, but all I've ever used is the free "a la carte" membership).

As a new member, you earn credits by listing books you are willing to swap. Later, you'll get a credit for each listed book you mail to another member who requests it. (You must pay postage for the books you mail, but not for the books you receive.)

Plus, if you sign up using this link, I'll get credit for one free book, and you'll get credit for two!

This club offers a nice selection of newly released Christian titles. I only discovered the program a few months ago, but have already earned three free books with a very minimal investment of time or effort.

There are a variety of ways you can earn points to exchange for books of your choice: sign up for newsletters, take a short survey, tell a friend about the club, share a link on Facebook or Twitter, or post a review on Amazon (just to name a few).

If you aren't already a member of Tyndale Rewards, you'll automatically receive 25 points (and I'll get 10) when you sign up through this link.

With books available for as few as 30 points, it doesn't take long to earn a free one.They'll ship it straight to your home, and you don't even have to pay postage.

While I prefer hard copies of books I can hold in my hand (and make copious notes in the margins thereof), my husband reads almost everything electronically.

If you prefer reading digital versions, too, you can find a wide selection of free books for Kindle. Just use the site's sidebar menu to narrow your search to the genres you are most interested in reading, then download and go!

Not a Kindle user? You'll find a similar listing of free books for the Nook at Barnes & Noble.

Maybe you prefer listening to books rather than reading them. If so, you should definitely check out LibriVox.

They have nearly 8.5 thousand public domain works, read by volunteers, available to download for FREE. Many of their titles are classics, including several of our family's favorites, such as Tom Sawyer, Anne of Green Gables, A Tale of Two Cities, and Little Women.

We love to listen to books together while riding in the car (especially when we're taking long road trips as we did last January). If you've never tried this, you should.

LibriVox makes doing so easy — just download and drive on!

Are you a writer? If so, you may be eligible to earn free books by posting reviews of those titles on your blog and/or Amazon.

Blogging for Books is just one of many programs that send review copies to bloggers, librarians, retailers, and media outlets in exchange for honest reviews. If this idea appeals to you, you may also want to check out BookCrash and Tommy Nelson Mommies.

So that's where our family gets free books. Do you know of any sources I've missed? If so, please share in the comment section.
In the meantime, happy reading!