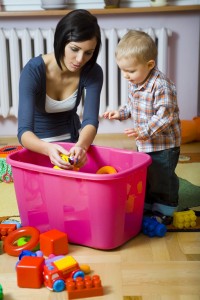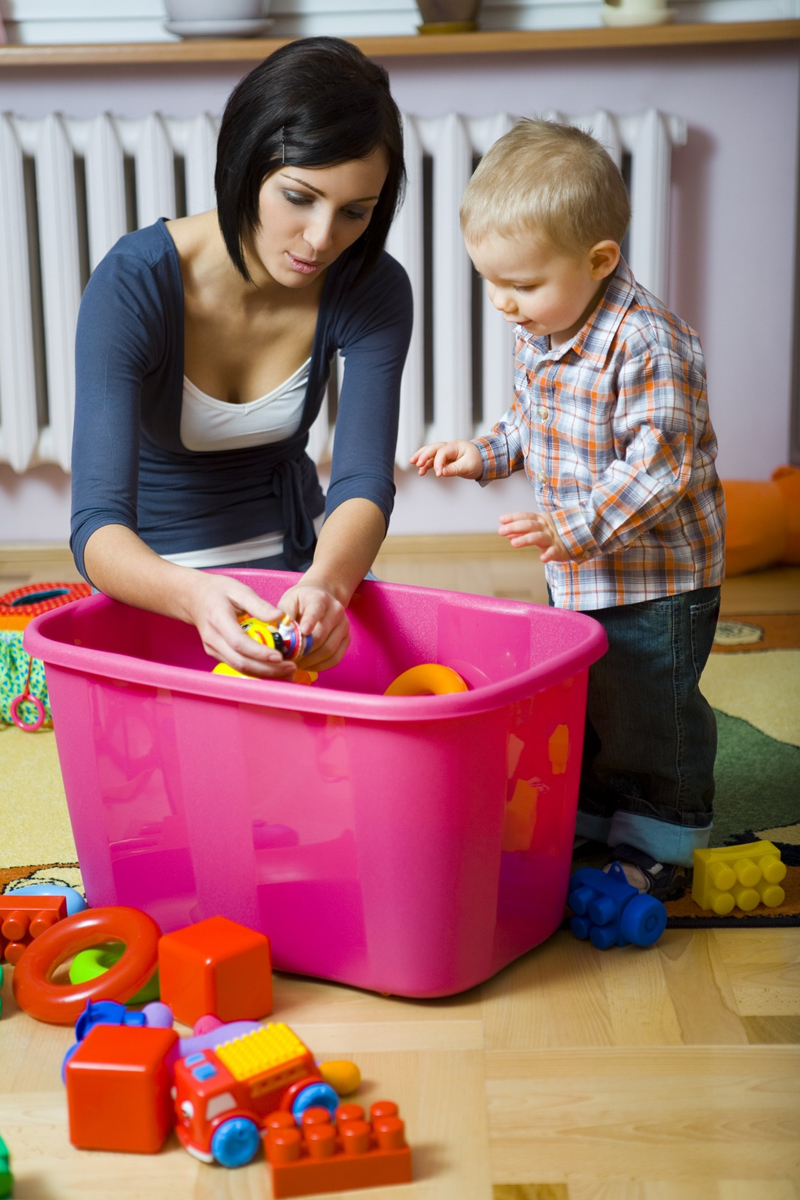 Hi Jennifer!

I have an organization question. What do you do with the kid's toys? And what would you suggest when small space is an issue? We have enclosed our garage for a play area for the kids. When everything is in it's place their is an open space on the floor yet, when they each get something out it covers the entire floor (which isn't that big of an area – only 1 car size). I'm not always in there so there are times when the kids leave out what they played with and it is a mess – needless to say the clean up process takes awhile and it doesn't get put up well unless I'm in there with them. So I guess it could be a training problem – and yet I still feel like it is partly a space problem. As with the rest of the house, I don't think we have alot of stuff – in a larger house it would feel like we didn't have alot. Yet in a smaller space it feels tight.

Thanks,
Feeling Crowded

Dear Crowded,
We don't have a dedicated play area. We keep four big boxes full of Duplos, Lincoln Logs, train tracks, and wooden blocks in the front hall closet, which the kids play with either in the middle of the library or in the middle of the den, whichever we dictate, depending on who is playing and what everyone else is doing. The Duplos and Lincoln Logs are pretty standard, but the wooden blocks and trains occasionally get changed out for other toys that we normally keep in the school closet upstairs. I have clear bins up there for matchbox cars, potato heads, hand puppets, tea party supplies, baby dolls, etc. There's an empty dormer closet that the younger ones sometimes use as a play area when we are doing school upstairs, but they only get one toy at a time, and the other toys are kept locked in the school closet.
Rebekah and Rachel keep their American Girl dolls in their rooms for anytime play, and each of the older boys keeps a box of his own Legos in his closet, which he is free to play with when schoolwork is done or after little ones go to bed at night. They are responsible to keep all that picked up when it's not being played with, or it gets confiscated and moved upstairs for a time.
The secret for us is to only provide a very few choices at any one time… even when we're upstairs, I don't let Isaac and Daniel just go in the school closet and select from three shelves of toy bins. Instead, I'll usually ask, "Do you want to play with cars or puzzles?" It also helps to make it easy to put away. For example, if the toys have to be stacked "just so" in order to fit in the box, they're probably not going to be put away properly ever… If they can be tossed back in the bucket with plenty of room to spare, even Gabriel can help pick up and be proud of himself for doing so.
I hope some of this will help. Check out the suggestions on our toy page for more ideas. Don't feel like you have to store all your toys in the play room. If you have space on a high shelf in the pantry, or under the master bed, and can rotate from there, then go for it. Fewer toys makes for less clutter and for more creative play, as well.
Happy organizing!
Jennifer