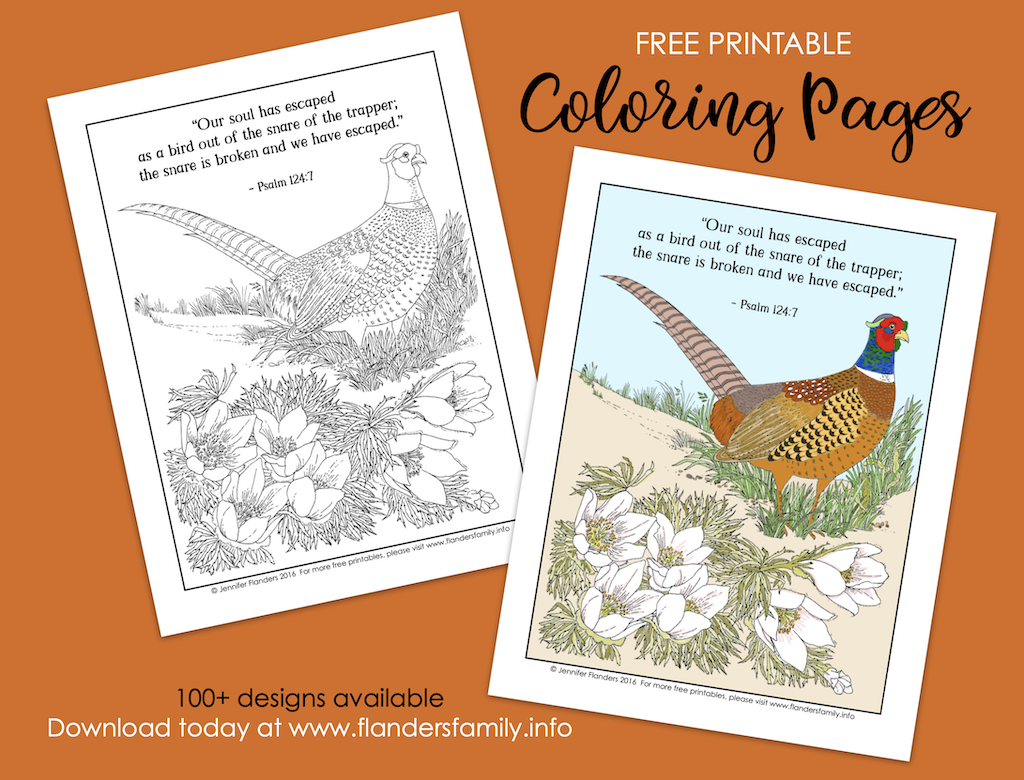 This week, I'm sharing a new free printable: This "Our Soul Has Escaped" coloring page. It features the victorious words of Psalm 124:7.
"Our soul has escaped as a bird out of the snare of the trapper; the snare is broken and we have escaped."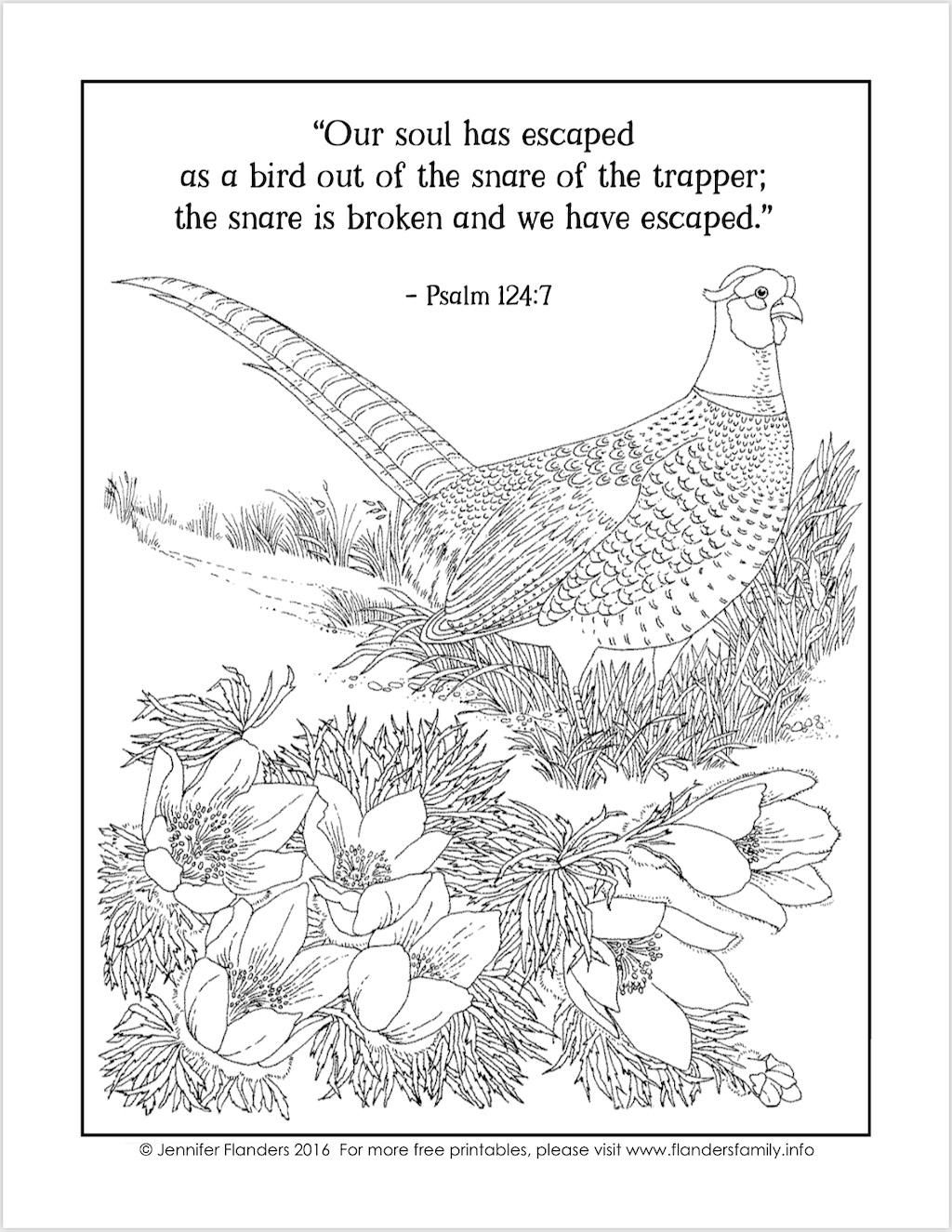 I love the imagery of a bird taking wing, just in the nick of time to slip through the trapper's snare. What a sense of relief would flood over him, if he could look back and appreciate how narrowly he escaped.
Similarly, as Christians, we have an enemy who has sets snares, lays traps, and digs pits for us. Yet our God can deliver us out of them all, as the Psalmist proclaims in the following passage.
I will say to the LORD, "My refuge and my fortress, My God, in whom I trust!"
For it is He who delivers you from the snare of the trapper
And from the deadly pestilence.
He will cover you with His pinions,
And under His wings you may seek refuge;
His faithfulness is a shield and bulwark. (Psalm 91:2-4)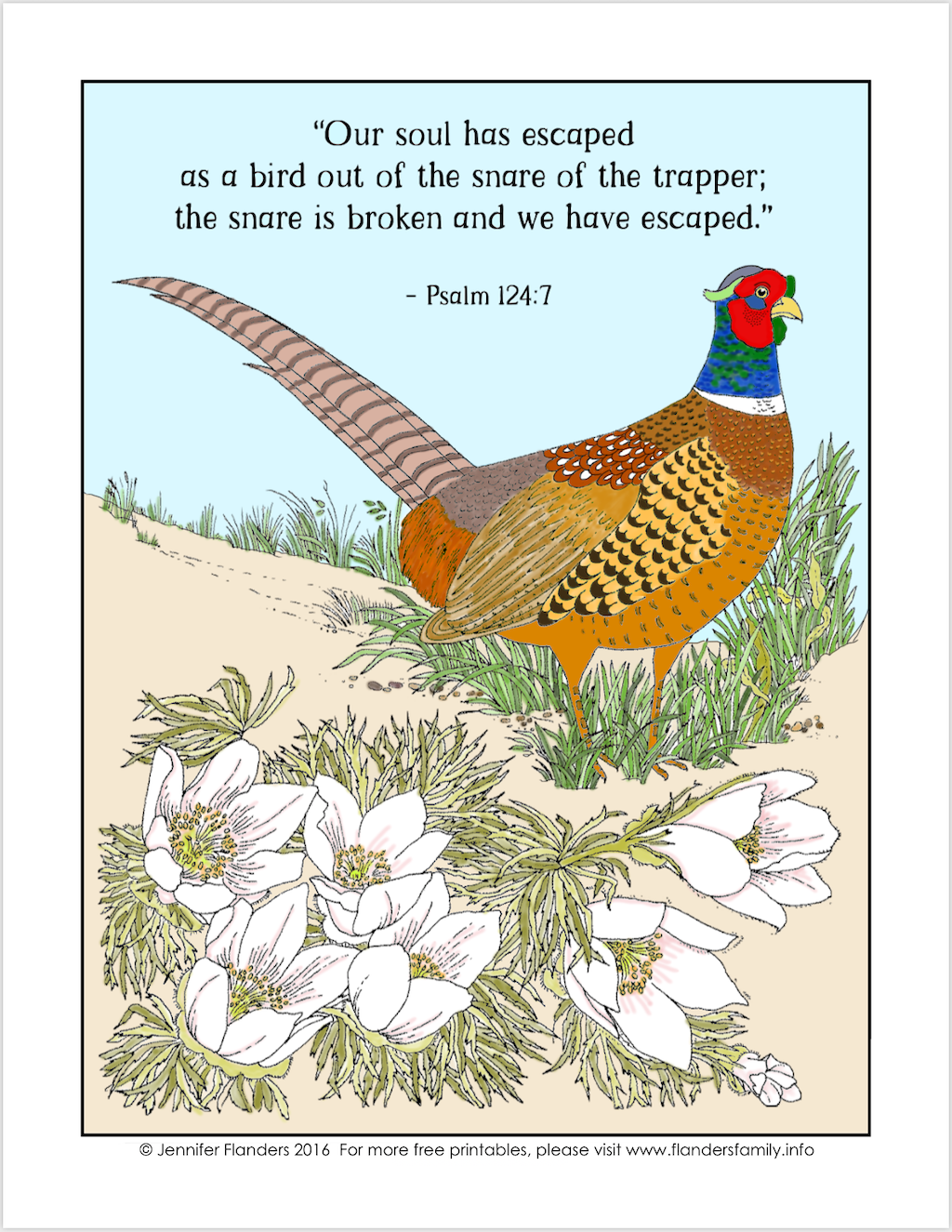 Staying Safe from Snares
The Bible offers specific instruction for avoiding pitfalls and snares. And it also gives stern warnings for any who would set such traps for others. Here is just a small sample of verses on this subject.
I'll stop with those few for now. Think on these things as you color today's "Our Soul Has Escaped" coloring page. This would make a great topical study for anybody inclined to dig deeper.
More to Color
If you like to color, then come back again next Sunday for a new one. Or to download any of the pages I've published in the past, simply follow this link: Free Christian Coloring Pages.
If you'd prefer a bound collection, check out my Color the Word series. I designed these richly-detailed, Scripture-based coloring books with grown-ups in mind. But they can be enjoyed by all ages. They're even available in Spanish!

For those who enjoy journaling as well as coloring, my devotional journals offer the best of both worlds. Today's coloring page was originally published in Count Your Blessings, my devotional journal for Thanksgiving.