One of my children had a hard time remembering which way the numbers 6 and 3 were supposed to go, so I designed a number writing practice sheet that proved to be a huge help in correcting those mistakes.
Now I have a child who sometimes has a similar problem with reversing letters, especially a, d, b, and s. So I went back to the drawing board and designed these practice sheets for her.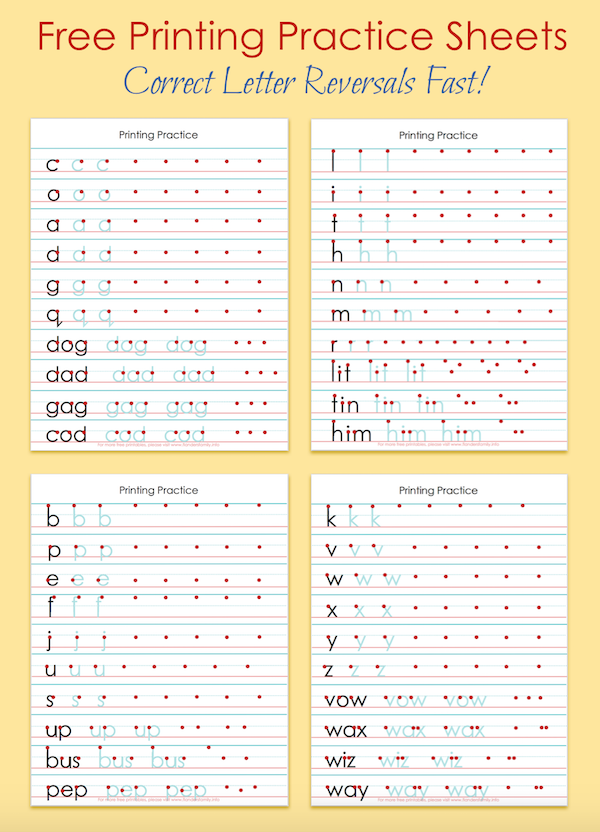 I tried to group the letters made with similar strokes together. Here's the one for letters that begin with a counterclockwise circle.
I've found that it helps if I talk her through the formation of each letter a few times until she gets it down: "Start at the dot, then…
… loop it back and halfway around." (for c)
… loop it back and all the way around." (for o)
… loop it around, back up and down." (for a)
… loop it around, way up and down." (for d)
… loop it around, back up and down, then curve it under." (for g)
… loop it around, back up and down, then kick it over." (for q)
Here is a group of letters that begin with a downstroke. This page starts with the easy ones like l and i (it's almost impossible to reverse those), then gets progressively hardly when we start adding humps for h, m, and n.
The trick is to write the entire letter without lifting your pencil (except to dot the i or cross the t). Teach your child to retrace the bottom part of the letter before adding the hump(s): "Go down, then straight back up, over, and down again."
Next comes a page of some more troublesome letters combining downstrokes and curves.
The hardest for us has always been b. Remember: "b starts at the top and goes straight down, then bounces back up and around." And of course, p is made in a similar way: "p starts in the middle and goes way down, then bounces way up and around."
And just so nobody feels left out, I made one last page for the all letters that are made with slanted lines, although they rarely cause as many problems as some of those trickier letters:
Lastly, if your child needs help correcting number reversals, we've got you covered. Check out this post for ideas that address that problem: Number Writing Practice Sheet.