Today is the first day of Advent, so even though my new blog series "Keeping Christ in Christmas" won't officially begin until Tuesday, I wanted to share this printable with you to help you begin focusing your heart on the real reason we celebrate Christmas.
This design was adapted from my new Christmas journal, Joy to the World. I'll be sharing more of these printable pages throughout the month of December, so that readers won't need to buy the book to benefit from the blog series.
However, if you are looking for a way to center your thoughts on Christ this Christmas, or if you want a place to jot down thoughts, goals, memories, prayers, lists and ideas, or if you would like to take up coloring as a stress reliever, then this devotional journal might be just what you need. 🙂
I'm thoroughly enjoying working through mine. I haven't colored the design the above printable was drawn from yet, but I did finish these two pages this morning: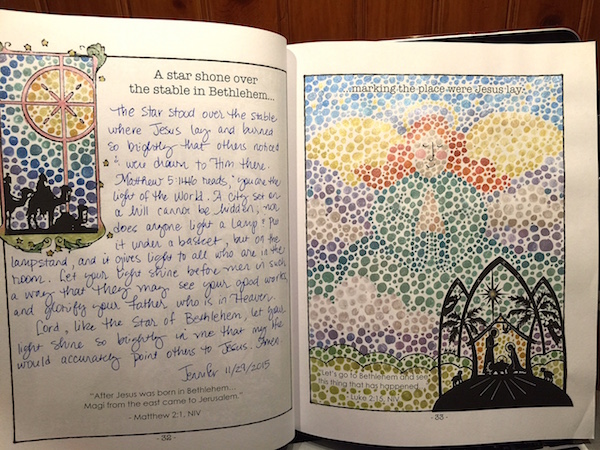 They are done a little different from my normal style, but I was in the mood to try something new.
I normally use Prismacolor colored pencils for most of my artwork — especially when I'm coloring in these journals — as they are so creamy and blendable, and there's never any worry about them bleeding through.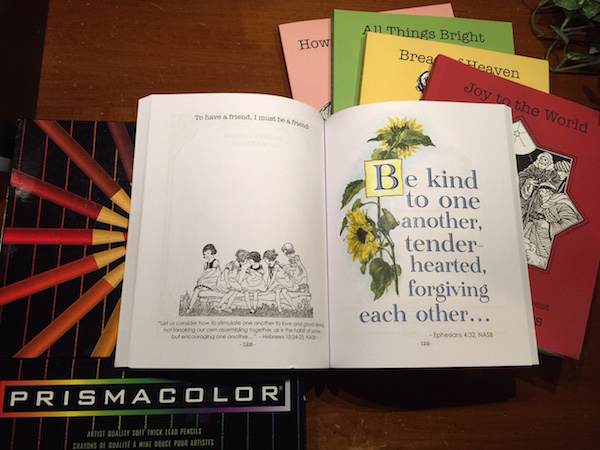 But this time, I used some pearlized watercolors. They worked well, too. And as long as I mixed the paint pretty thick, there was no bleed through to the reverse side of the page. That was a nice discovery!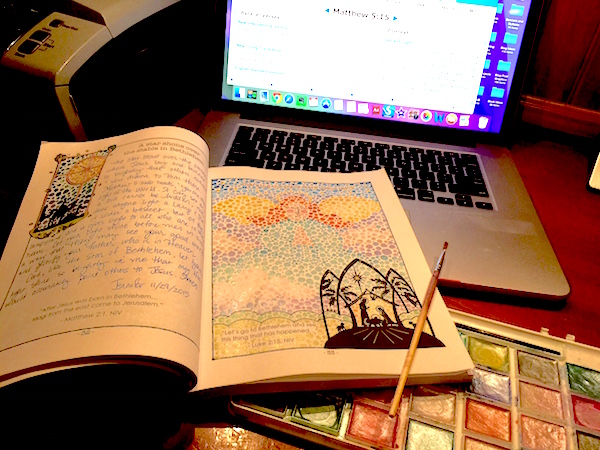 The journal is available through Amazon. And until tomorrow, you can get an extra 30% off any book they carry — including mine — with the code HOLIDAY30 (but you can only use it once).
Alternatively, our publisher is offering 40% off my entire line of devotional journals when you buy five or more. That special pricing lasts all month of December. You'll find the details here.