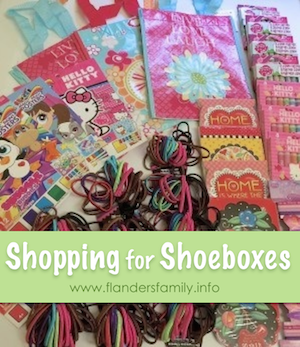 I totally missed the back-to-school sales this year.
That's a bummer, because those sales are where I normally stock up for the shoebox-stuffing party our family hosts each year.
Fortunately, Michaels came to my rescue with a coupon for 25% off your entire purchase — including sale items.
I headed straight to the dollar bins at the front of the store, where I found a slew of great stocking and shoebox stuffers, many of which were already discounted 50%.
That means that, with my coupon, most of the items I bought were only 37-cents.
About a month ago, I bought all the items in this picture for less than $10. Most of them were pretty girl-specific, but that's okay, because Michael's is running the same offer this weekend, October 2-4.
So I plan to return to stock up on boy-stuff, too.
Want to join in the fun? Follow this link to get your coupon: 25%-Off at Michael's
If you've never stuffed a shoebox for Operation Christmas Child before, I highly recommend it. You can visit their website for a list of what can (and can't) be included.
If you have stuffed a shoebox before, tell me: What's your favorite thing to include? And where do you like to shop for the goodies that go inside?