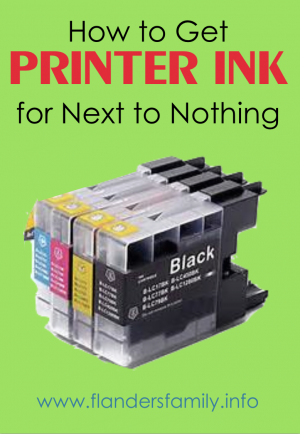 As a homeschooling, scrapbooking, list-making mother of twelve who's been keeping calendars, planning lessons, and printing schedules for over 25 years now, I've gone through more than my fair share of printer cartridges.
I've tried everything to save money on ink — from joining rewards programs and stocking up when it's on sale to using generic ink to refill my own cartridges. Some of these methods were more successful (and/or more of a hassle) than others.
By combining a few of the easier savings strategies, however, I was eventually able to get my final cost down to less than $1 per cartridge, which is all I've paid for the past six years now.
If you'd like to enjoy that kind of savings yourself, just follow these three simple steps:
Join Ebates

If you are not already using Ebates, sign up without delay. It's quick, easy, and completely free. You can still shop with all your favorite online merchants, but you'll earn cash back on every purchase (not only on computer ink) by going through Ebates to do so. Follow this link to join today.

Shop 123Inkjets

When you buy ink or toner cartridges from 123inkjets.com (whether name brand or remanufactured), you get great savings and a 100% money-back guarantee. If you buy in bulk, you save even more and get free shipping. If you enter the site through an Ebates portal, you earn 16% back on every purchase (unless you're shopping on a double-cash-back day, in which case it's 32%). And if you take advantage of the 123Inkjet coupon codes listed on the Ebates page, you save an additional 15% off your purchase. (All these savings together drop the price on the cartridges I use to less than $2.50 a piece).

Recycle through Office Depot

When it's time to replace your ink, take the empty cartridges to Office Depot. They'll credit your Rewards Account for $2 per cartridge you bring in for recycling — up to five per day. (That drops the final cost of my cartridges to about 50-cents each if I buy on a double cashback day, or about $1 a piece if I purchase it at any other time).
And that's all there is to it. See? No big mystery, it just takes a little planning ahead. I almost always have ink on hand (and do I ever cringe over paying regular prices when I run out!).
The color matching of the generic ink is plenty good enough for the kind of printing I do (at least, it was before my kids mistakenly replaced an empty yellow cartridge with a full black one. Ugh!)
If you print a lot of photos at home, however, you may want to stick to name brand cartridges — although even brand name cartridges will cost you significantly less if you follow these same simple steps to purchase them.
---
DISCLOSURE: The Ebates link above is part of their "Refer-a-Friend" program. If you join Ebates through that link, I'll get a small reward for sending you (thanks!), but you'll be rewarded big, every time you use Ebates to shop online. Either way, it's completely free to you to join.