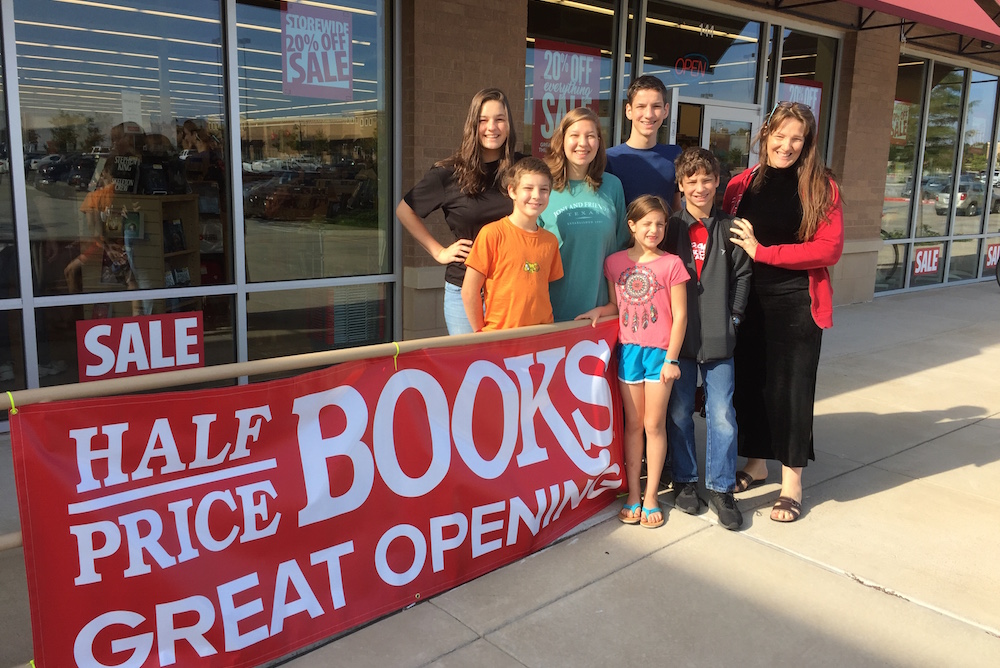 Many businesses do a lot to support education in a variety of ways. Some offer student incentives for time spent reading or for making good grades on report cards. Others offer teacher discounts for educational purchases. Some (like Half-Price Books) do both, and even extend their reading rewards and teacher discounts to homeschoolers like me.
Our family's fairly stoked, because we finally got a Half Price Books in Tyler! In honor of the Grand Opening, everything in the store is 20% this week. I got a free shopping bag and a $5 gift certificate for being one of the first 100 customers through the door this morning — plus I also scored a great deal on some homeschool curriculum my daughter-in-law had been looking for.
While I was there, I also got my Half Price Books' Educator discount card, so now I can save 10% off my in-store purchases all year long. To register, homeschoolers need only show proof of membership in a national or state homeschool association. (I used my HSLDA card.)
Half Price Books isn't the only store that extends teacher discounts to homeschoolers. Here are a few more of the educator savings programs I use most often:
My Favorite Teacher Discounts for Homeschoolers
These are the educator discounts I use most consistently. You can find a much more extensive list of teacher discounts here (although not all of the offers listed are open to homeschoolers and a few of the programs advertised have been discontinued).