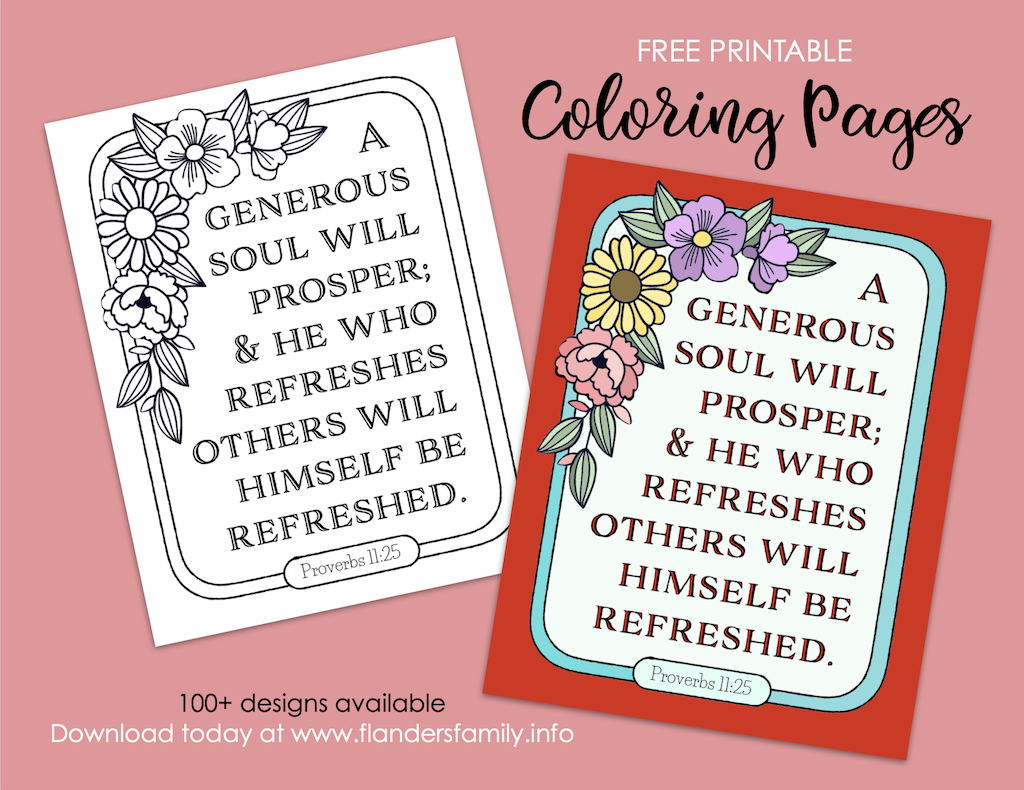 Happy Sunday, Friends! The Generous Souls Prosper Coloring Page I'm sharing this week features Proverbs 11:25. "A generous soul will prosper, and he who refreshes others will himself be refreshed." Isn't that a beautiful promise?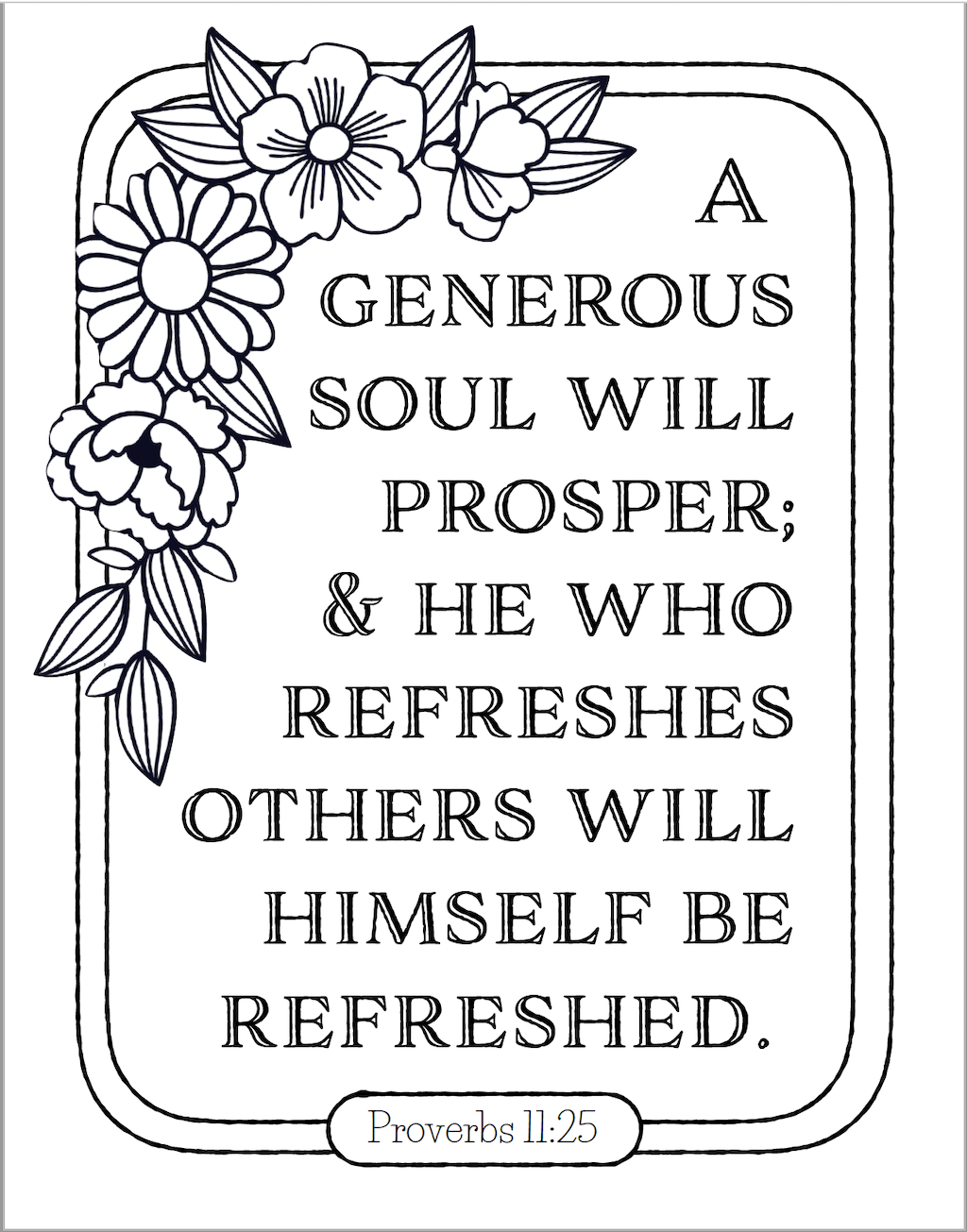 God's economy has always turned man's way of thinking completely on its head.
Worldly wisdom says that giving to others means having less for oneself. That being stingy or tight-fisted with money is a virtue. That the only way to make sure you have enough is to never let anyone take advantage of you. And that helping the needy is the government's responsibility.
That's not how God reasons
Yet God's Word stands in sharp contrast to such thinking. There we read…
Of course, cheerful giving encompasses more than just money. One can give generously of time, strength, energy, know-how, and other resources, as well. That's one reason the vast majority of the resources we offer on this website are free, with no strings attached. It's just one more way we've tried to use the blessings God has given us to bless others in turn.
Nobody can do everything, but everybody can do something. Can you imagine how much better and brighter this world would be if each of us did what we could to help, encourage, and attend to the needs of those around us?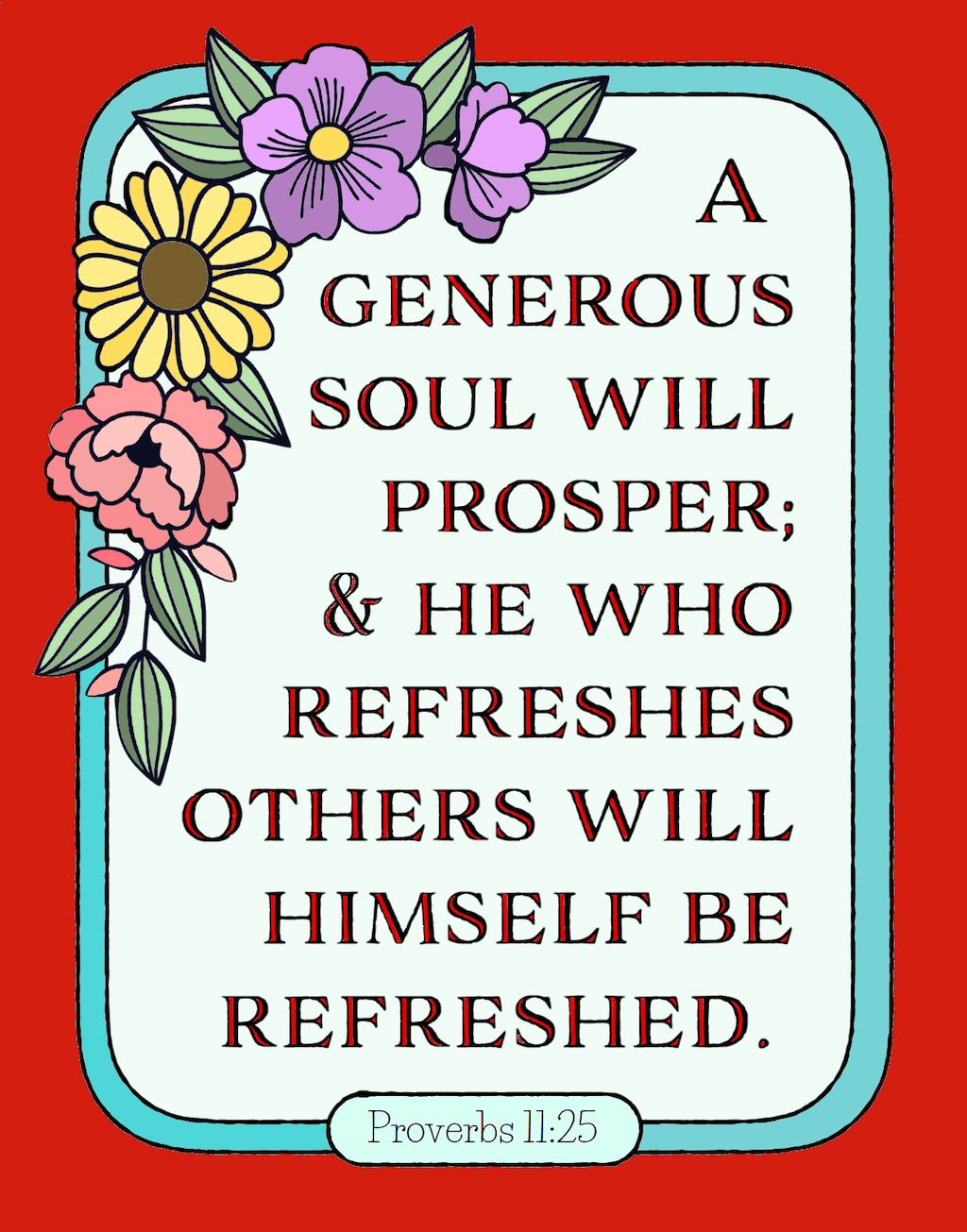 More to Color
I hope you enjoy this week's coloring page. If you like to color, then come back again next Sunday for a new one.
To download any of the pages I've published in the past, simply follow this link: Free Christian Coloring Pages.
If you'd prefer a bound collection, check out my Color the Word series. I designed these richly-detailed, Scripture-based coloring books with grown-ups in mind. But they can be enjoyed by all ages. They're even available in Spanish!

For those who enjoy journaling as well as coloring, my devotional journals offer the best of both worlds. Now with twelve titles to choose from.

PLEASE NOTE: This post contains affiliate links. If you make a purchase through any of those links, we'll receive a small referral fee, at no extra cost to you. Such fees help defray the cost of running this website. This, in turn, allows us to continue offering our readers a wealth of FREE printable resources. So thank you for your support!