Well, we're only three days into the new year, and we're already noting some positive change in regard to our eating habits. Eating more meals at home not only saves money, but usually means we're making better choices nutritionally, as well.
My husband told me this morning that he woke up with no joint pain for the first time since his last vegan experiment over a year ago. There is definitely a connection between what we eat and how we feel.
In case any of your New Year's resolutions deal with diet, as ours do, I thought I'd share a few resources today you might find beneficial.
First, if you're doing more cooking at home, you may find this Equivalent Measures Chart handy — especially if you have kids helping you in the kitchen or you need to double or halve a recipe to make a reasonable amount of food for those gathered at your table:
Just post the chart inside a cabinet door and refer to it as needed. Ditto for this list of wholesome snack ideas:
I've been working my way through the first part of a 10-day meal-planning bootcamp this week, but am using my own pretty vintage printable to record menu ideas. If you have kids who are constantly asking "what's for dinner?", you'll want to post your weekly meal plan on the fridge or in some other high-traffic spot where the family can see it: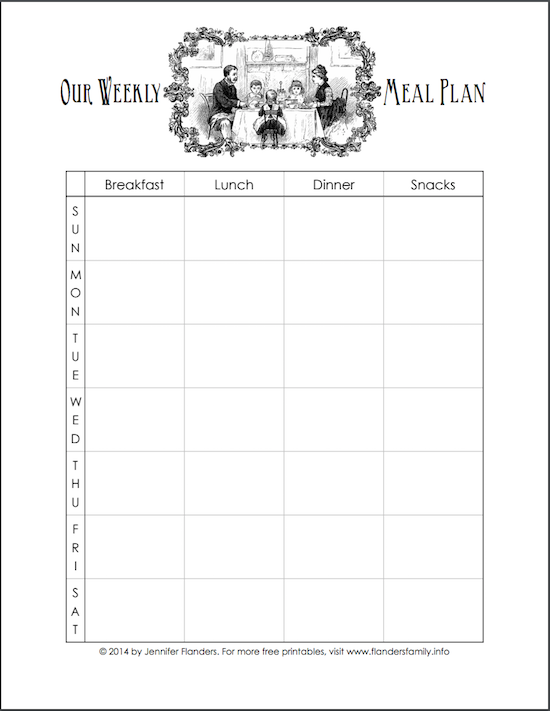 Although it's too late to sign up for the bootcamp, if you're looking for inspiration, there's a free meal-plan-along class hosted live (from 1-4 PM) by several popular food bloggers on Facebook this afternoon.
I'll be attending myself, provided we can finish up today's schoolwork on time. If you can't make the live cast, there will be an encore presentation tomorrow at 10 AM.
Whether you join us or not, I hope the new year will be healthy, wholesome, and fully satisfying for your entire family!