A few weeks ago, my daughter Rebekah told us she thinks our family should eat more whole foods. The meals Mom serves and the ones we eat out, she explained, may taste good, but they aren't necessarily good for us.
My husband's response to Rebekah's [debatable] opinion was, "That sounds like a great summer project! Why don't I put you in charge of making sure it happens?"
So Rebekah has been planning our menus, buying our groceries, and preparing our meals ever since. Dad's paying her for the trouble, and – so far – the experiment has been a success.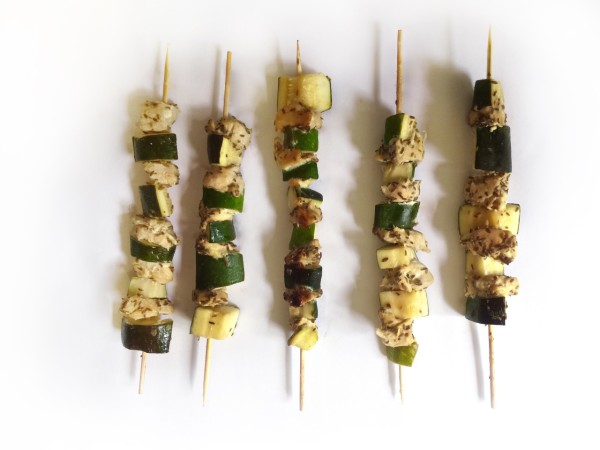 Here's our favorite dish of what she served us last week, an adaptation of a recipe she found online. It's very flavorful, and the entire family gave it a 9 out of 10 (which means we wouldn't want to eat it every day, but we definitely think it deserves a place on the regular rotation).
Ingredients:
2 zucchini
2 chicken breasts, deboned and skinned
2 Tbsp cumin seeds
2 tsp cumin
2 Tbsp honey
2 tsp olive oil
1 lemon
2 tsp sesame seeds
1 tsp coriander seeds
1/4 cup pistachio nuts (shelled)
1 tsp smoked paprika
1 tsp black pepper
2 handfuls spinach
16 wooden skewers
Directions:
First, soak wooden skewers in a panful of warm water for about 20 minutes.
Mix 1 Tbsp cumin seeds, half of the honey and all of ground cumin, olive oil, and lemon in a bowl for the marinade. Cube the chicken and zucchini and add to the marinade. Let sit for at least 20 minutes.
Meanwhile, preheat oven to 350o F (or fire up the grill). Make dukkah by toasting sesame, coriander and the remaining cumin seeds in a dry pan until aromatic. Blend finely in a food processor with the pistachios, pepper, paprika and some salt.
Thread the zucchini and chicken on skewers and place on a baking parchment-lined tray. Bake for 20 minutes, turning half way. Drizzle remaining honey over skewer and bake for a further 5 minutes.
Serve with a spinach salad and the dukkah for dipping. Makes 4 – 6 servings.
(Normally, we would double this recipe to feed our crew, but since we ate it at lunchtime while Dad and the big boys were at work, and one of our boys at home is a self-proclaimed vegetarian, one batch was plenty. We could have eaten more, but not without getting overfull.)