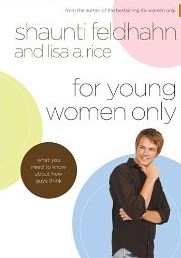 I know Shaunti Feldhahn wrote this book to help young women decipher their boyfriends' baffling behaviors, but as a mother of eight boys, I have found that it gives invaluable insight into what is going on inside the heads of my teenage and young adult sons, as well. I've long understood the importance of treating my husband with respect, thanks to Feldhahn's earlier book,
For Women Only
, Emerson Eggerichs'
Love & Respect
, and a willingness to accept God's command to wives in Ephesians 5. However,
For Young Women Only
served as reminder to me that a man's deep desire to feel respected begins long before he takes a wife. Respect is a gift I should be giving to my sons as well as to my husband.
What about you? How do you communicate respect to the young men in your family?