In honor of Mother's Day, I wanted to share a special coloring page from my new devotional journal for moms, Sweet Child of Mine: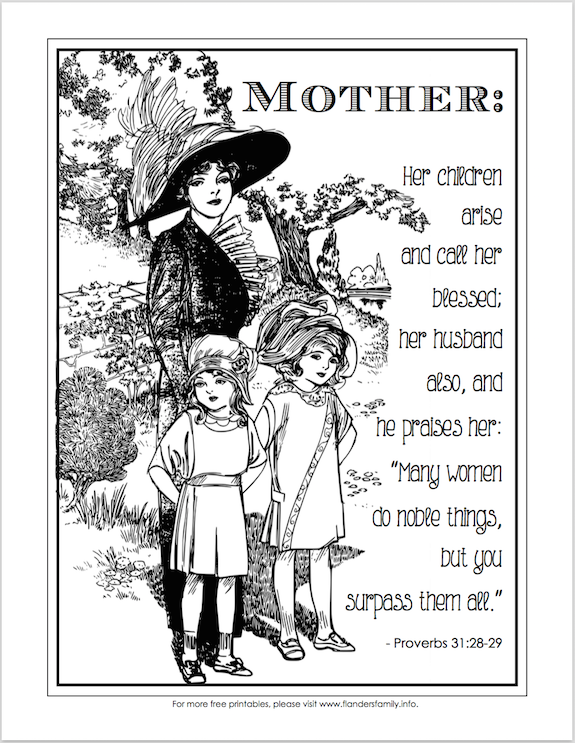 The title of the journal came from a poem I wrote for the occasion:
Sweet Child of Mine

by Jennifer Flanders

From the moment I met you,
Sweet child of mine,
I've carried you close to my heart
And tried to protect you
And teach you to mind
And point you to God from the start.

My heart overflows now
With joy from above–
Sweet memories of days spent with you–
With tender compassion,
With undying love,
With prayers God will carry you through.

For soon you will leave me,
Sweet child of mine,
You'll spread wings and fly far from home.
And how it will grieve me–
This passage of time–
Though I'll feel proud to see you all grown.

So, LORD, keep me mindful of
What's on the line—
Help me cherish the days, one by one,
And use well my time with this
Sweet child of mine,
For I can't get it back once it's gone.
You see, as much as I would love for my children to "rise up and call [me] blessed," (Proverbs 31:28) I long even more to hear my Savior say, "Well done, my good and faithful servant." (Matthew 25:23)
But in order for that to happen, I've got to use well the time He has given me to do the task I've been assigned — which right now means lovingly and faithfully training my children, teaching them, and pointing them to Him.
---
Incidentally, if you like coloring, come back again next week. I post a new, Scripture-based coloring page on this blog every Sunday. Or follow this link to download designs I've shared in the past.
For those who enjoy writing as well as coloring, I have an entire line of devotional journals. At over 200 pages a piece, they are packed with writing prompts, coloring pages, word studies, and lots and lots of Bible verses. Here's what readers are saying about them.

If you'd rather skip the journaling exercises, I also have a brand new line of richly detailed, Scripture-based coloring books. These were designed with grown-ups in mind, but they are good for all ages.
You can order them through Amazon and Barnes & Noble, but for a limited time, you'll save 30% by buying directly from Prescott Publishing. (Follow this link for details.)

Ideas for using my coloring pages: