Last week, my daughter in dental school tagged me on Facebook with a link to the article When Did We Start Hating Big Families?
"Was this your experience at all?" she wanted to know, referring to the negative comments the author of the article got regarding her three (3) children.
"Never once have I felt self-conscious about being part of our family," Bethany continued in the remark she left on my wall. "I know we get lots of comments, but they've never seemed negative, just surprised. (At least the ones I heard.)"
She went on to say that she's heard reports like this one from lots of women, especially from those of her own generation, many of whom are just beginning their families.
Some of these families have only three or four children (so far), but are still regarded with suspicion.
"That doesn't even seem like a big family at all," Beth wrote, "although I guess it is double the national average. Love you and our 8x-the-average-size family."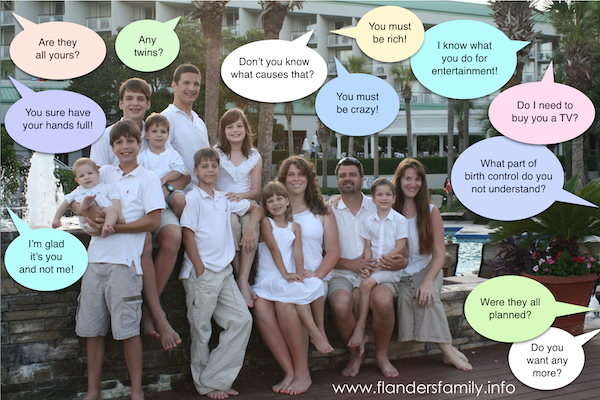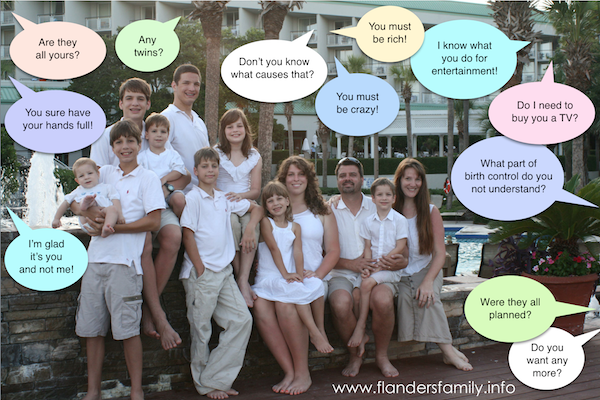 The answer to Bethany's question as to whether that was ever our experience is yes and no.
We've gotten our fair share of comments through the years from people who think we are crazy to have so many children, but the vast majority of remarks have been positive.
(Maybe that has something to do with the fact that we live in East Texas, and small town people from the south are normally too polite to say mean things to your face.)
Big families are no longer the norm; therefore, we attract more attention than we would have in another era or another culture.
Generally, I think people who try to strike up a conversation about our big family are often simply curious, so I do my best not to take offense, even if their questions get a little personal.
I assume they aren't trying to be rude. Even if they are, it says more about them than about us, and a patient, friendly response will do more to win them over than a snippy comeback ever could.
For people who are particularly intrigued by big families — especially those who seem interested in starting a big family of their own — we point them to the following titles for further study and encouragement:
Have you ever received comments on your family size? How did you respond?