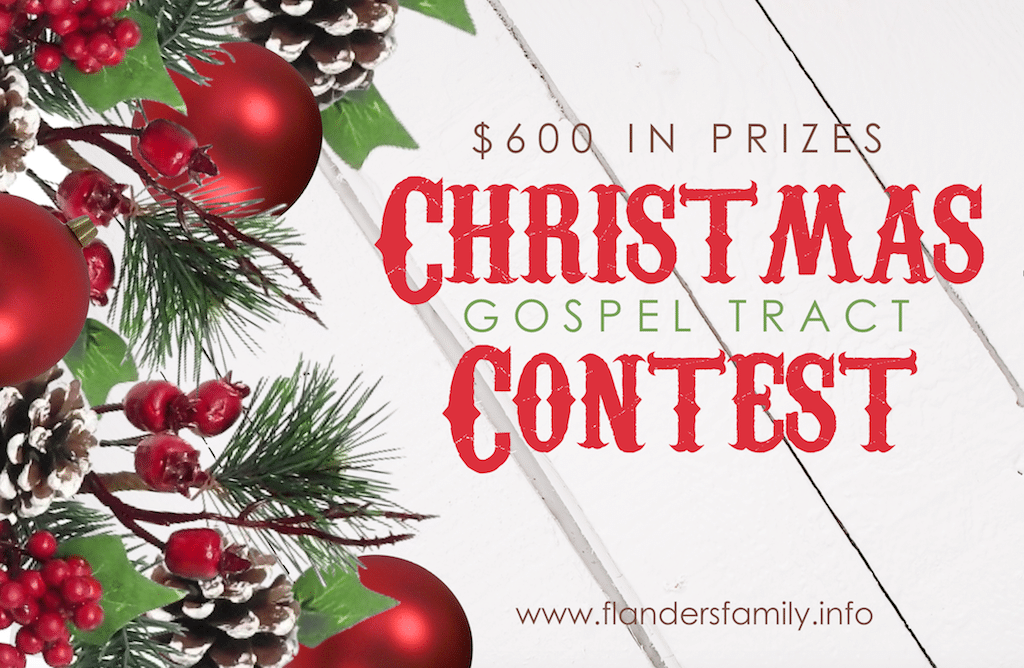 We were so blown away by all the clever entries we received for our trick-or-treat tract contest last month that we've decided to host another one for Christmas.
The holidays bring so many opportunities for remembering those around us — neighbors, mail carriers, teachers, house keepers, etc. What better time to share the good news of Christ's love? Jesus is the reason for the season, after all.
For this contest, we'd like to see your best ideas for presenting the gospel in a Christmas-themed tract. Please use the same single-fold, 4-page format as before.
Once again, we'll be awarding prizes to the three top winners. But get your submissions in soon! The deadline for entering fast approaching!
Keep reading for complete details and submission guidelines.
Christmas Gospel Tract Contest
Submission dates: November 10-December 8, 2018
All entries must be received by 11:59 PM on Saturday, December 8, 2018.
Prizes:
1st Place: $300
2nd Place: $200
3rd Place: $100
[clickToTweet tweet="Design a Christmas-themed gospel tract and win up to $300 https://www.flandersfamily.info/web/2018/11/10/christmas-gospel-tract-contest/" quote="Design a Christmas-themed gospel tract and win up to $300 https://www.flandersfamily.info/web/2018/11/10/christmas-gospel-tract-contest/"]
Submission guidelines:
Single-fold design

All designs must be four pages in length — no more, no less. Tracts will be printed single-fold, with a front, back, and 2-page inside spread. The easiest way to do this is to fold a regular sheet of paper into fourths and draw your design by using a fourth-sheet for each page.

Include illustrations

All artwork must be original, rendered in simple, black and white ink line drawings. Colored artwork and pencil sketches will not be accepted. By submitting an entry, you grant us non-exclusive rights to publish your design as a free printable which readers can then download from our website.

Communicate gospel message

All entries must present a short, gospel-centered message and should include relevant Bible verses that back up whatever points are presented.

Although you are not required to incorporate the following principles in your tract design, I'm reprinting them here for those who may need a refresher on what exactly the good news of the gospel is:

Use your own words

Of course, the above outline is too detailed to fit on a single-fold gospel tract, so please present the gospel in your own words, being careful to back up what you say with Scripture. You may draw from the Bible verses listed above or use personal favorites.

Please note that all supporting Scriptures must be taken from the Old and/or New Testament. No citations from Apocryphal writings, Book of Mormon, or any other religious books will be accepted.

A few examples

Although I've never posted any Christmas-themed tracts before, you can get an idea of the layout we're looking for by studying the trick-or-teat tracts we've published in the past. You can view samples of those here and here.

Judging criteria

Entries will be judged using the following criteria:


Accuracy: 30% (Does this tract present the one true gospel?)
Authority: 25% (Does it cite relevant Bible verses to back up its message?)
Creativity: 20% (What sets this tract apart from others?)
Simplicity: 15% (Is the message presented in an easy-to-understand way?)
Adaptability: 10% (Can it be easily converted to a printable PDF?)

Send submissions electronically

You may either create your tract using graphic design techniques on your computer or draw it with pen and paper and then scan a high-resolution copy of your original artwork. Collaboration between parent and child or siblings or friends is permitted, but collaborators will be solely responsible for determining how to split the cash prize in the event their design wins. To enter, please email us a copy of your design, along with the following information:

name of artist(s)
age of artist(s)
home state (or country, if living outside the US)
email address where we may reach you (if different from the sending address on your entry)

Please be mindful that all entries must be received by 11:59 PM on Saturday, December 8, 2018. Winners will be announced and printable versions of their tracts will be posted on or before Wednesday, December 12.
One last thing: Could you please do me quick favor and share this contest with any family, friends, or school/church/scouting groups you think might be interested in participating? We'd love to get swamped with entries for this contest, too, and would be ever so grateful if you'd help us get the word out! Thanks bunches!