Seven years ago, our family moved into a neighborhood that attracts busloads of trick-or-treaters every Halloween. We've had as many as 1000 costumed children stop by our home for candy in a single night.
We see this influx as a unique opportunity for door-to-door evangelism — only instead of our going out to share the good news of the gospel with our neighbors, our neighbors come to us!
That's why we pass out trick-or-treat tracts along with all our candy every Halloween. In the past, I've designed these tracts myself (click here to see examples), but this year, per my husband's suggestion, we're going to try something new.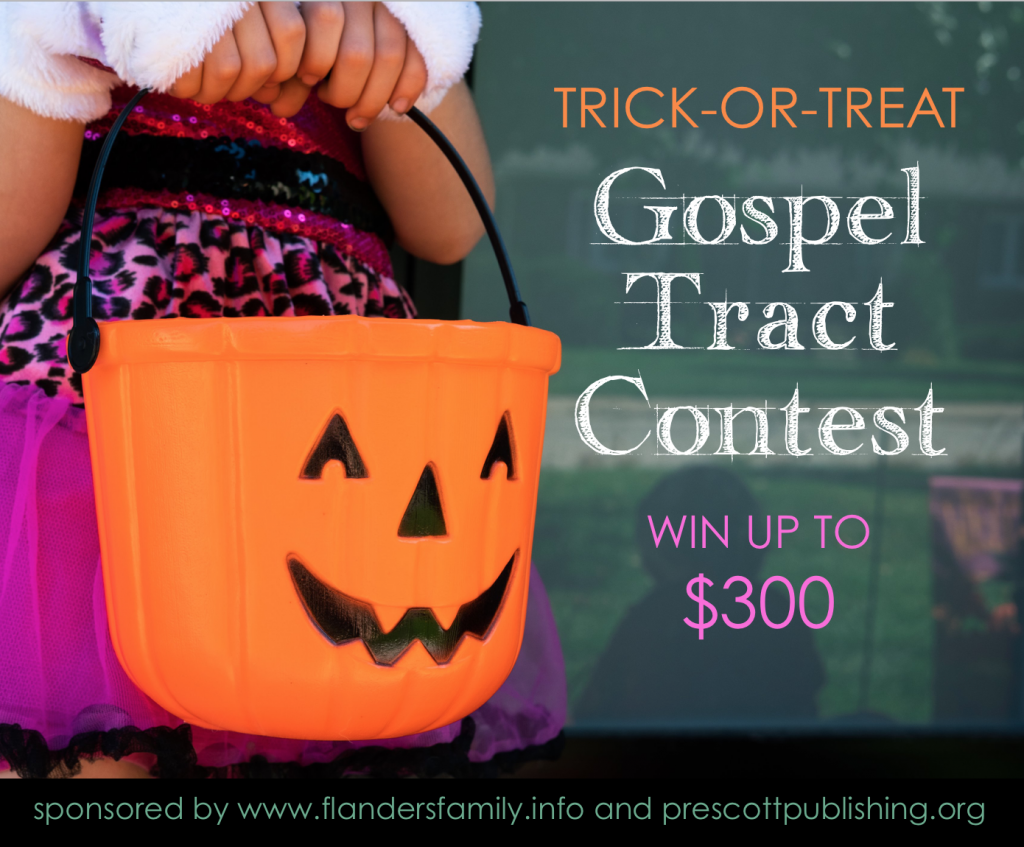 We've decided to let our readers come up with this year's tract. But you'll have to work fast! The deadline for entering is October 25. We're planning to announce the winners and post printable versions of their designs on or before October 30 (that'll give those who want to do so time to print a quick batch before trick-or-treaters arrive).
Here's the full scoop for how this year's contest will operate:
Trick-or-Treat Gospel Tract Contest
Submission dates: October 1-25, 2018
All entries must be received by 11:59 PM on October 25.
Prizes:
1st Place: $300
2nd Place: $200
3rd Place: $100
[clickToTweet tweet="Halloween Contest: Design a trick-or-treat tract & win up to $300 http://bit.ly/tract-contest" quote="Halloween Contest: Design a trick-or-treat tract & win up to $300 http://bit.ly/tract-contest"]
Submission guidelines:
Single-fold design

All designs must be four pages in length — no more, no less. Tracts will be printed single-fold, with a front, back, and 2-page inside spread. The easiest way to do this is to fold a regular sheet of paper into fourths and draw your design by using a fourth-sheet for each page.

Include illustrations

All artwork must be original, rendered in simple, black and white ink line drawings. Colored artwork and pencil sketches will not be accepted. By submitting an entry, you grant us non-exclusive rights to publish your design as a free printable which readers can then download from our website.

Communicate gospel message

All entries must contain a shorter, simplified version of the gospel message below and should also include Bible verses to back up that message.

Use your own words

Of course, the above outline is far too detailed to fit on a single-fold gospel tract, so please present the gospel in your own words, being careful to back up what you say with Scripture. You may draw from the Bible verses listed above or use personal favorites. Please note that all supporting Scriptures must be taken from the Old and/or New Testament. No citations from Apocryphal writings, Book of Mormon, or any other religious books will be accepted.

A few examples

Here are a couple of the tracts I've designed in past years, to give you an idea of what we're looking for in the way of length and detail. As you can see, there are lots of ways you can share the same basic message. For more examples (or to print copies of the following tracts), follow this link.

Judging criteria

Entries will be judged using the following criteria:


Accuracy: 30% (Does this tract present the one true gospel?)
Authority: 25% (Does it cite relevant Bible verses to back up its message?)
Creativity: 20% (What sets this tract apart from others?)
Simplicity: 15% (Is the message presented in an easy-to-understand way?)
Adaptability: 10% (Can it be easily converted to a printable PDF?)

Send submissions electronically

You may either create your tract using graphic design techniques on your computer or draw it with pen and paper and then scan a high-resolution copy of your original artwork. Collaboration between parent and child or siblings or friends is permitted, but collaborators will be solely responsible for determining how to split the cash prize in the event their design wins. To enter, please email us a copy of your design, along with the following information:

name of artist(s)
age of artist(s)
home state (or country, if living outside the US)
email address where we may reach you (if different from the sending address on your entry)

Please be mindful that all entries must be received by 11:59 PM on October 25, 2018.

Eligibility for prizes

Although this contest is open to all comers, please note that only non-Flanders family members are eligible to win cash prizes. (Sorry, my kids and grandkids. You'll get to do this little project as a homeschool assignment, but you won't be winning any money for it. The best you can hope for is an honorable mention. 😉 )
I think that about covers the rules. Have I left anything out? This is the first time we've tried anything like this, so I feel like I may be forgetting something. If you think of a question I haven't answered, ask me in the comment section below, and I'll try to respond in a timely fashion.
Also, could you do me quick favor? I'd absolutely love to get swamped with entries, so would you please share this contest with any family, friends, or school/church/scouting groups you think might be interested in participating? We'd be ever so grateful for your help in getting the word out!