The 2015 Ultimate Homemaking Bundle was released yesterday, and I'm already busily devouring the books included in this year's collection.
This is about the fifth bundle I've invested in over the past 12 months and, to be honest, I've only read a fraction of all the ebooks I now own as a result.
So why do I keep getting them?
Because the bundle books I do read are excellent and would've cost me far more to buy individually than in the set.
And also because I love all the free bonuses delivered to my doorstep with each bundle. Who wouldn't love a mailbox full of brown paper packages (whether they're tied up with string or not)?
So with 99 resources to choose from in the current bundle, where am I starting this time around? With the following titles: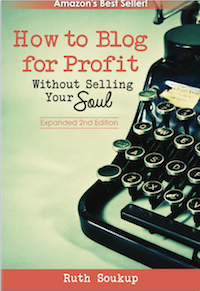 How to Blog for Profit
without Selling Your Soul
by Ruth Soukup
(Retail $9.99)
I recently read several raving endorsements of this book from bloggers I follow and respect, so you can imagine my delight when I realized the title was included in this Homemaking Bundle. I've only read the first four chapters so far, but they've been fantastic! Ruth gives clear, easy-to-follow instructions on improving your blog, with a short list of action items at the end of every chapter.
I'm applying what I learn as I go (as a bundle author, I got early access to this bundle, so I've been at it for a couple of weeks now) and have already seen a ten-fold spike in the traffic on my Loving Life at Home blog. (Even as I was typing that statement, I received a WordPress notification that my stats are booming again today- I'm averaging 968 views an hour. How much of that is a direct result of following Ruth's advice, I cannot say, but cleaning up my categories and making things easier to find obviously didn't hurt!) I haven't gotten to the "for profit" chapters yet, but if they work the same kind of magic as these first four, this bundle will pay for itself many times over! 🙂
---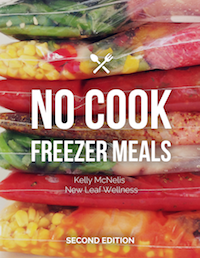 No Cook Freezer Meals
by Kelly McNelis
(Retail $5.99)
I've tried freezer cooking before with inconsistent results, but this book convinced me to give it another go, and am I ever glad I did. What appeals to me about Kelly's recipes is that there is no cooking involved before the freezing. I can literally bring the ingredients home from the grocery store and divide them all up into ziplocks without ever turning on a burner — which is why an entire shelf of my freezer is now packed full of meals ready to go from freezer to crockpot. I served her cranberry pork with green beans a couple of nights ago, and my husband declared it the most delicious crockpot dish he's ever tasted (which is saying a lot) and asked if I would make it again soon!
---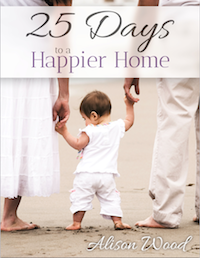 25 Days to a Happier Home
by Alison Wood
(Retail $9.99)
I've had this book on my wish list for a long time. Since my husband and I have both written 25 WAYS books, I'm curious from a publishing standpoint to see how this 25 DAYS book is formatted. But more importantly than that, I've read (and thoroughly enjoyed) several of Alison's past blog posts, so I know I'll be even further blessed by the wisdom she shares in her book.
---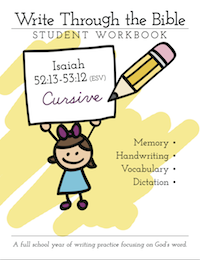 Write through the Bible Workbook
by Luke and Trisha Gilkerson
(Retail $13.98)
One of my sons struggled and struggled with manuscript, but as soon as I switched him over to cursive, all the whining (and reversals) completely stopped.
I've been making my own cursive practice sheets ever since, but have had a hard time keeping up with him, so I was super excited to see this Scripture based workbook included in the bundle. You'll get both the ESV version (pictured) as well as the KJV.
---
Just those four books alone would cost $39.95 — more than the cost of the whole bundle. But there are several others I plan to read, as well, including:
From Grouchy to Great – I've followed Ruth Schwenk's Better Mom blog for years and am looking forward to reading her book.
How to Save Money – I've flipped through this book, and it looks well worth the read. In this economy, who isn't interested in finding new and better ways to save?
Preschool Alphabet Packet – My youngest just turned five yesterday. Not only will these cute printables (245 pages worth) be great for her, but may also help us keep her little nephews entertained when they come to visit!
Easy Oven-Free Dinners – Our local pool will be opening in just a few more weeks (our Joseph has been hired as head life guard this year). If past years are any indication, we'll be swimming there almost every night, picnic dinner in hand. This book should add some variety to our summer swim diet.
Fifty Frugal Dates – This book will inspire you to think beyond dinner and a movie. It's full of practical advice for prioritizing time together and making the most of it.
These are just a few of the bundle books that appeal most to me. Yet this short list barely scratches the surface of all the resources included.
The Ultimate Homemaking Bundle puts a complete library of carefully selected eBooks, eCourses, audios, online conferences, and printable packs right at your fingertips. It is designed to help you turn your house into a home… without all the overwhelm. Topics addressed include:
Cleaning… create a healthy, toxin-free home
DIY/Homemade… fun and frugal ways to express your personal style
Devotionals and Faith… take a break from the daily grind to renew yourself
Finances… build a budget that works
Cooking & Meal Planning… serve easier, tastier meals in less time
Holidays & Special Events… brighten up old family traditions and create new
Homeschooling… homeschool with grace and ease
Marriage… heat up your marriage
Motherhood… find peace, balance & joy in mothering
Organizing… conquer the clutter and simplify your life
Pregnancy & Babies… enjoy a healthy pregnancy and prepare to nurture your baby
Health & Wellness… soothe aches & pains with natural remedies
Working from Home… hone your talents, live your passions and earn money to help your family
It didn't take many of these books to convince me the Ultimate Homemaking Bundle was well worth the price. And if you'll take a moment to review the complete list of resources, I think you'll agree.
You'll get the complete collection for a fraction of the price of what many of the resources cost individually! It includes:
76 eBooks
6 eCourses
1 audio download
2 online conferences, and
14 printable packs
…99 carefully selected resources designed to help you nurture the beauty and productivity in your home and family relationships… for only $29.97. (A total value of $984.74.)
That breaks down to 30 cents per book.
Your 30-Day 100% Satisfaction Guarantee
If for any reason, you decide that the Ultimate Homemaking Bundle is not for you, then please send an email to [email protected] and we will refund 100% of your investment. No questions asked.
Don't Forget the Bonuses…
Of course, no Ultimate Homemaking Bundle would be complete without the generous, inspiring gifts donated by companies that understand homemakers like you. Every gift is yours to keep and enjoy.
Now It's Your Turn
Here's your chance to get all the love, support, guidance and inspiration you need to nurture the beauty and productivity in your home and family relationships with proven, simple, and effective tools that really give you a boost as a homemaker.
But time is running out! The Ultimate Homemaking Bundle will only be available from 8:00 a.m. EST on Monday, April 20 until 11:59 p.m. EST on Monday, April 27.
After that, the shopping cart closes and the deeply discounted price is gone.
Act now!
Click here for more information or to buy now.
Best wishes and happy homemaking!
Read the fine print about this bundle and read the answers to frequently asked questions about the bundle.