You know what tomorrow is, don't you? It's the second Friday in July, and that means it's
Cow Appreciation Day
at Chick-fil-A!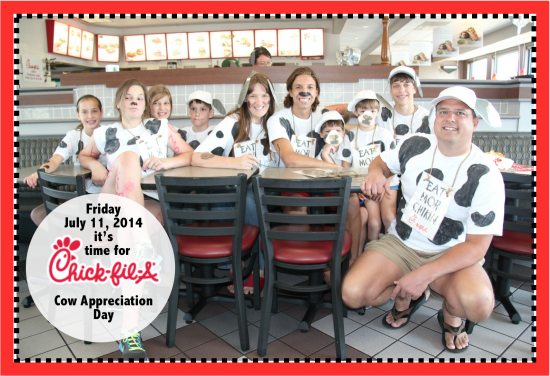 Any customer who shows up at Chick-fil-A tomorrow (July 11, 2014) sporting a cow costume will be rewarded with free food. Folks wearing full cow costumes will get the full meal deal. Partial cow attire will earn a free entree.
If you don't already have a closet full of cowhide handy, don't worry. Chick-fil-A has got you covered. They'll make it easy for you to participate with this handy "cow starter kit."
We printed out a stack of these back when we first "herd" about this promotion, laminated them, and have been using them ever since — only now we wear matching hand-painted T-shirts and baseball caps, as well. Our kids like to add new touches to our costumes every year.
So grab your horns and udders and moooove on over to your nearest Chick-fil-A. Maybe our family will "spot" you there!