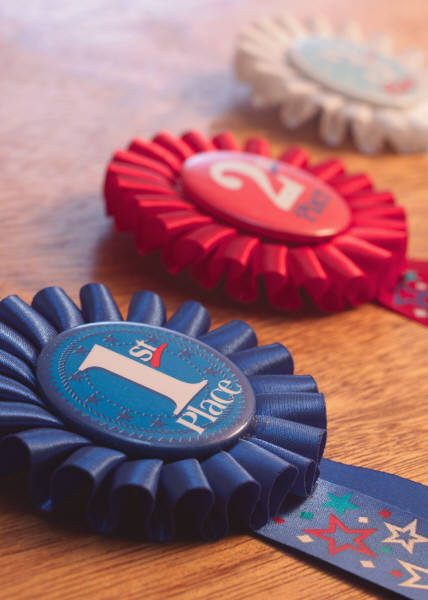 It's that time of year again: State Fair Days! At our house, that means we are busy and bustling around, trying to get all our entries ready for the Creative Arts contests.
Drop-off days come a lot earlier than they used to here in the Piney Woods of East Texas. We missed the first, which was yesterday, but I'll have another chance to submit crafts and artwork for judging on Saturday. That means I have a lot of framing/ reframing to do between now and then (no sawtooth hangers — all pictures must have screws and wire).
Entering handwork in the state fair is a long-time tradition. My parents did it with me when I was little, and now I do it with my own children. They love winning ribbons and cash prizes for the things they make. Even our littlest guys get in on the action with Duplo creations and finger-painting.
Over the years, I've developed this State Fair Chart to help the sign-in/drop-off procedure at the Creative Arts Building run smoothly. It also helps me remember what I need to pick up after the fair is over (one pre-chart year, we accidentally left a state quarter collection behind and had to jump through several hoops before we got it back to its rightful owner). And lastly, there's a column for recording prize winnings, to help us remember how well we did.
If you've never taken part in these creative arts contests, I'd encourage you to do so. It's a great confidence builder for your kids. Print the chart out, fill it out, and use it for your own records this year. And best of luck to you in the competition!